A once promising Indiana season has turned into a tale of missed opportunities and what-ifs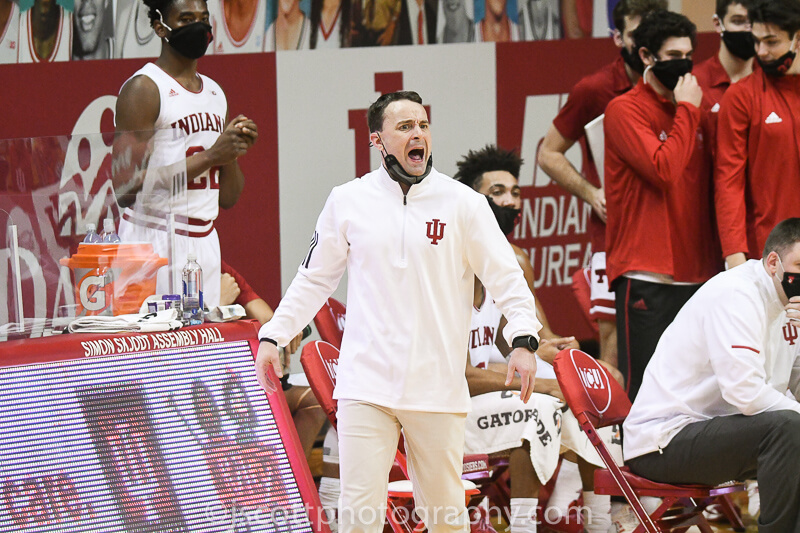 Before Indiana's season was in shambles, Trayce Jackson-Davis, wearing a gold jersey he'd earned for his effort in practice, talked about potential. Specifically, his team's potential.
This was back on Jan. 3, when Indiana's record was 6-4, in what now seems like a lifetime ago. A few weeks earlier, Indiana had fallen to No. 21 Florida State on the road and Jackson-Davis was demonstrative in the locker room postgame. Race Thompson later declined to specify what Jackson-Davis said.
"I was really mad because I don't think of us as any other IU team we've had in the past ten years," Jackson-Davis said postgame after the loss to Florida State. "I'm trying to be different this year. To be different, we have to win these games."
So a few weeks later, Jackson-Davis, resting his long arms comfortably on a table, was asked about that word. Different. What exactly did he see from his team in that word? There sat Indiana with a 6-4 record, but Jackson-Davis felt something bigger was on its way.
"No one has seen our team firing on all cylinders and playing our best basketball," Jackson-Davis said. "And we're still sticking with these top-25 teams… Once that happens and once it starts clicking for us, we're going to be really hard to beat."
But now, after a 67-58 loss to Purdue on Saturday, the regular season has concluded and Indiana was never able to put it all together. A once-promising season has turned into a tale defined by missed opportunities and what-ifs. Every triumph had a letdown. Instead of peaking at the right time, the Hoosiers have torpedoed downward.
That was the story on Saturday, too. Purdue didn't play particularly well, turning the ball over 15 times. But Indiana couldn't capitalize, failing to get into a consistent rhythm on offense and take advantage of Purdue's mediocre performance. Make that five losses in a row this season for Indiana. Make that zero wins in the last nine matchups against Purdue.
"It's been a rough five games," Jackson-Davis said on Saturday. "Three of the five games we've been in to win… I know a lot of my teammates are mad right now. But we just need to put the past behind us and keep pushing forward no matter the obstacles that we have to come into or face."
Indiana will finish the season with a putrid 12-14 overall record and a disappointing 7-12 mark in the conference. This would be Indiana's worst overall record in Archie Miller's tenure at Indiana despite entering the season with arguably his most promising blend of young talent and veteran leadership.
The potential that Jackson-Davis saw was largely reciprocated by the fan base early in the season. By the end of the non-conference slate, the trajectory was still encouraging for the Hoosiers, who were in solid position at 5-2. Even within those first games, though, there were squandered chances.
Take the Florida State game. Indiana made just one field goal in overtime. They allowed three offensive rebounds in the last 30 seconds of regulation and then failed to stop Scottie Barnes from hitting a coast-to-coast game-winner in the extra period. It could've been a resume-building win for Indiana. Instead, it was an opportunity missed.
As conference play began, Indiana's fell in a disappointing loss to Northwestern simply because they couldn't stop guard Chase Audige. He went off for 17 points in the second half, exposing Indiana's defense which has crumbled in league play.
The following game against No. 18 Illinois, the Hoosiers led by five midway through the second half. But then they plainly failed to grab the ball during scrappy plays, allowing All-American Ayo Dosunmu to score 18 points in the last ten minutes of the game. Had Indiana won, they'd likely be in the NCAA Tournament.
The Hoosiers rattled off two wins before heading to Wisconsin where they took the Badgers to double-overtime. Twice Indiana had chances to win. Twice they couldn't convert. Jackson-Davis missed a point-blank layup at the end of regulation. Then Al Durham fumbled a chance in overtime. Badgers win in double-overtime. Golden opportunity missed.
In late-January, though, it appeared that the Hoosiers had broken through. Indiana's defense was stifling in an upset win on the road against Iowa. But then came the disappointment when Indiana fell to Rutgers. The Hoosiers made 10-of-16 3-pointers, a single-game season-best 62 percent, but still lost. "When you make ten threes, that's pretty good," Miller said. But it didn't matter because this time Indiana's defense was porous.
This became the frustrating cycle. The puzzle pieces are there but never fit coherently together at the same time.
In early-February, in the second matchup against Illinois, the Hoosiers were this time able to contain Dosunmu to just 10 points on 2-of-11 shooting. He fouled out late in the second half. Indiana, though, was unable to take advantage. Senior Trent Frazier took over in Dosunmu's place and Indiana lost another in overtime.
The turning point in the season seemingly came after halftime of the first Michigan State game. The Hoosiers had just handily beaten Minnesota and a bid to the NCAA tournament was in sight. Against Michigan State, Indiana surged to a double-digit lead in the first half.
But then Indiana gave up 52 second-half points. The Hoosiers again had no answer for one-on-one matchups. This time it was Aaron Henry who went for 16 points in the second twenty minutes, carrying the Spartans to victory.
From there Indiana spiraled. Losses to Rutgers, Michigan and another to Michigan State followed.
Indiana led Rutgers by 15 in the first half before falling apart in a blowout loss. In the second game against Michigan State, Henry had 12 points in the final four and half minutes. Indiana, on the other hand, didn't have anyone all season to be "the guy" to get buckets down the stretch. As good as Jackson-Davis has been, he hasn't shown a consistent ability to convert when it mattered most.
Then came Saturday, where the game against Purdue summed up the season.
Indiana got off to a 7-0 start, but then its offense went ice-cold, going more than seven minutes without hitting a field goal. In the first half, the Hoosiers had a variety of open looks but hit just 1-of-13 3-pointers. Purdue turned the ball over eight times, but Indiana could only turn it into six points. The Boilermakers led by nine at the break.
"You make two or three of them (3-pointers) and it's a different game in the first," Miller said.
Midway through the second half, Indiana had cut the deficit to just four with momentum and the ball. But then Purdue embarked on an 8-0 run. Later, Indiana clawed back to within five. Then the same happened as Purdue strung together a 6-0 run after a questionable technical foul call.
Indiana finished just 38 percent from the field, 22 percent from beyond the arc and 72 percent from the free-throw line.
"Offensively, we need to get smarter," Miller said. "We need a higher IQ offensively in different times in the game to figure out how we can do certain things."
This is how the season has gone. It has never been a question of if the opportunities are there. Rather, it's that Indiana can't take advantage of them.
In all, Indiana lost three games in overtime this season, all to teams that were ranked at the time. Much of that was rooted by, even Miller admits, a lack of fundamentals. Simple things like catching the ball, communicating on defense and making free throws. That's the difference between a middling team and an NCAA tournament team. That's the difference between Indiana and teams that were a factor in the Big Ten.
Jackson-Davis wanted this team to be different, but Indiana never found an identity. A defense once ranked in the top-10 nationally in efficiency regressed into one of the worst in the Big Ten. All the opportunities, free throws and open shots were there for the taking. Indiana whiffed.
"There's a few possessions every game that the margin on winning and losing is so small," senior Joey Brunk, who's watched the entirety of the season from the sideline, said. "There are some small things that we need to get back to doing to win."
So now Indiana's only hope is hitting an unlikely jackpot in the Big Ten tournament. Barring a sudden flip of fortunes, their season will end in a tournament in Indianapolis. And it's not the one that everyone hoped for.
Filed to: