Bracketology: NCAA tournament projection as of March 2, 2021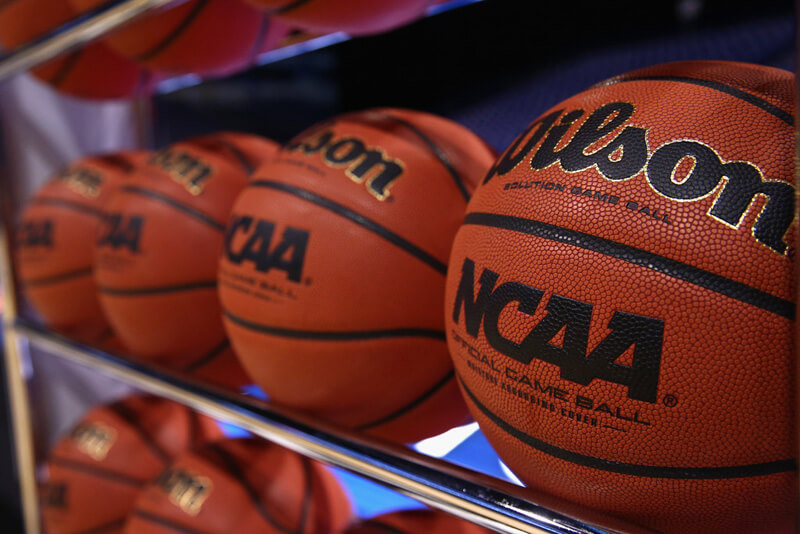 With less than two weeks until Selection Sunday, a few conference tournaments have already begun with more starting up this week. Here are a few that bubble teams will be paying particular attention to.
• American Athletic – The AAC still has a week of league games left with the tournament tipping off on March 11. Bubble teams will be rooting for Houston to win the auto-bid, as they are the only team safely in the field at this point. Wichita State, SMU, and Memphis are still in the at-large mix, but an early AAC tournament exit would extinguish what hopes they have left.
• Atlantic-10 – After wrapping up league play on Monday, the A-10 Tournament starts on Wednesday. St. Bonaventure won the regular season title, but the Bonnies aren't a lock after losing to Dayton on Monday. VCU is also in this week's projected field with Saint Louis is in the mix as well, but Richmond's home loss to Saint Joseph's dealt the Spiders' at-large hopes a big blow. Given the state of the bubble, the A-10 is shaping up as a two-bid league at a minimum, so bubble teams need to be rooting for St. Bonaventure or VCU to win the conference tournament with a potential quarterfinal loss for SLU. All three contenders start play in the quarterfinals on Friday.
• Big South – Bubble teams need Winthrop to win this one to be safe. The Eagles are now 21-1 heading into the Big South Semis on Thursday, with the lone loss coming by two points to UNC Asheville. They have no quad 1 wins and are just 2-0 in quad 2, but if Winthrop loses in the final to Radford (the second-best team in the league), the committee would have to take a hard look at a team that would be 22-2 in that scenario.
• Missouri Valley – The formula for bubble teams in the Valley is simple – Loyola Chicago needs to win it, and Drake needs to lose prior to the final. The Ramblers are likely in the field either way thanks to a solid record and strong computer numbers. Drake, however, has been ravaged by key injuries and now has two quad 3 losses with just one win over a team in the at-large picture. More on them later, but nearly any loss Drake would take before the final would fall in quad 3, which likely spells the end for the Bulldogs.
• Mountain West – With four at-large contenders in the mix, the MWC tournament should be a fun one. Each team has at least one regular season game left, but with the exception of Colorado State's trip to Nevada, they should be heavy favorites in all of them. Like the A-10, two bids feels like a minimum with San Diego State and Boise State in the best shape as of now. Bubble teams need an early upset of at least one of the tournament hopefuls to ensure the league doesn't somehow get four bids.
Before looking at the one seeds, here's a quick reminder about how the NCAA selection committee classifies wins based on the NET rating.
A breakdown of the four tiers:
· Quad 1: Home vs. teams ranked 1-30 / Neutral vs. teams ranked 1-50 / Road vs. teams ranked 1-75
· Quad 2: Home vs. teams ranked 31-75 / Neutral vs. teams ranked 51-100 / Road vs. teams ranked 76-135
· Quad 3: Home vs. teams ranked 76-160 / Neutral vs. teams ranked 101-200 / Road vs. teams ranked 136-240
· Quad 4: Home vs. teams ranked 161-351 / Neutral vs. teams ranked 201-351 / Road vs. teams ranked 241-351
One seeds
Gonzaga's grip on the top overall seed remains tight, but Baylor's loss at Kansas, coupled with Michigan's continued strong play, dropped the Bears to the third number one seed. Even so, it would take a major collapse for Baylor to fall off the one line.
From there, things get interesting. The three teams considered for the last one seed were Illinois, Ohio State, and Alabama. The Illini picked up a great road win at Wisconsin even with Ayo Dosunmu sidelined, giving them their eighth quad 1 victory. Illinois also has just one loss outside of quad 1 to go with seven true road wins. That gave them the slight edge over Ohio State, who now has seven total losses. The Buckeyes still have a strong profile with seven quad 1 victories with a pair of quad 2 losses. This week Illinois travels to both Michigan and Ohio State for a pair of key games, and it's worth noting that the Buckeyes are idle until their matchup on Saturday.
Meanwhile, Alabama owns seven quad 1 wins as well with a total of 13 victories against the top two quadrants. Early losses to Stanford and Western Kentucky haven't necessarily aged well, but the Crimson Tide are still in the mix for a one seed. They need to take care of business in a home game with Auburn before closing out the regular season at Georgia.
The Bracket
The projections below are based on all games played through March 1, 2021. Following the bracket, I included a few thoughts on the last four in and first five out.
| | | |
| --- | --- | --- |
| REGION 1 | | REGION 2 |
| Indianapolis | | Indianapolis |
| 1) Gonzaga | | 1) Michigan |
| 16) N.C. A&T / Prairie View A&M | | 16) Siena |
| 8) Maryland | | 8) Oregon |
| 9) Loyola Chicago | | 9) LSU |
| | | |
| Indianapolis | | Indianapolis |
| 5) Virginia | | 5) Purdue |
| 12) Toledo | | 12) Wichita St. |
| 4) Oklahoma St. | | 4) Texas Tech |
| 13) Winthrop | | 13) Belmont |
| | | |
| Indianapolis | | Indianapolis |
| 6) Missouri | | 6) Clemson |
| 11) Connecticut | | 11) Xavier |
| 3) Houston | | 3) Villanova |
| 14) Abilene Christian | | 14) UNC Greensboro |
| | | |
| Indianapolis | | Indianapolis |
| 7) Colorado | | 7) Wisconsin |
| 10) St. Bonaventure | | 10) North Carolina |
| 2) Iowa | | 2) West Virginia |
| 15) Vermont | | 15) Eastern Washington |
| | | |
| REGION 4 | | REGION 3 |
| Indianapolis | | Indianapolis |
| 1) Illinois | | 1) Baylor |
| 16) Bryant / James Madison | | 16) Texas St. |
| 8) BYU | | 8) San Diego St. |
| 9) UCLA | | 9) Rutgers |
| | | |
| Indianapolis | | Indianapolis |
| 5) Tennessee | | 5) Oklahoma |
| 12) Georgia Tech / Michigan St. | | 12) Western Kentucky |
| 4) Texas | | 4) Arkansas |
| 13) UC Santa Barbara | | 13) Colgate |
| | | |
| Indianapolis | | Indianapolis |
| 6) USC | | 6) Creighton |
| 11) Colorado St. / Drake | | 11) Boise St. |
| 3) Kansas | | 3) Florida St. |
| 14) Wright St. | | 14) Liberty |
| | | |
| Indianapolis | | Indianapolis |
| 7) Virginia Tech | | 7) Florida |
| 10) VCU | | 10) Louisville |
| 2) Alabama | | 2) Ohio St. |
| 15) Grand Canyon | | 15) South Dakota St. |
Last Four In:
Colorado State – The Rams got back on the court for the first time in three weeks, sweeping a home series with Air Force. They have already posted a 3-3 mark versus the other tournament-caliber squads in the Mountain West, and those three wins all fall in the top two quadrants, while a home loss to Boise State is the only one that falls outside of quad 1. That said, nine of the Rams' 15 D-I victories fall in quad 4. CSU still has two games remaining this week, with the toughest of those a Friday trip to Nevada.
Drake – Playing without two of its best players, Drake dropped the season finale at Bradley, which gave the Bulldogs a second quad 3 loss. A one-point overtime win over Loyola Chicago is their lone victory over a team in the top 90 of the NET, although wins at Missouri State and Indiana State all fall in quad 2. If they avoid defeat in the quarterfinals, a loss to Missouri State in the semifinals would likely fall in the low end of quad 2, but I'm ultimately not sure Drake can sustain another loss before the Arch Madness final given their injury situation and general lack of quality wins.
Georgia Tech – After winning at Virginia Tech and knocking off Syracuse at home, the Yellow Jackets have won four straight and are up to 41st in the NET. They are a combined 7-6 against the top two quadrants with four wins over teams in this week's field. However, a pair of November losses fall in quad 3, although it's worth noting that the Georgia State loss came in four overtimes. This week features a home game with Duke and a season-ending road trip to Wake Forest.
Michigan State – Following a road win at Indiana, the Spartans knocked off Illinois and Ohio State at home in back-to-back games before falling at Maryland on Sunday. Michigan State is 4-9 in quad 1 and 3-1 in quad 2 with no losses outside the top two quadrants. Still, MSU ranks in the mid-70s in the NET thanks to a number of blowout losses. The Spartans have three games this week, starting with Tuesday's matchup against Indiana followed by a home-and-home with Michigan to close out the regular season. A 2-1 mark there would give them a bit of breathing room.
First Five Out:
Seton Hall – A road loss at Butler gave the Pirates a fourth loss to a team not in the at-large picture and pushed them onto the wrong side of the cutline. They do have three quad 1 wins, but with those wins coming at UConn while James Bouknight was out (35), at Xavier (50), and at Penn State (52), there isn't exactly a marquee win among them. Having already been swept by Villanova and Creighton, Seton Hall won't really have another crack at fixing that down the stretch, but a home game with UConn and a road trip to St. John's provide chances for two more wins in the top two quadrants.
Utah St. – The Aggies swept a pair of home games against Nevada last week to stay in the mix. Home victories over San Diego State (twice) and Colorado State account for all of Utah State's wins in the top two quadrants. In total, the Aggies are a combined 3-5 in quads 1 and 2, but they also have a pair of quad 3 losses. Utah State finishes the regular season by hosting Wyoming and traveling to Fresno State, and the Aggies definitely need to win both to remain in the conversation.
Duke – An overtime loss to Louisville snapped the Blue Devils' four-game winning streak and pushed them back out of the field. Duke has a 6-6 mark in the top two quadrants, but just three of those victories have come against teams in the at-large picture, all of which came at home. A trio of quad 3 losses leave little margin for error down the stretch, but road games at Georgia Tech and North Carolina give Duke the chance to earn their way into the field.
Saint Louis – Thanks to a lengthy COVID pause, the Billikens played just 10 conference games, finishing at 6-4 following home wins over Richmond and UMass to close out the regular season. Home victories over St. Bonaventure and LSU are among SLU's four wins against the top two quadrants, but the Billikens were swept by Dayton (one of which falls in quad 3) and suffered another quad 3 loss at La Salle. A deep A-10 tournament run would certainly help their case.
Indiana – Saturday's loss to Michigan gave the Hoosiers their first three-game losing streak of the season and dropped them to 12-12 overall and 7-10 in the league. Nine of their 12 losses fall in quad 1, and Indiana has a 9-10 mark against the top two quadrants, with the best wins coming via a sweep of Iowa and home victories over Maryland and Penn State. A pair of quad 3 losses loom large, as do road games at Michigan State and Purdue to close the season. Between those games and the Big Ten Tournament, IU has to find a way to get to two games over .500 if we look at historical precedent from the selection committee.
Conference Breakdown:
Big Ten (9): Illinois, Iowa, Maryland, Michigan, Michigan State, Ohio State, Purdue, Rutgers, Wisconsin
ACC (7): Clemson, Florida State, Georgia Tech, Louisville, North Carolina, Virginia, Virginia Tech
Big 12 (7): Baylor, Kansas, Oklahoma, Oklahoma State, Texas, Texas Tech, West Virginia
SEC (6): Alabama, Arkansas, Florida, LSU, Missouri, Tennessee
Big East (4): Connecticut, Creighton, Villanova, Xavier
Pac-12 (4): Colorado, Oregon, UCLA, USC
Mountain West (3): Boise State, Colorado State, San Diego State
American (2): Houston, Wichita State
Atlantic 10 (2): St. Bonaventure, VCU
Missouri Valley (2): Drake, Loyola Chicago
West Coast (2): BYU, Gonzaga
America East: Vermont
Atlantic Sun: Liberty
Big Sky: Eastern Washington
Big South: Winthrop
Big West: UC Santa Barbara
Colonial: James Madison
Conference USA: Western Kentucky
Horizon: Wright State
MAAC: Siena
MAC: Toledo
MEAC: North Carolina A&T
Northeast: Bryant
Ohio Valley: Belmont
Patriot: Colgate
Southern: UNC Greensboro
Southland: Abilene Christian
SWAC: Prairie View A&M
Summit: South Dakota State
Sun Belt: Texas State
WAC: Grand Canyon
Follow Andy on Twitter (@andybottoms) for more thoughts on college hoops and to receive an update whenever new brackets are posted.
Filed to: 2020-2021 Bracketology