News and notes from Archie Miller's radio show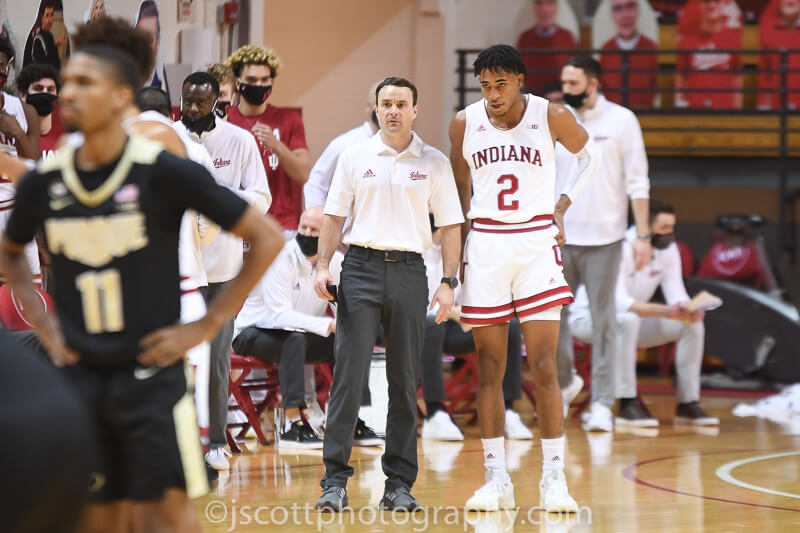 "Inside IU Basketball with Archie Miller" returned Monday night with play-by-play announcer Don Fischer. Miller previewed Indiana's upcoming top-25 matchups against Illinois and Iowa.
• Miller opened by saying that "health is our biggest concern." Over the last week, they've tried to get as many players healthy as possible. The team has had multiple days off and many non-contact practice days to get their legs back under them.
• Miller said that Trey Galloway moved around during practice today and will see how he feels after the shootaround tomorrow. He also said that "Armaan (Franklin) is not healthy" and has "re-aggravated" his ankle multiple times.
• In the loss to Rutgers, Miller said that the "slippage" was "effort related" and that Indiana lacked aggressiveness. He also noted that the Hoosiers are taking "too many punches early in the game" and have been working to improve their fundamentals defensively.
• "This is going to be our last deep breath," Miller said about the extended break. The Hoosiers will have two games per week over the last month of the regular season, plus two potential makeup games against Michigan and Michigan State.
• Miller attributes Indiana's solid 3-point shooting over the last few games to good shot selection. He emphasized how many guys have the potential to knock down shots: Jerome Hunter, Anthony Leal, Al Durham, Armaan Franklin, Khristian Lander and Rob Phinisee. Miller said that Phinisee is shooting with much more confidence than earlier in the year.
• Miller said that Indiana's shortcomings on the free-throw line is one of "the things that holds us back." Miller called out the guards, saying they need to shoot more consistently. Miller pointed to the Iowa game as an example of how important free throw shooting is with Durham icing the win down the stretch from the line.
• Miller called taking care of the ball the "biggest focus of our team since January." He pointed out how it cost Indiana in the loss to Northwestern and Rutgers. Miller said the Hoosiers need to be at 10 turnovers or less per game or a turnover percentage of 15 percent or lower.
• Miller hopes that Indiana can continue to improve on the defensive glass. Speaking in analytical terms, he said they need to grab at least 75 percent of defensive boards. While Miller would like to see more second-chance opportunities on offense, he said he knows it's a stretch with such a limited frontcourt rotation.
• Talking about the plus/minus stat, Miller mentioned how many of the bench players had better plus/minus figures against Iowa and Rutgers than the starters. He said his assistant coaches will bring up those stats during the game and utilize them as a factor of who they want to give more minutes.
• Of the 60 Big Ten games this season, Fischer pointed out that only 34 have been won by the home team.  "That's the single biggest impact that we've encountered," Miller said. Miller compared the atmosphere at Iowa to a "scrimmage" and added that officials are "completely dominated by some of the venues," in a normal year.
• At practice today, Miller said he told the team: "enough is enough… You have to throw out where you're playing these games."
• From a leadership aspect, Miller said the most veteran players are responsible for "taking the reins" and have to be able to challenge their teammates. He said the team has a chip on their shoulders because they "knew they let some games slip away" earlier in the year.
• Reflecting on the earlier loss to Illinois, Miller said "the game changed" at the eight-minute mark and that Indiana wasn't as "organized getting back" in transition. It allowed Ayo Dosunmu to swing "the momentum of the game." Miller said that the keys to an Indiana win on Tuesday are taking care of the ball and playing transition defense.
• In that previous matchup, Miller also said that Indiana couldn't get to the foul line and struggled from two-point range. He said they have to play through the post "regardless of how big they (Illinois) are." Miller said he'd be surprised if Indiana doesn't come out with intensity because there's a sense of "desperation" as the final stretch of the season nears.
• To close, Miller praised Indiana's perseverance through the pandemic this year. Players weren't able to see their families as much as usual and were traveling on Christmas. "It wears you down," Miller said, while also adding that, at this point, they know a positive test could derail their season. Miller mentioned the leadership of head athletic trainer Tim Garl as a reason for IU's successful protocols thus far.
Filed to: Archie Miller