Bracketology: NCAA tournament projection as of February 2, 2021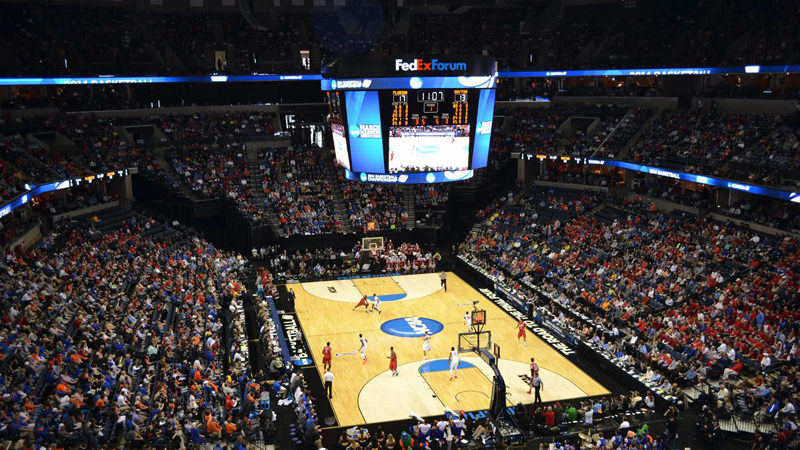 With less than six weeks until Selection Sunday, it feels like a good time to take stock of which leagues outside of the ACC, Big East, Big Ten, Big 12, Pac-12, and SEC are best positioned to land multiple teams in the NCAA tournament, particularly with a number of those major conferences unlikely to send more than five teams dancing.
The American is rated seventh on KenPom, but while Houston is pushing for a spot on the top seed line, no one else has really stood out. No other team ranks better than 60th in the NET, and Memphis, SMU, and Wichita State have combined for one quad 1 victory. Tulsa boasts a pair of quad 1 wins but also owns two quad 3 losses with another teetering on the brink to move into quad 3.
This week's projections feature three squads from the Atlantic 10, but none of them are a single-digit seed. Saint Louis got off to a strong start but has played just once since December 23, losing to Dayton at home. St. Bonaventure currently sits atop the league standings, and while a 3-1 mark against the top two quadrants is nice, none of those wins have come over teams safely in the field. Richmond and VCU are among the last in and first out, which are discussed later. I think the A-10 is a good bet for multiple bids (particularly if Saint Louis can get back on the court consistently), but three might be a stretch.
Gonzaga is clearly a lock from the WCC, so the only question left there is BYU. The Cougars have a 3-3 mark in quad 1 and five total victories over the top two quadrants, but they have played with fire lately by losing at Pepperdine and needing two overtimes to hold off Pacific at home.
Four teams from the Mountain West are in the mix at this point, but only Boise State is a single-digit seed this week. Utah State stumbled at UNLV last Monday and still travels to Boise State for two games later this month. Colorado State has already played the other three tournament hopefuls from the league, splitting each two-game series. The Rams should be favored to win each of their final eight MWC games. San Diego State hosts Boise State to close out the season, but there will be plenty of pressure on those games given a 1-3 mark against USU and CSU.
Things are simpler in the Missouri Valley. Drake is one of three remaining unbeatens, and like league mate Loyola Chicago, the Bulldogs rank in the top 15 of the NET. The issue for both will be a lack of top-end victories, but gaudy records and strong efficiency numbers may carry the day. Drake hosts Loyola on February 13 and 14 in a huge weekend series for both squads.
Depending on who wins Conference USA, things could get interesting there as well. Western Kentucky boasts a road win over Alabama and a neutral court victory against Memphis. Multiple quad 3 losses don't really help matters (nor does a NET ranking in the upper 70s), but the Hilltoppers' profile isn't substantially worse than other bubble teams.
Before looking at the one seeds, I wanted to give a quick reminder about how the NCAA selection committee classifies wins based on the NET rating.
A breakdown of the four tiers:
· Quad 1: Home vs. teams ranked 1-30 / Neutral vs. teams ranked 1-50 / Road vs. teams ranked 1-75
· Quad 2: Home vs. teams ranked 31-75 / Neutral vs. teams ranked 51-100 / Road vs. teams ranked 76-135
· Quad 3: Home vs. teams ranked 76-160 / Neutral vs. teams ranked 101-200 / Road vs. teams ranked 136-240
· Quad 4: Home vs. teams ranked 161-351 / Neutral vs. teams ranked 201-351 / Road vs. teams ranked 241-351
One seeds
Once again the one seeds remain unchanged, while three teams on last week's two-line took a loss since last Monday's projections.
The team pushing hardest to take one of those spots is Houston. The Cougars own three quad 1 victories (Texas Tech on a neutral court, Boise State at home, SMU on the road) and boast a 6-1 mark in the top two quadrants. The efficiency numbers are also strong, as Houston ranks fourth in both the NET and KenPom. Remaining road games at Memphis, Wichita State, and Cincinnati could help bolster the Cougars' profile, but they have no remaining games against top 45 KenPom teams, which could well lead to a gaudy record come March.
The Bracket
The projections below are based on all games played through February 1, 2021. Following the bracket, I included a few thoughts on the last four in and first five out.
| | | |
| --- | --- | --- |
| REGION 1 | | REGION 2 |
| Indianapolis | | Indianapolis |
| 1) Gonzaga | | 1) Baylor |
| 16) N.C. A&T / Prairie View A&M | | 16) Coastal Carolina / Montana St. |
| 8) Clemson | | 8) Xavier |
| 9) Rutgers | | 9) Drake |
| | | |
| Indianapolis | | Indianapolis |
| 5) Creighton | | 5) West Virginia |
| 12) Colorado St. / Richmond | | 12) Toledo |
| 4) Texas Tech | | 4) Wisconsin |
| 13) UAB | | 13) Colgate |
| | | |
| Indianapolis | | Indianapolis |
| 6) UCLA | | 6) Virginia Tech |
| 11) Indiana | | 11) LSU |
| 3) Tennessee | | 3) Iowa |
| 14) UC Irvine | | 14) Abilene Christian |
| | | |
| Indianapolis | | Indianapolis |
| 7) Oklahoma St. | | 7) USC |
| 10) North Carolina | | 10) Saint Louis |
| 2) Ohio St. | | 2) Alabama |
| 15) Grand Canyon | | 15) Siena |
| | | |
| REGION 4 | | REGION 3 |
| Indianapolis | | Indianapolis |
| 1) Villanova | | 1) Michigan |
| 16) Northeastern | | 16) Cleveland St. |
| 8) Colorado | | 8) Boise St. |
| 9) BYU | | 9) Connecticut |
| | | |
| Indianapolis | | Indianapolis |
| 5) Purdue | | 5) Kansas |
| 12) Arkansas / Loyola Chicago | | 12) Winthrop |
| 4) Oklahoma | | 4) Virginia |
| 13) Belmont | | 13) Furman |
| | | |
| Indianapolis | | Indianapolis |
| 6) Florida | | 6) Florida St. |
| 11) St. Bonaventure | | 11) Stanford |
| 3) Illinois | | 3) Missouri |
| 14) Liberty | | 14) South Dakota St. |
| | | |
| Indianapolis | | Indianapolis |
| 7) Louisville | | 7) Minnesota |
| 10) Oregon | | 10) San Diego St. |
| 2) Houston | | 2) Texas |
| 15) Vermont | | 15) Bryant |
Last Four In:
Arkansas – Following Saturday's loss at Oklahoma State, the Hogs are just 1-5 in quad 1 games. They have no wins over teams in the top 50 of the NET with their best victories coming via a sweep of Auburn and home wins over Abilene Christian and Ole Miss. Six of Arkansas' 13 victories fall in quad 4, which means they need to take care of business with winnable home games against Mississippi State and Texas A&M on tap this week.
Colorado State – The Rams split a pair of home games against Boise State, leaving them 3-3 versus the other tournament-caliber squads in the Mountain West. Those three wins all fall in quad 1, and CSU has no losses outside of the top quadrant. That said, seven of the Rams' 11 D-I victories fall in quad 4. Still, CSU should be able to stack wins down the stretch given a relatively soft schedule.
Loyola Chicago – A NET ranking that has climbed into the top 15 looks good, but the Ramblers have no quad 1 wins and no victories against teams in the top 75 of the NET. Mid-February games at Drake loom large, but Loyola just needs to keep winning until then.
Richmond – An early road win at Kentucky doesn't hold nearly the weight the Spiders would have expected to start the season, and a neutral court victory over Loyola Chicago helps for bubble purposes. Richmond also has a 5-1 mark in true road games and is 2-0 in neutral court games, both of which help to offset a quad 4 loss to La Salle. A handful of difficult road games remain on the schedule, including Friday's trip to Dayton.
First Five Out:
Maryland – The Terps are just 3-7 in the Big Ten, but those three victories came on the road at Illinois, Wisconsin, and Minnesota, all of which qualify as quad 1 wins. The issue at this point is that Maryland is just 8-8 in D-1 contests, and while this year is assuredly unique, a .500 mark doesn't bode well for inclusion based on historical precedent. The Terps host Purdue this week before heading to Penn State over the weekend.
Seton Hall – Three straight losses have dropped the Pirates to 9-8. Seton Hall is now 2-6 in quad 1 opportunities and a combined 3-8 against the top two quadrants, with a road win at Xavier the only one against a team in this week's projected field. A challenging week awaits with road games at Providence and Connecticut.
Utah State – The Aggies had the good fortune of playing both San Diego State and Colorado State at home, and a 3-1 mark there accounts for all three of their victories against the top two quadrants. The larger issue is that seven of their 12 D-1 wins fall in quad 4, and a road loss at UNLV doesn't help matters. Utah State didn't fare well in the non-conference, which will put a lot of focus on a February road trip to Boise State.
VCU – While just one of VCU's losses falls outside of quad 1, the lack of quality wins is a larger issue. The Rams' top two victories came in November when they knocked off Utah State and Memphis on a neutral court. The good news is that the latter part of VCU's A-10 schedule features a number of games against the league's top teams, so things will sort themselves out one way or another.
Western Kentucky – As mentioned earlier, the Hilltoppers have an interesting at-large profile if they don't win the auto-bid from Conference USA. A road win at Alabama looms large, but outside of that, WKU's tops wins consist of a sweep of Marshall and a neutral court victory over Memphis. Rick Stansbury's club just needs to keep winning, starting with this weekend's trip to Florida Atlantic.
Conference Breakdown:
Big Ten (9): Illinois, Indiana, Iowa, Michigan, Minnesota, Ohio State, Purdue, Rutgers, Wisconsin
Big 12 (7): Baylor, Kansas, Oklahoma, Oklahoma State, Texas, Texas Tech, West Virginia
ACC (6): Clemson, Florida State, Louisville, North Carolina, Virginia, Virginia Tech
SEC (6): Alabama, Arkansas, Florida, LSU, Missouri, Tennessee
Big East (5): Connecticut, Creighton, Villanova, Xavier
Pac-12 (5): Colorado, Oregon, Stanford, UCLA, USC
Atlantic 10 (3): Richmond, Saint Louis, St. Bonaventure
Mountain West (3): Boise State, Colorado State, San Diego State
Missouri Valley (2): Drake, Loyola Chicago
West Coast (2): BYU, Gonzaga
America East: Vermont
American: Houston
Atlantic Sun: Liberty
Big Sky: Montana State
Big South: Winthrop
Big West: UC Irvine
Colonial: Northeastern
Conference USA: UAB
Horizon: Cleveland State
MAAC: Siena
MAC: Toledo
MEAC: North Carolina A&T
Northeast: Bryant
Ohio Valley: Belmont
Patriot: Colgate
Southern: Furman
Southland: Abilene Christian
SWAC: Prairie View A&M
Summit: South Dakota State
Sun Belt: Coastal Carolina
WAC: Grand Canyon
Follow Andy on Twitter (@andybottoms) for more thoughts on college hoops and to receive an update whenever new brackets are posted.
Filed to: 2020-2021 Bracketology