News and notes from Archie Miller's radio show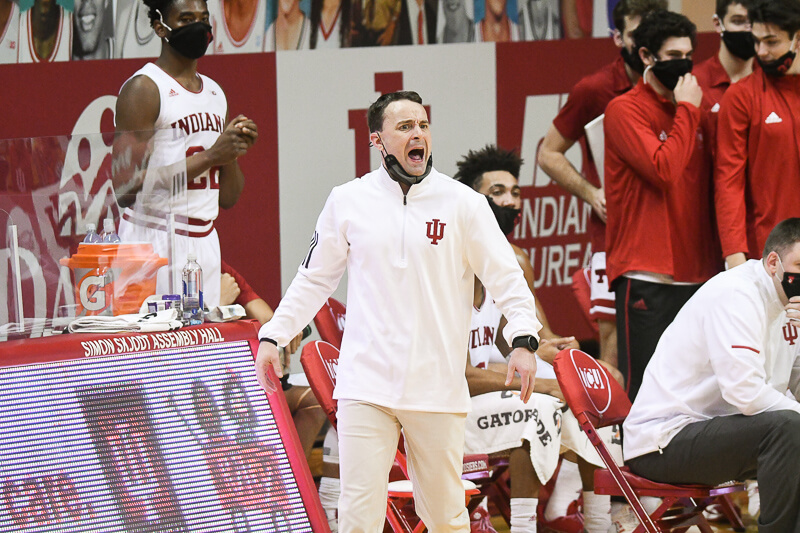 "Inside IU Basketball with Archie Miller" returned Monday night with play-by-play announcer Don Fischer. Miller discussed IU's upset win over Iowa and disappointing loss to Rutgers.
"It was an extremely high and extremely low week, but that's what this league is all about," Miller said.
Here's a recap of what Miller had to say on this week's radio show:
• After the loss to Purdue earlier in the month, Miller said that Indiana really focused on themselves. They wanted to get their defensive mindset back heading into Iowa. They were also able to play more five on five during practice.
• Miller said that Indiana's bench "came in and saved the day" in the second half. He singled out Khristian Lander, Anthony Leal, Jordan Geronimo and Jerome Hunter as guys that came in and made an impact. He said it gave the team confidence to be able to finish the game. Miller said it was a byproduct of guys sticking with it even if they were struggling.
• Miller emphasized the importance of Geronimo, who provided a spark off the bench after Trayce Jackson-Davis and Race Thompson got into foul trouble. "The value of just playing very hard… how much that can change the complexion of the game," Miller said.
• Coming into the game against Rutgers, Miller said his team prepared with the same intensity as they did for Iowa. The bottom line, Miller said, was "Rutgers was the tougher team" and played more physically in the paint. Overall, he said, the intensity and toughness on defense was a huge difference between Iowa and Rutgers.
• Miller pointed out that slow starts have plagued Indiana, as was the case against Rutgers. As a coach, he breaks the game down into 10 "four-minute wars." He called the opening segment to the first media timeout "critical." He said the last three or four segments are extremely important, too. He said it's imperative that the Hoosiers get off to a fast start in the next game.
• Miller called Lander's performance against Rutgers his "best minutes." Miller told Lander to carry his mindset over from the Iowa game to Rutgers.
• Offensively, Miller was pleased with his team's ability to score from the perimeter as they made 10-of-16 shots from beyond the arc. Miller said he feels that Rob Phinisee is shooting with confidence. "If you would've told me we hit ten 3's against Rutgers, I would've thought we had a great chance of winning," Miller said.
• Another reason for Indiana's poor performance was the turnovers to start the second half. After committing just three turnovers before the break, Indiana gave the ball away five times in a matter of just over two minutes to begin the second frame.
• Miller noted that Armaan Franklin "re-aggravated" his ankle and was "hampered" in the second half. He said if Indiana had a game this week, Franklin and Trey Galloway would've likely had to sit out.
• Miller credited Rutgers center Myles Johnson as the reason for Indiana's struggles in the paint. Miller said they didn't get Jackson-Davis enough touches and reiterated that they have to put "more of an emphasis to get it to him" in the future.
• Miller praised the steadiness of Race and said he's starting to gain confidence around the basket. Miller said he thinks Thompson could take more outside shots.
• In the last 24 hours, Miller said he was waiting to see if a game would be rescheduled for this week after Indiana's game on Saturday was postponed due to a department-wide shutdown at Michigan. Miller hasn't heard anything and is assuming the Hoosiers will have an eight-day hiatus before they host Illinois next Tuesday.
• Miller said the team took today off. On Tuesday, Indiana will most likely lift weights, shoot, go through rehab and watch film. He hopes to use this time to get Franklin and Galloway healthy.
• Miller said he was on a conference call with other Big Ten coaches today and emphasized the craziness of the season. He hopes nothing else unforeseen will "derail the season."
• Miller noted that Indiana has to play better at home. He joked that 17,000 aren't going to come in at halftime and "save them."
Filed to: Archie Miller