Five takeaways from Indiana's double overtime loss at Wisconsin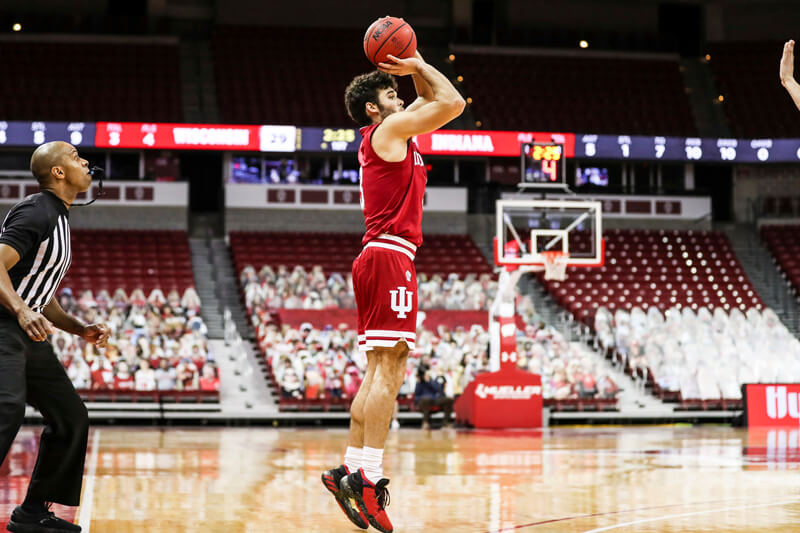 Indiana fell to 2-3 in Big Ten play with an 80-73 double overtime to Wisconsin on Thursday night at the Kohl Center. The Hoosiers had a chance to win the game in the closing seconds of regulation and at the conclusion of overtime, but couldn't score on either possession.
Here are five takeaways from the loss to the Badgers:
• Missed opportunities in key situations thwart upset bid: Archie Miller couldn't have drawn it up any better. Out of a timeout on the final possession in regulation, Indiana got a clean look at the rim for its best player, Trayce Jackson-Davis. Had Jackson-Davis converted, it would have given the program its first win at the Kohl Center since 1998. Instead, Jackson-Davis couldn't convert a point-blank layup and the game went to overtime.
The Hoosiers received another chance to win at the conclusion of overtime. Out of a pair of timeouts, Al Durham Jr. had the ball on the left wing and with time to go for a game-winner. But what appeared to be a miscommunication resulted in Rob Phinisee bringing his defender near Durham and Brad Davison immediately reached for the ball and tied Durham up. Rather than getting a shot up, it was a jump ball and Wisconsin's possession.
Indiana would not receive a third chance to win in double overtime as Tyler Wahl nailed a pair of 3-pointers to put the Hoosiers away. Against a top 10 team full of experience, Indiana's inability to capitalize on its earlier opportunities led to yet another loss in Madison.
"Give them credit, they made a lot of winning plays at the end, and we didn't make enough winning plays at the end, and that's what it takes in this league," Archie Miller said. "When you play the best teams in the country, which Wisconsin is, you have to find a way to step up and execute and make some tough plays. We didn't do that when we needed to the most."
• Bench steps up with Franklin sidelined: Indiana's depth has been thin for a majority of the season, but the Hoosiers got two key performances on Thursday from Anthony Leal and Jerome Hunter.
Leal, who played his first extended minutes of the season, scored nine points in 35 minutes. He held his ground in some tough situations against Wisconsin's bigs in the post and hit two key 3-pointers in the first half to give the Hoosiers some much-needed momentum.
Hunter has struggled to stay on the floor at times because of foul issues, but tied a career-high with 12 points and also logged a season-high 26 minutes. The Pickerington North (Ohio) product had a couple of strong finishes at the rim and continued to show his value as a floor spacer. Hunter knocked in a pair of 3-pointers and is now shooting 36.7 percent from distance this season.
With Armaan Franklin out for the "foreseeable future," Indiana is going to need continued production from both Leal and Hunter.
"We're going to need more guys, and clearly we came into tonight's game without our leading perimeter scorer in Armaan so we needed some guys to step up," Miller explained. "It can only help us as the season continues to go on that these guys have confidence in pressure situations that they can be out there. We're gonna have to continue to play our bench, and we're gonna have to continue to ride with guys during the game that are doing a good job."
• Jackson-Davis continues dominant sophomore season: Jackson-Davis didn't finish on the potential game-winner in regulation, but he continues to put up dominant performances in his second run through the Big Ten.
In 49 minutes, Jackson-Davis was unstoppable at times with 23 points, 12 rebounds, four assists and three blocked shots. He was 10-of-16 from the field and 3-of-5 from the free throw line.
In Big Ten play, he's averaging 19.8 points, 10 rebounds, two assists, 1.4 blocks and is shooting 54.2 percent from the field. As of Friday morning, he's second in KenPom's national player of the year rankings, trailing only Iowa's Luka Garza.
• Free throws and turnovers were both major factors in the loss: Two key stats stand out when glancing at the box score from Thursday's loss: free throws and turnovers.
Indiana was outscored by 11 points at the free throw line and committed six more turnovers than Wisconsin. The Badgers outscored Indiana 13-7 on points off of turnovers.
On the free throw front, Wisconsin took 12 more attempts than Indiana, which never got into the double bonus.
Indiana did a solid job of taking care of the ball for a majority of the second half, but two key mishaps late prevented the Hoosiers from extending their cushion. Leading 56-51, Jackson-Davis lost the ball to Tyler Wahl, who dunked it at the other end to cut the lead to three. On the ensuing possession, Leal turned it over, which ended up being the second of five straight possessions with no score for Indiana.
• Indiana dominates in the paint, but offensive rebounding continues to be inconsistent: Indiana had little trouble getting into and finishing in the paint against Wisconsin as the Hoosiers outscored the Badgers 44-32 in the paint.
Offensive rebounding, however, continues to be an issue after it was a major strength a season ago.
Indiana only grabbed two offensive rebounds on Thursday for a season-low offensive rebounding percentage of 6.2. The lack of second-chance opportunities didn't have a major impact on the outcome because Indiana shot well on 2s (53.7 percent) and 3s (38.1), but rebounding continues to be an issue for this group. In league play, Indiana is just 12th in offensive rebounding percentage and eighth in defensive rebounding percentage.
(Photo credit: IU Athletics)
Filed to: Anthony Leal, Jerome Hunter, Trayce Jackson-Davis, Wisconsin Badgers