At the buzzer: Wisconsin 80, Indiana 73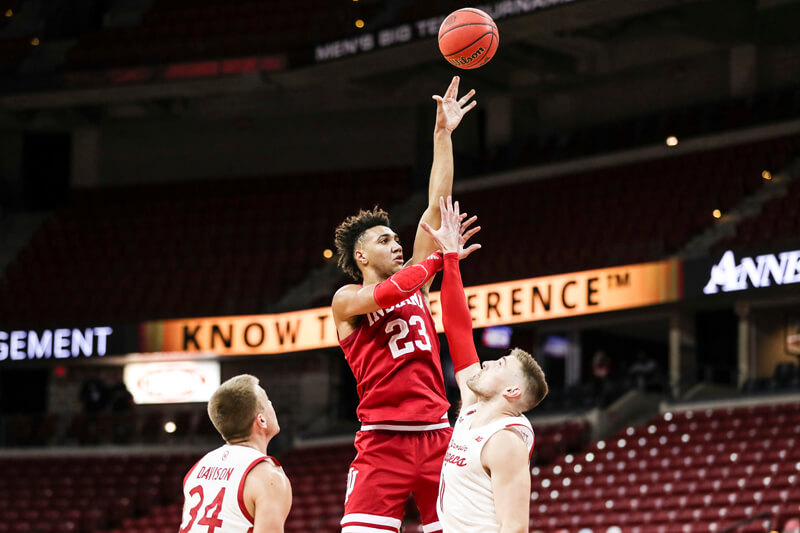 Quick thoughts on an 80-73 double-overtime loss at Wisconsin:
How it happened: It looked, for an eight-minute stretch, like Indiana might get run out of the Kohl Center in the first half on Thursday night. After the Hoosiers took an 11-9 lead on a Jerome Hunter 3-pointer with 11:23 to play in the half, the Badgers ripped off 20-7 run to grab a 29-18 lead with 3:04 to play. Indiana, desperate for offense, got an unexpected boost to close the half out strong. Freshman Anthony Leal knocked in a pair of 3-pointers to draw the Hoosiers within five at 29-24 at the break. Despite scoring just .78 points per possession and posting a turnover percentage of 23, Indiana hung tough because it defended Wisconsin well. The Badgers shot just 12-of-27 before half and scored just .94 points per possession.
That late first half run propelled into a strong second half offensive performance. The Hoosiers found Trayce Jackson-Davis early and often and the sophomore big man went to work. Wisconsin looked visibly frustrated at times trying to defend him and by the 5:55 mark, Indiana led 56-50. The Hoosiers found little resistance on both drives or in getting to the rim, which led to 44 points in the paint on the evening. After a 7-0 Wisconsin run gave the Badgers the lead at 57-56, Rob Phinisee answered with a left wing 3-pointer to give IU a 59-57 cushion with 1:27 to play. Wisconsin answered with a pair of free throws from D'Mitrik Trice to tie it at 59 before Jerome Hunter answered with a dunk to put IU back up 61-59 with 37.8 seconds to play. Trice answered with a tough shot in the lane, setting up a chance for IU to get the final possession. Jackson-Davis got a pretty good look at the rim and couldn't finish, sending the game to overtime.
The overtime started with a 3-pointer by Leal, which Wisconsin answered with a Brad Davison 3-pointer. Neither team would score again until a Hunter dunk with 1:50 to play. Wisconsin turned it over on the ensuing possession, but Hunter took a questionable 3-pointer out of a timeout. Trice answered with a 3-pointer with just 1:02 to play to give Wisconsin a 67-66 cushion. Durham missed a jumper with the shot clock dwindling on the next possession, but Indiana forced a tieup and Durham then hit a layup and drew a foul for a 3-point play with 26.4 seconds to play for a 69-67 lead. Trice answered with a jump shot with 11.1 seconds to play. Indiana called a pair of timeouts, but didn't get a shot off as Davison tied up Durham. Davison then missed a runner at the buzzer to set up a second overtime.
Indiana's inability to finish the game in regulation and overtime proved costly. Tyler Wahl hit a pair of 3-pointers to give Wisconsin a 77-70 lead, which put the game out of reach.
Standout performer: Jackson-Davis was terrific in 49 minutes, finishing with 23 points and 12 rebounds. Leal also had a breakout game with nine points in 35 minutes.
Statistics that stands out: Indiana was outscored by 11 points at the free throw line and by a 13-7 margin on points off of turnovers.
Final IU individual stats:

Final tempo-free stats: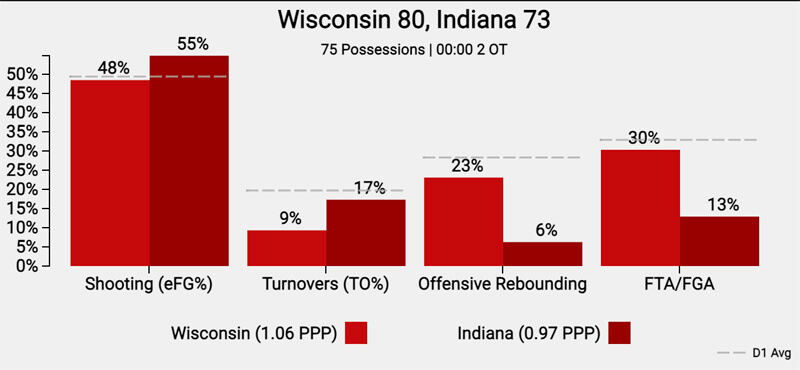 Filed to: Wisconsin Badgers