What to expect: Maryland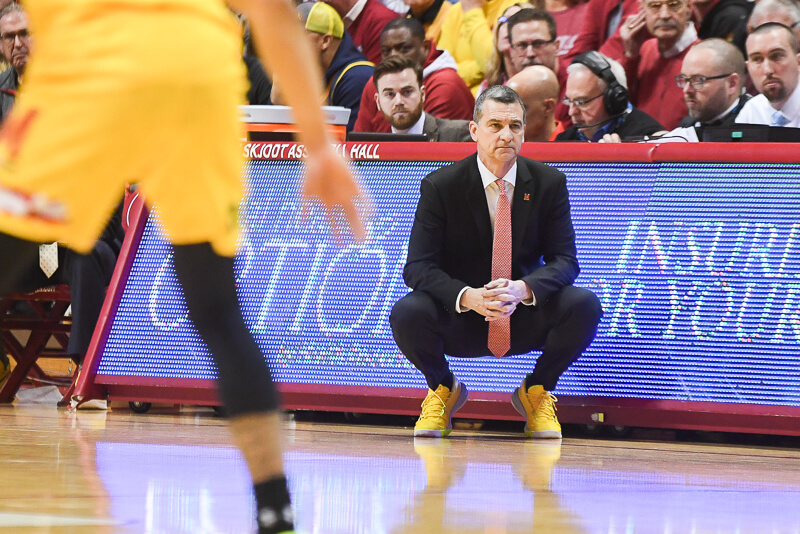 Indiana will play its first game of 2021 on Monday night when it hosts Maryland at Assembly Hall.
The Terps are 6-4 overall and 1-3 in Big Ten play with a win at Wisconsin and losses to Rutgers (home), Purdue (road) and Michigan (home). Monday's game will tip at 8 p.m. ET on BTN with Kevin Kugler and Stephen Bardo on the call:
Indiana avoided what could have been a catastrophic Big Ten start when it outlasted Penn State 87-85 in overtime on Dec. 30 at Assembly Hall. The defensive struggles in Big Ten play continued in the narrow win, but the Hoosiers did enough offensively to grab the critical win.
Monday's matchup against the Terps begins a critical week for Indiana in which it will play three games in seven days with two of those contests away from Bloomington. Maryland also has a busy week as it will host Iowa later this week before traveling to Illinois next Sunday.
MEET THE TERPS
Like Indiana, Maryland plays a limited rotation and that depth will be tested even further as guard Darryl Morsell is out for at least a week after taking an elbow in a loss to Michigan that required facial surgery.
Morsell, a 6-foot-5 senior guard, is Maryland's most experienced player with 90 career starts and is arguably the team's best defender as well. In Thursday's 84-73 loss to Michigan at the XFinity Center, the Terps scored just 29 second half points and seemed to fall apart without Morsell available down the stretch.
Junior guard Eric Ayala is the team's leading scorer at 14.8 points per game and is also playing a team-high 31.4 minutes per game. Ayala primarily operates in ball screen situations and excels at getting to the rim. He's shooting 73.3 percent at the rim, per Hoop-Math, and is a career 33.9 percent 3-point shooter on 322 attempts. He's shooting 61.2 percent overall on 2s this season, but that number has dipped in league play to 48 percent over four games.
Junior wing Aaron Wiggins looked like a potential breakout candidate after a freshman season in which he splashed in 41.3 percent of his 3s, but his efficiency has dipped as his usage continues to increase. Wiggins is off to a poor start from the perimeter over four conference game at just 21.4 percent on 3s. At 6-foot-6, Wiggins can still be a difficult matchup for smaller guards and his assist rate in league play of 21.6 percent is 17th best in the conference. Despite the poor perimeter shooting so far, Wiggins is still third on the team at 10.4 points per game.
Sophomore forward Donta Scott is one of the Big Ten's most improved players and is coming off a 19-point, six-rebound performance in 39 minutes against Michigan. Scott is 6-foot-7 and 235 pounds with the ability to finish in the paint or step out and hit 3-pointers. Indiana will need to make sure it has a solid plan for its ball screen coverage as Maryland will use Scott as both the roll man or as a pick-and-pop guy as well. Given the limited frontcourt depth for the Hoosiers, it won't be surprising to see Scott play extended minutes at the five in Maryland's smaller lineups. In league play, he's shooting a red hot 62.5 percent on 3s (16 attempts) and is also making 59.1 percent of his 2s.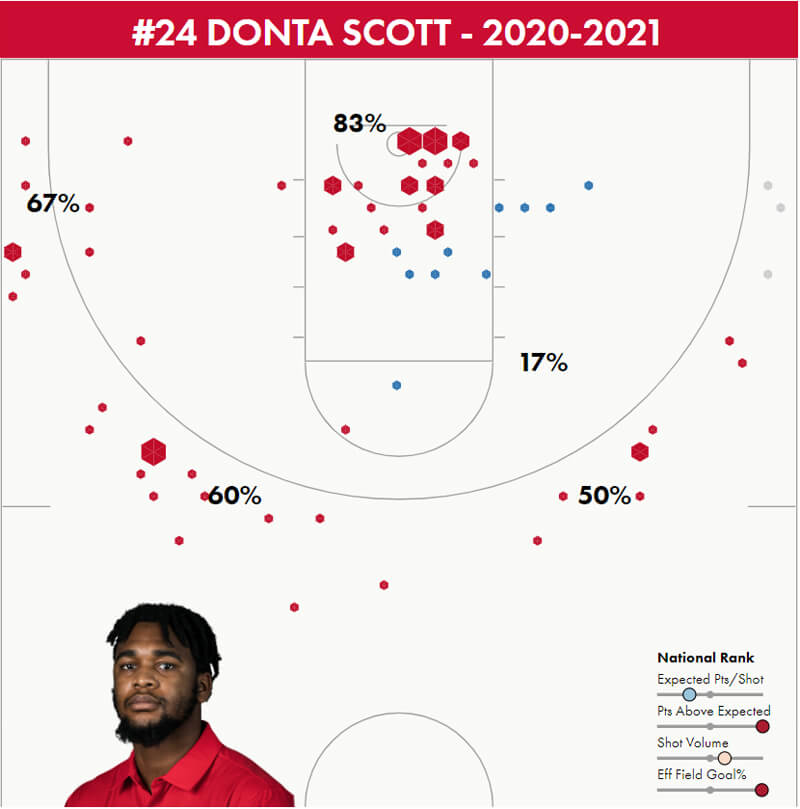 Sophomore Hakim Hart will slide into some of the minutes made available by Morsell's injury. He provides Mark Turgeon with another guard with size at 6-foot-6 who can score at a decent clip. Hart's 9.1 points per game are fourth on the team and he's shooting 38.7 on 3s and 64.5 percent on 2s this season. It is important to note, however, that five of Hart's made 2s this season came against Saint Peter's on Dec. 4.
Senior Galin Smith is a grad transfer from Alabama who plays the five and possesses the ability to finish in the paint. The 6-foot-9, 235 pound big man is only averaging nine minutes over the last four games as Turgeon is opting to go more with Scott at the five.
Boston College transfer Jairus Hamilton has scored in double figures in four of the team's 10 games and is coming off a 15-point game against Michigan in which he made three of his five 3-point attempts. The 6-foot-8, 235 pound forward could see plenty of minutes alongside Scott on Monday as Maryland looks to draw Trayce Jackson-Davis and Race Thompson away from the basket and force them to guard on the perimeter.
KEYS TO THE GAME
• Tighten the screws defensively: Indiana's defense has been below average in Big Ten play as the Hoosiers are allowing Big Ten opponents to shoot 55.9 percent on 2s and 38.8 percent on 3s. Those are unsustainable numbers for success against the top teams in the conference and the 2-point field goal percentage for opponents is particularly concerning. Maryland doesn't have a big man that can dominate games in the paint, but it does have small ball lineups that can space the floor. The Terps also play a deliberate pace that forces opponents to defend late into the shot clock.
• Possessions at a premium: Maryland doesn't turn the ball over, but the Terps also don't force many turnovers. As of Sunday morning, Maryland ranks third in the Big Ten in turnover percentage (13.3), but its league opponents were only turning it over at a 14-percent clip. Indiana continues to have four or five mishaps per game that are completely avoidable, which is holding this group back from hitting Archie Miller's goal of 10 or fewer turnovers per game.
• Continue the offensive balance: Indiana has been heavily dependent on Jackson-Davis and Armaan Franklin for offense this season, but the Hoosiers got some balance in the Penn State win with five players in double figures. That type of balance can't be the expectation every game, but Al Durham Jr. and Rob Phinisee, in particular, need to eliminate the invisible halves that have plagued the duo in recent weeks.
WHAT IT COMES DOWN TO
The loss of Morsell is substantial for Maryland as it takes their best perimeter defender off the floor and also severely impacts depth. Fortunately for Morsell, he'll only be out a few weeks, but with three games in seven days, the Terps are going to be asking a lot of Scott, Ayala and Wiggins to continue logging 35-plus minutes a night.
Maryland is likely to be a bottom half Big Ten team, but this group has already proven it can be a good team away from home. The 70-64 win at Wisconsin on Dec. 28 is arguably the most impressive win in conference play so far and is really the only NCAA tournament resume-worthy win the Terps have.
The KenPom projection is Indiana by four with a 64 percent chance of a Hoosier victory. The Sagarin numbers like Indiana by only two. Given that nothing has come easy in the Big Ten this season, Indiana will have to play much better defensively than it has thus far to claim its second Big Ten win.
Filed to: Maryland Terrapins