A look at where IU's class of 2021 recruiting targets stand in updated national rankings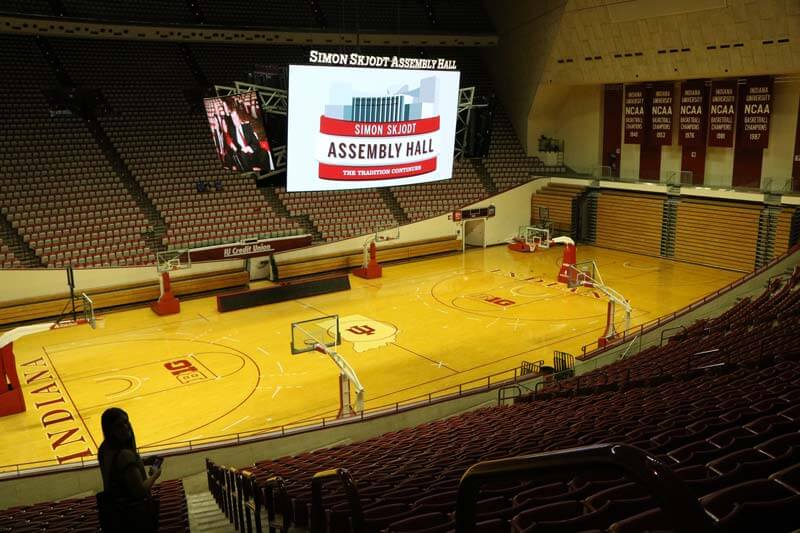 Despite the cancelation of spring and summer evaluation periods, the three major services who cover recruiting have forged ahead in recent weeks with updated rankings.
Corey Evans, a national analyst for Rivals.com, said this week on Podcast on the Brink that he's using film to make evaluations in the absence of in-person evaluations.
Here's a look a where each of the prospects on our 2021 Indiana basketball recruiting board stand in the 247Sports, Rivals and ESPN rankings, which were all updated recently.
Logan Duncomb (committed)
Center, 6-9, 230 pounds, Cincinnati Moeller (OH), Indiana Elite
• 247Sports: No. 78 (4-star)
• ESPN: Not ranked in ESPN 100
• Rivals: No. 142 (3-star)
Trey Kaufman
Forward, 6-8, 215 pounds, Silver Creek, Indiana Elite
• 247Sports: No. 40 (4-star)
• ESPN: No. 72 (4-star)
• Rivals: No. 83 (4-star)
Blake Wesley
Guard, 6-4, 175 pounds, South Bend Riley, Indy Heat
• 247Sports: No. 93 (4-star)
• ESPN: Not ranked in ESPN 100
• Rivals: No. 97 (4-star)
Aminu Mohammed
Guard, 6-4, 180 pounds, Greenwood Laboratory School (DC), Boo Williams
• 247Sports: No. 19 (4-star)
• ESPN: No. 10 (5-star)
• Rivals: No. 13 (5-star)
Trey Patterson
Forward, 6-8, 175 pounds, Rutgers Preparatory School (NJ), Team Rio
• 247Sports: No. 54 (4-star)
• ESPN: No. 26 (4-star)
• Rivals: No. 28 (4-star)
Jordan Longino
Guard, 6-5, 170 pounds, Germantown Academy (PA), Philly Pride
• 247Sports: No. 43 (4-star)
• ESPN: Not ranked in ESPN 100
• Rivals: No. 41 (4-star)
Mason Miller
Forward, 6-9, 180 pounds, Germantown (TN), Hoop City
• 247Sports: No. 49 (4-star)
• ESPN: No. 92 (4-star)
• Rivals: No. 65 (4-star)
John Camden
Forward, 6-8, 190 pounds, Archbishop Carroll (PA), Team Final
• 247Sports: No. 132 (3-star)
• ESPN: Not ranked in ESPN 100
• Rivals: No. 84 (4-star)
Nate Johnson
Guard, 6-3, 185 pounds, Lakota East (OH), Midwest Basketball Club
• 247Sports: Not ranked
• ESPN: Not ranked in ESPN 100
• Rivals: Not ranked in Rivals150
Louis Lesmond
Guard, 6-5, 190 pounds, Notre Dame College Prep (IL), Illinois Wolves
• 247Sports: No. 73 (4-star)
• ESPN: Not ranked in ESPN 100
• Rivals: Not ranked in Rivals150
Filed to: Aminu Mohammed, Blake Wesley, John Camden, Jordan Longino, Logan Duncomb, Louis Lesmond, Mason Miller, Nate Johnson, Trey Kaufman, Trey Patterson