What to expect: Nebraska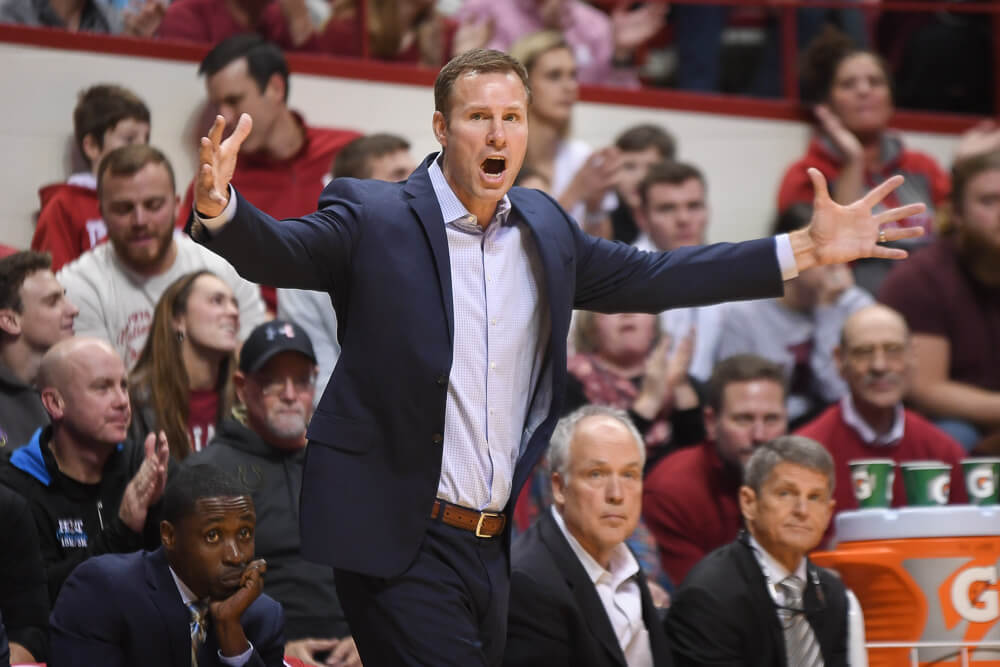 Indiana will begin postseason play Wednesday night in Indianapolis in the 2020 Big Ten tournament. The Hoosiers, the No. 11 seed for the first time in their Big Ten tournament history, will take on No. 14 seed Nebraska. The Cornhuskers are 7-24 overall and have lost 16 straight games.
Wednesday's game will tip at approximately 8:30 p.m. ET on BTN with Brandon Gaudin, Stephen Bardo and Mike Hall on the call:
As a result of losing a tiebreaker to in-state rival Purdue, Indiana will play on Wednesday of the Big Ten tournament for the first time ever. That's not a distinction a program with Indiana's history covets, but it is the reality in year three as it attempts to rebuild under Archie Miller.
Miller, who took over the program in the spring of 2017, is seeking his first NCAA tournament appearance in Bloomington and can nab his 20th win of the season on Wednesday night. It would be a win that won't move the needle in terms of IU's resume, but it is game the Hoosiers cannot afford to lose and still expect to comfortably make the tournament.
Nebraska, meanwhile, is in a complete free fall. The Cornhuskers patched together a roster this season under first year coach Fred Hoiberg and the results have been disastrous. Nebraska will play the Big Ten tournament without starting guards Dachon Burke Jr. and Cam Mack. The duo averages 24.2 points per game. On Tuesday, Hoiberg confirmed that neither player would travel to Indianapolis.
THE SEASON SERIES AND A GLANCE AT NEBRASKA
Indiana swept the season series with Nebraska, but neither win came particularly easy. The Cornhuskers gave the Hoosiers a 96-90 overtime scare in Bloomington on Dec. 13 and then fell 82-74 to IU in Lincoln. That was one of Indiana's two road wins in Big Ten play this season.
In both games, the two Nebraska players that hurt IU the most won't play in Indianapolis. In the overtime win at Assembly Hall, Burke Jr. went off for 25 points and in Lincoln, Mack scored 20 points. Over the two games against Indiana, Burke Jr. and Mack combined to average 36 points, 10.5 assists and three steals.
With those two players out, Hoiberg is down to seven scholarship players. Most notable from the group is graduate senior Haanif Cheatham, the team's leading scorer. Cheatham's 13 points per game lead the team and he started all 31 regular season games.
Beyond that, Thorir Thorbjarnarson is the only Nebraska player averaging more than eight points per game. Thornbjarnarson is the team's leading 3-point shooter with 48 makes and a 38.4 shooting percentage from distance.
In what is a first in the history of the Big Ten tournament, Nebraska announced the addition of two football players for Wednesday's game. Noah Vedral, Nebraska's backup quarterback last season, and offensive tackle Brant Banks, will suit up for Hoiberg. Vedral is 6-foot-1 and 200 pounds and Banks is 6-foot-7 and 300 pounds.
TEMPO-FREE PREVIEW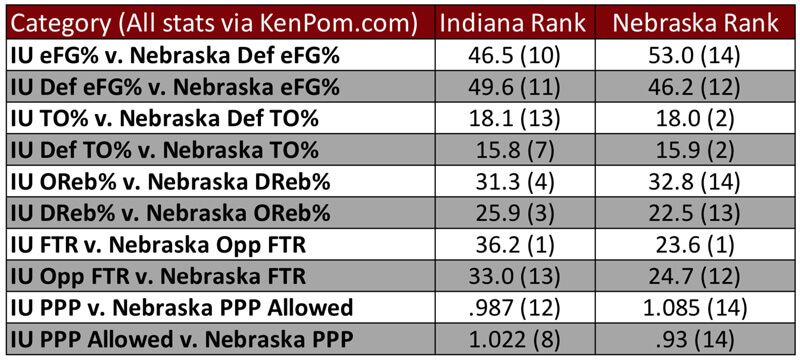 Nebraska finished the 20-game Big Ten schedule with the league's worst efficiency margin behind Northwestern. Conference opponents outscored Nebraska by .155 points per possession. And in its most recent game without Mack and Burke Jr. in the lineup, Nebraska lost by 32 points at Minnesota.
This is a game that Indiana should dominate inside, particularly on the glass. Nebraska had no answer in either of the first two games for Trayce Jackson-Davis and the Cornhuskers finished Big Ten play 14th in defensive rebounding percentage and 13th in offensive rebounding percentage.
It's also worth noting that Nebraska finished the regular season ranked 351st out of 353 Division I teams in free throw shooting at 59.9 percent.
WHAT IT COMES DOWN TO
The KenPom projection favors Indiana by 10 and the Sagarin numbers like the Hoosiers by 11.5. The Vegas line opened with IU as a 12.5-point favorite and quickly moved to 13.5.
Simply put, this is a game in which Indiana needs to win and do so comfortably. A win punches a ticket to a Thursday matchup against Penn State and another opportunity at a resume building win. It also avoids taking a loss that could be viewed as "bad" by the tournament selection committee. Right now, Indiana only has three losses to teams not projected to make the NCAA tournament (Purdue twice and Arkansas).
Indiana, despite minor injuries to Devonte Green (ankle) and Justin Smith (thumb), has more talent, depth and is playing less than an hour from its campus.
The postseason is here and the objective is clear for Indiana.
"I think this group has a chance to make a few runs in it, and that starts in Indianapolis," Miller said on Saturday in Bloomington. "In Indianapolis we'll be ready to go, and then when they call our name on Selection Sunday, we're going to find a way to advance in that one, too."
Filed to: Nebraska Cornhuskers