What to expect: Illinois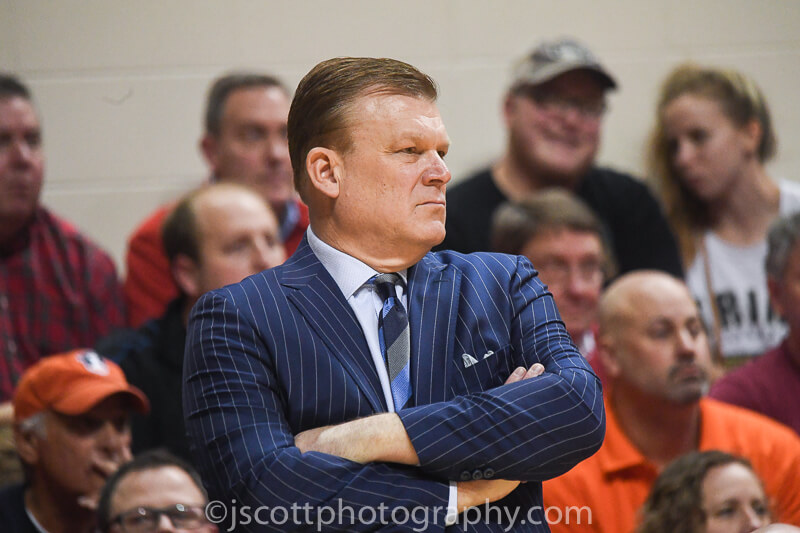 Indiana plays its final road game of the regular season on Sunday afternoon in Champaign. The Hoosiers will meet Illinois at the State Farm Center. The Fighting Illini are 19-9 overall and 11-6 in Big Ten play.
Sunday's game tips at 2 p.m. ET on BTN with Brandon Gaudin and Shon Morris on the call:
It's no secret that winning on the road has been a challenge for Indiana this season. After Thursday's 57-49 loss to Purdue in West Lafayette, Indiana is now 2-7 in true road games. And none of the losses have been closer than eight points.
Sunday will be another stiff challenge for the Hoosiers as Illinois seeks its 20th win in a sold out State Farm Center.
After a four-game losing streak to start February that severely damaged its Big Ten title hopes, Illinois has won three straight and still has a chance to grab a share of the regular season crown if it can win out to close the regular season.
MEET THE FIGHTING ILLINI
Illinois plays a tight rotation and relies heavily on sophomore guard Ayo Dosunmu, who is one of the league's premier guards.
The 6-foot-5 Dosunmu had an injury scare late in a home loss to Michigan State that caused him to miss a 72-57 loss at Rutgers, but he's returned to average 21 points over the team's last three wins.
Dosunmu leads the Illini with 16.4 points per game and is shooting 53.6 percent on 2s and 78.7 percent from the free throw line. While 3-point shooting isn't a strong suit for Dosunmu (28.9 percent), he's effective off the bounce, is an excellent finisher at the rim and can knock down midrange shots.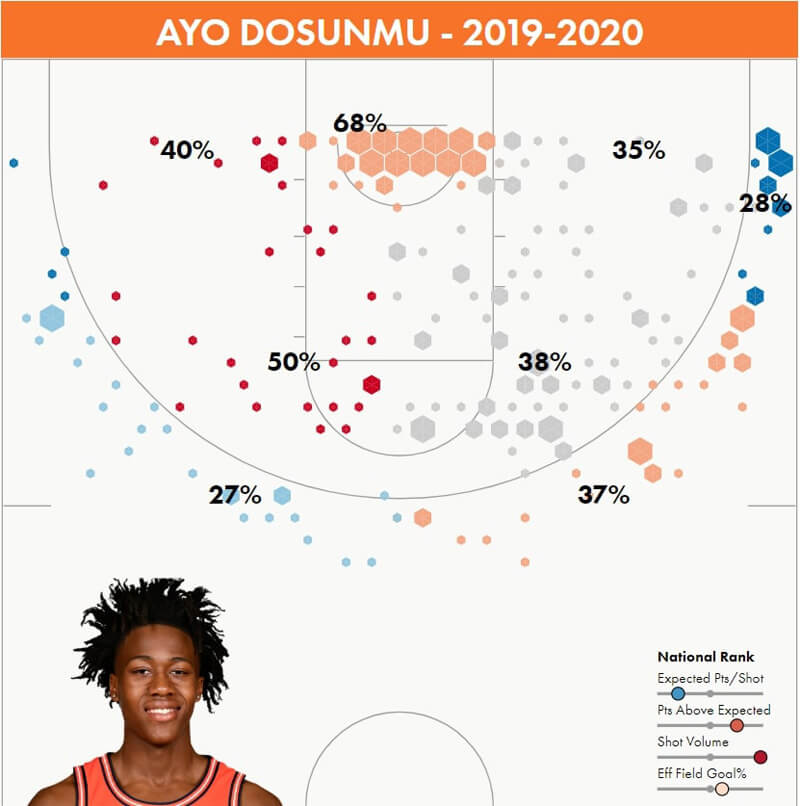 Kofi Cockburn is the primary competitor for Trayce Jackson-Davis for the Big Ten's freshman of the year award.
A native of Kingston, Jamaica, Cockburn is a legit 7-footer who weighs 290 pounds. He's second on the roster in scoring at 13.6 points per game and leads the team in rebounding with 9.1 per game. In conference play, Cockburn is the league's third best offensive rebounder.
He hasn't been a great finisher in Big Ten play – he's shooting just 48.1 percent on 2s – but is excellent at drawing fouls and is solid from the line at 69.3 percent in conference play.
Senior guard Andres Feliz is the third double figure scorer on the roster (10.8 ppg) who is 15th in the league in assist rate and takes care of the ball. Feliz is a below average 3-point shooter – 25.5 percent – but is making 51.1 percent of his 2s and 76.7 percent of his free throws.
Junior guard Trent Frazier has really struggled with his shooting this season. Frazier is making just 34.9 percent of his 2s and 31.9 percent of his 3s. He's fourth on the team in scoring at 9.4 points per game.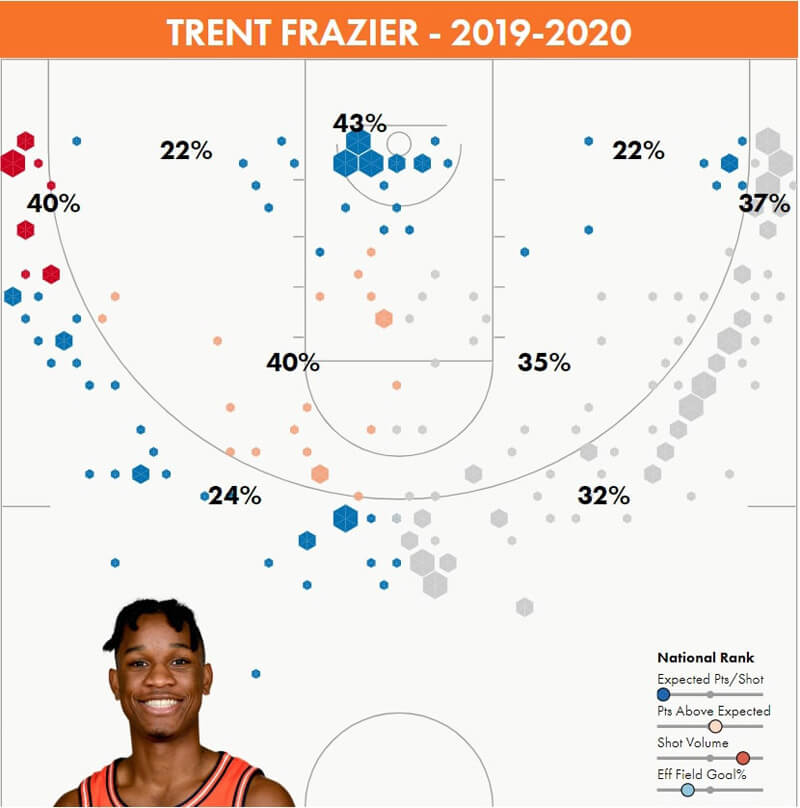 Another junior guard – Peoria native Da'Monte Williams – completes a four-guard set in the starting lineup for the Illini. Williams is not much of a threat to score as he averages just 2.3 points in 21.1 minutes per game.
Sophomore big man Giorgi Bezhanishvili has regressed after a very productive freshman season. He's averaging just seven points and 4.9 rebounds in 24 minutes per game. After making 58.2 percent of his 2s as a freshman, Bezhanishvili is shooting just 43.1 percent on 2s in his second season.
Alan Griffin, a 6-foot-5 sophomore, is the team's best perimeter shooter. He's making 43.3 percent of his 3s in league play, which ranks third in the conference. He's also sixth in the league in offensive rebounding percentage and seventh in defensive rebounding percentage.
Senior Kipper Nichols could see spot minutes in the frontcourt, but averages just 3.3 points per game on 36.1 percent shooting from the field.
TEMPO-FREE PREVIEW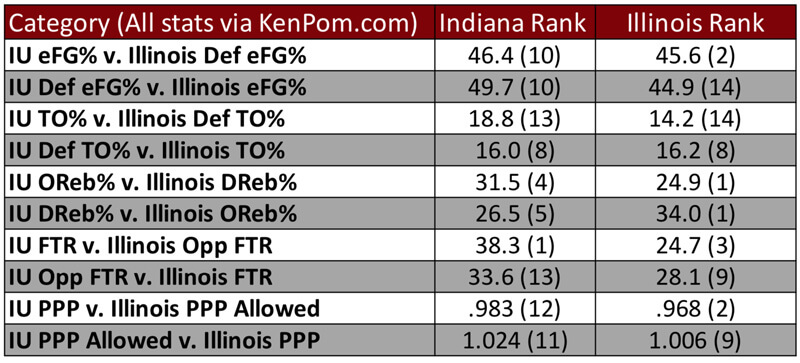 Defense is the calling card for this Illini team. After placing a heavy emphasis on pressure and getting steals in Brad Underwood's first two seasons, Illinois adjusted that strategy this season.
Illinois finished first in defensive turnover percentage last season and is now last this season. Rather than the ball denial defense that often led to easy breakdowns and buckets last season, the Illini now have Cockburn to rely on in the paint to help stop and deter shots at the rim. His presence is a major reason Illinois no longer has to gamble for steals and ranks second in the conference in points per possession allowed (.968) and is the league's best defensive rebounding team.
In addition, Illinois ranks third in the conference in defending without fouling as its opponent free throw rate (FTA/FGA) is just 24.7 percent.
WHAT IT COMES DOWN TO
The KenPom projection is Illinois by five with just a 33 percent chance of an IU victory. The Sagarin ratings like Illinois by four.
Indiana has played well under Archie Miller against Underwood and Illinois with a 3-1 record, but this Illini team is proving to be far more formidable than Underwood's previous two groups. Illinois is a lock for the NCAA tournament and Dosunmu is a contender for All-Big Ten first team honors.
Sunday's atmosphere in the sold out State Farm Center should be terrific and Indiana will need to be much sharper offensively than it was on Thursday at Purdue to be successful. While the Hoosiers remain in solid position to make the NCAA tournament, a win on Sunday would just about wrap up an at-large bid. A loss, however, will put a ton of pressure on IU to finish out the regular season strong at Simon Skjodt Assembly Hall.
Filed to: Illinois Fighting Illini