What to expect: Minnesota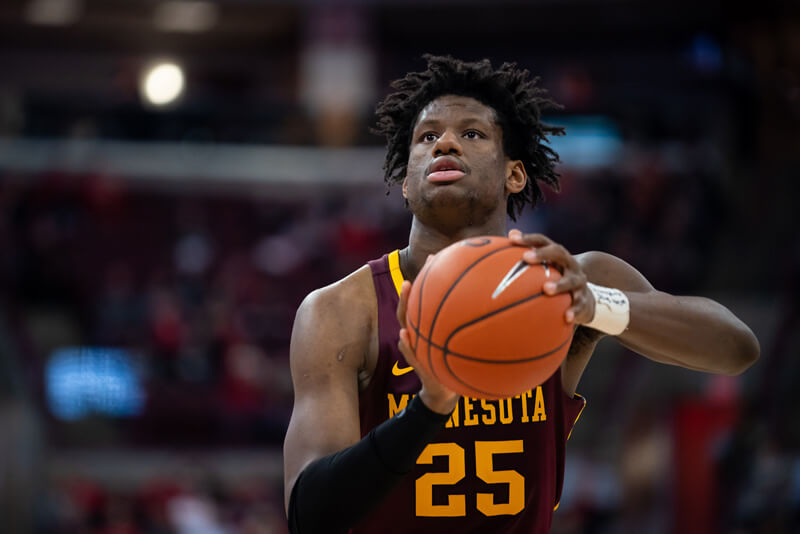 Indiana's two-game roadtrip concludes tonight in Minneapolis as the Hoosiers will take on Minnesota at Williams Arena. The Golden Gophers are 12-12 overall and 6-8 in Big Ten play.
Tonight's game will tip at 9 p.m. ET on BTN with Cory Provus and Stephen Bardo on the call:
Indiana is fighting for its postseason life.
Archie Miller needs to show progress in year three of his tenure in Bloomington and after missing the postseason completely in year one and an NIT appearance in year two, progress in year three is making the NCAA tournament.
This season appeared destined for the NCAA tournament when Indiana led Maryland 76-70 late and looked to be on its way to a 15-4 record. But a late collapse against the Terps and losses in four of its five games since have the Hoosiers hovering on the cut line for the only postseason tournament that matters.
Tonight provides yet another opportunity for Indiana to win away from Assembly Hall, but its track record this season doesn't paint a pretty picture for its chances to do so. The Hoosiers are 1-6 in true road games this season and the six losses have come by an average margin of 15.5 points.
MEET THE GOPHERS
Its a rebuilding season in Minnesota as the Gophers lost Jordan Murphy, Amir Coffey and Dupree McBrayer from last season's 22-14 team that reached the round of 32 in the NCAA tournament.
The clear headliner on the Minnesota roster is sophomore big man Daniel Oturu. A lock for All-Big Ten first team honors, the 6-foot-10 center is a dominant post scorer. Oturu's 19.9 points and 11.2 rebounds both lead the team and his 151 points on 144 post-up possessions rank in the 89th percentile nationally, according to Synergy Sports.
Oturu is making 56.5 percent of his 2s in conference play and also ranks in the top six in offensive and defensive rebounding percentage in league games. He's eighth in the conference in free throw rate (FTA/FGA) and is making close to 70 percent of his attempts from the stripe in league play. As his shot chart below shots, Oturu is also dangerous in the mid-range: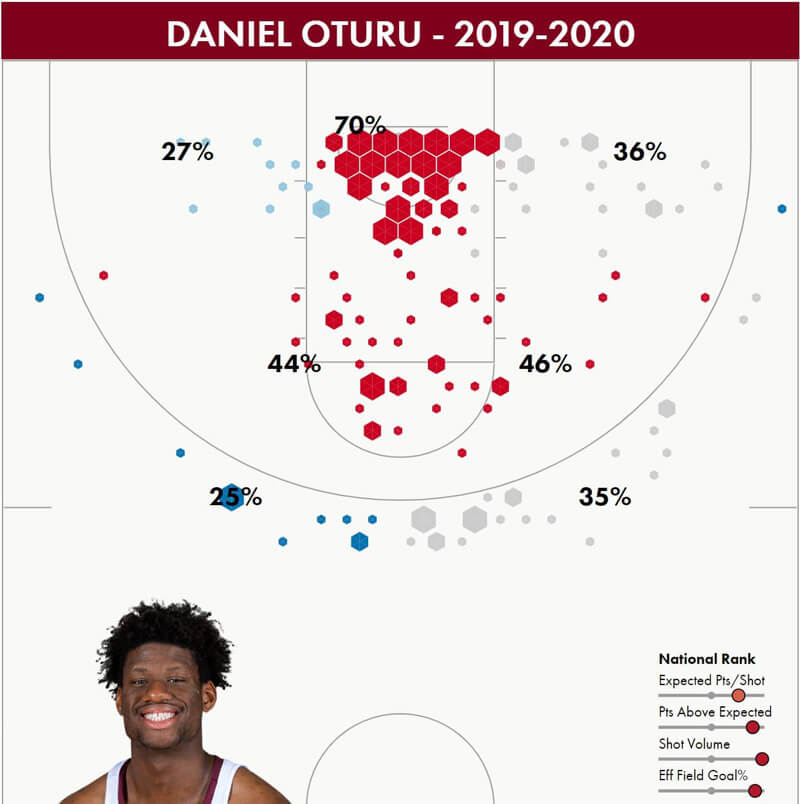 Sophomore Marcus Carr, who sat out last season after transferring from Pittsburgh, plays 37.2 minutes per game and is one of the league's best guards. Carr is fourth in the conference in assist rate and 10th in 3-point shooting percentage. Carr is second on the team in scoring (15.4 ppg), second in rebounding (5.9 rpg) and first in assists (6.7 apg). He's a solid spot-up shooter, according to Synergy, with 79 points in 77 spot-up possessions.
Gabe Kalscheuer was an excellent shooter as a freshman, but has regressed in his sophomore campaign. Kalscheur made 43 percent of his 3s in league play and 41 percent overall in his first season, but is shooting 25.3 percent on 3s in Big Ten play and 33.5 percent overall this season. He's still averaging in double figures at 11.7 points per game, but ranks in just the 45th percentile nationally as a spot-up shooter, per Synergy.
Junior guard Payton Willis, who sat out last season after transferring from Vanderbilt, is fourth on the team in scoring at 9.1 points per game and is shooting 47.6 percent on 2s and 34.6 percent on 3s for the season. Willis ranks sixth in the conference in turnover percentage at 8.9.
Alihan Demir, a grad transfer from Drexel, plays in the frontcourt alongside Oturu. He's just 6-for-30 on 3s in league play and averages 7.3 points and 4.9 rebounds in 26.4 minutes per game.
Freshman guard Tre' Williams is the lone name to know off the Gopher bench. He's the only bench player who averages more than three points per game and plays primarily at the three. Williams is a 27.3 percent 3-point shooter.
TEMPO-FREE PREVIEW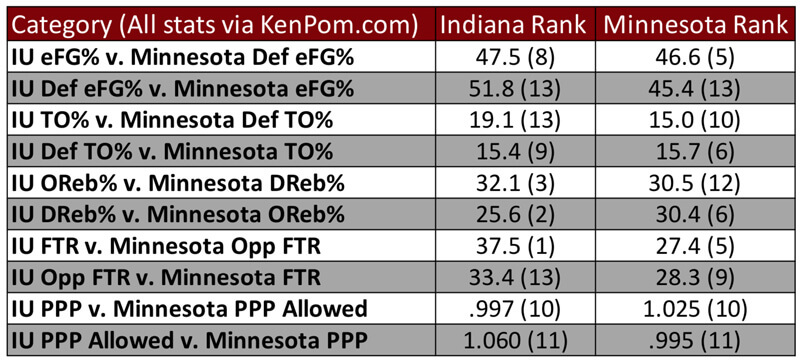 Minnesota is the worst 3-point shooting team in the league, but doesn't hesitate to fire up shots from the perimeter. Kalscheuer is taking 6.7 3s per game in league play, Willis is taking 5.2 and Carr is taking 4.7. The Gophers are shooting just 28.5 percent from distance in conference play.
After a "non-existent" effort on the glass against Michigan, Indiana is going to have to do work on the boards to leave Minneapolis with a win. The Gophers rank just 12th in the league in defensive rebounding percentage, so the opportunity for second chance points will be there if the Hoosiers choose to compete in the paint.
WHAT IT COMES DOWN TO
The KenPom projection is Minnesota by six and the Sagarin numbers like the Gophers by just 3.5 when adjusted for homecourt. The Vegas line favors Minnesota by 5.5.
As unreliable as Indiana has been on the road this season, this is its best remaining chance for a win away from Bloomington. Minnesota has three home losses on its ledger and its most recent defeat, a late collapse against Iowa, was a tough setback for the Gophers. Minnesota led 55-47 with 5:25 to play, but didn't score the rest of the way in a 58-55 loss.
Oturu is a much different matchup than Luka Garza because of his athleticism, but this game will ultimately come down to Indiana's ability to control secondary options like Carr and Kalscheur. Oturu has been going for 20 and 10 consistently all season, but Carr is averaging just 8.3 points in Minnesota's three home losses.
Indiana's effort on the road has been poor for a majority of the season and until the Hoosiers prove otherwise, it's tough to project anything other than trouble for this group when things get tough away from home.
Photo credit: GopherSports.com
Filed to: Minnesota Golden Gophers