Bracketology: NCAA Tournament projection as of February 18, 2020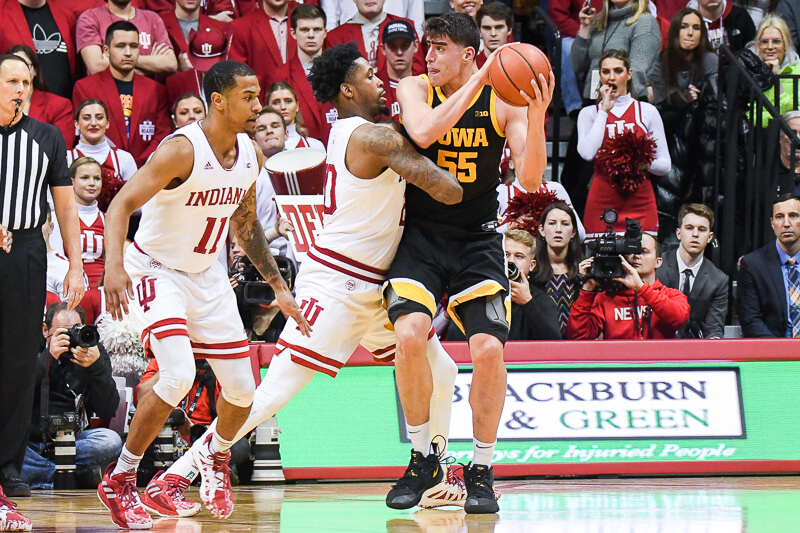 With less than a month until Selection Sunday, it feels like a good time to look at potential at-large candidates from outside of the top conferences. For the purposes of this exercise, I am not including teams from leagues like the Atlantic 10, Mountain West, and West Coast Conference.
At this point, the list is a relatively short one with the top two contenders being East Tennessee State and Northern Iowa. Both picked up key non-conference road wins over a major conference team, with ETSU winning at LSU and Northern Iowa doing the same at Colorado.
ETSU boasts a second Quad 1 victory by virtue of winning at UNC Greensboro, and the Buccaneers also own a pair of Quad 2 victories as well as nine true road wins. A Quad 4 home loss to Mercer doesn't help matters, and it's worth noting that three of ETSU's 23 wins came against non-Division I opponents and won't be considered by the committee. This week's game with Furman will have huge implications in the SoCon title race and is one that could potentially fall in Quad 2 when it's all said and done.
Northern Iowa has a slightly higher NET rating (40 vs. 42), but they have two Quad 3 losses. The Panthers have three Quad 2 victories and a 7-3 mark in true road games. UNI's losses have all been relatively close, with one coming by five on a neutral floor (West Virginia), one in overtime (at Loyola Chicago), and one by just two points (at Southern Illinois). The Panthers' toughest remaining game comes this week when they travel to Indiana State.
If both can run the table in the regular season, there is an argument to be made for an at-large berth should they lose in their respective conference tournaments.
The other two teams I'm keeping an eye on are Stephen F. Austin and Liberty.
The Lumberjacks have an interesting case since they currently sit at 85th in the NET and a gaudy 19-3 mark in Division I games. They won at Duke in one of this season's most surprising results, and two of their three losses fall in Quad 1 (at Rutgers, at Alabama). The other loss came at home by one point to Texas A&M-Corpus Christi, and that Quad 4 loss certainly doesn't help SFA's case. Another challenge is the overall quality of the Southland Conference, which leads to 16 of the Lumberjacks' 19 victories falling in Quad 4. Still, if they can win their final six conference games, consideration is warranted.
As for Liberty, the Flames were blown out in their lone Quad 1 opportunity at LSU but did pick up a Quad 2 win against Akron. However, they have one loss each in Quad 3 and Quad 4, and 18 of their 22 Division I victories currently fall in the lowest quadrant. Without a signature win, I'm just not sure there's enough on the profile to save Liberty if they don't win the Atlantic Sun's automatic bid.
Before looking at the one seeds, I wanted to give a quick reminder about how the NCAA selection committee classifies wins based on the NET Rating.
A breakdown of the four tiers:
· Tier 1: Home vs. teams ranked 1-30 / Neutral vs. teams ranked 1-50 / Road vs. teams ranked 1-75
· Tier 2: Home vs. teams ranked 31-75 / Neutral vs. teams ranked 51-100 / Road vs. teams ranked 76-135
· Tier 3: Home vs. teams ranked 76-160 / Neutral vs. teams ranked 101-200 / Road vs. teams ranked 136-240
· Tier 4: Home vs. teams ranked 161-351 / Neutral vs. teams ranked 201-351 / Road vs. teams ranked 241-351
One Seeds
Since none of the top seeds have lost since the committee's reveal on February 8th, once again there were no changes on the top line with Baylor, Kansas, Gonzaga, and San Diego State atop the seed list in that order.
The Bracket
The projections below are based on all games played through February 17th, 2020.
| | | |
| --- | --- | --- |
| SOUTH (HOUSTON) | | WEST (LOS ANGELES) |
| St. Louis – March 19/21 | | Spokane – March 19/21 |
| 1) Baylor | | 1) Gonzaga |
| 16) Robert Morris / Norfolk St. | | 16) Winthrop |
| 8) Rutgers | | 8) Texas Tech |
| 9) St. Mary's | | 9) USC |
| | | |
| Omaha – March 20/22 | | Spokane – March 19/21 |
| 5) Butler | | 5) Michigan St. |
| 12) Stephen F. Austin | | 12) Cincinnati / Utah St. |
| 4) Penn St. | | 4) Oregon |
| 13) Vermont | | 13) Akron |
| | | |
| Tampa – March 19/21 | | Albany – March 19/21 |
| 6) Marquette | | 6) Iowa |
| 11) Indiana | | 11) Northern Iowa |
| 3) Auburn | | 3) Villanova |
| 14) Hofstra | | 14) Colgate |
| | | |
| Cleveland – March 20/22 | | Tampa – March 19/21 |
| 7) Wisconsin | | 7) BYU |
| 10) Arizona St. | | 10) Rhode Island |
| 2) Dayton | | 2) Florida St. |
| 15) South Dakota St. | | 15) UC Irvine |
| | | |
| EAST (NEW YORK CITY) | | MIDWEST (INDIANAPOLIS) |
| Sacramento – March 20/22 | | Omaha – March 20/22 |
| 1) San Diego St. | | 1) Kansas |
| 16) Montana | | 16) Siena / Prairie View A&M |
| 8) Houston | | 8) Illinois |
| 9) Oklahoma | | 9) Florida |
| | | |
| Sacramento – March 20/22 | | Cleveland – March 20/22 |
| 5) West Virginia | | 5) Colorado |
| 12) Liberty | | 12) Georgetown / Purdue |
| 4) Kentucky | | 4) Louisville |
| 13) North Texas | | 13) Yale |
| | | |
| Albany – March 19/21 | | St. Louis – March 19/21 |
| 6) Ohio St. | | 6) Arizona |
| 11) Virginia | | 11) ETSU |
| 3) Seton Hall | | 3) Creighton |
| 14) Wright St. | | 14) New Mexico St. |
| | | |
| Greensboro – March 20/22 | | Greensboro – March 20/22 |
| 7) Michigan | | 7) LSU |
| 10) Xavier | | 10) Wichita St. |
| 2) Duke | | 2) Maryland |
| 15) Little Rock | | 15) Murray St. |
Last Four In:
Georgetown – The Hoyas picked up a huge road win at Butler in their lone game last week, which they played without their two two scorers. Just two of Georgetown's nine wins in Quad 1 and 2 came against teams in the at-large conversation (Creighton, at Butler), while nine of their 10 losses fall in Quad 1. By Big East standards, the Hoyas have a manageable week with a home date with Providence followed by a trip to DePaul.
Purdue – A pair of losses pushed the Boilers back to just two games over .500 and thus back into the First Four. As previously mentioned, history isn't on the Boilers' side since the last time a team earned an at-large bid with a record just two games over .500 was back in 2001. That said, Purdue has three Quad 1 wins and four more in Quad 2 to go with strong computer numbers. A pair of Quad 3 losses (Texas, at Nebraska) doesn't do them any favors though. A challenging week awaits with a trip to Wisconsin followed by a visit from Michigan.
Cincinnati – The Bearcats survived a pair of overtime scares last week, and they've now won seven of eight with the lone loss coming at UConn by one point in overtime. A trio of Quad 3 losses is the biggest potential issue on UC's profile, but eight victories in the top two quadrants are helping to offset that for now. Home dates with Central Florida and Wichita State are on tap this week.
Utah State – Like Cincinnati, Utah State seems to have hit its stride with seven wins in its last eight games. Neutral court victories over LSU and Florida both fall in Quad 1, but those are the only wins over any teams anywhere near the at-large picture. The Aggies have a bad loss at Air Force and played two non-Division 1 games, which the committee may frown upon. Big man Neemias Queta missed two of Utah State's losses due to injury, but they likely need to win their final three Mountain West games before advancing deep into the conference tournament to feel remotely safe on Selection Sunday.
First Five Out:
Richmond – The Spiders have just one loss outside of the top two quadrants, which came against Radford on a neutral floor. Their best wins came at Rhode Island and on a neutral court against Wisconsin, but those are the only victories over teams in the at-large discussion. A 7-2 mark in true road games adds to their case, but the unbalanced schedule has limited Richmond's opportunities to get additional quality wins since the Spiders drew Dayton and Rhode Island just once in A-10 play. For now, they need to take care of business with a relatively favorable upcoming schedule.
Mississippi State – The Bulldogs split their games once again last week, getting blown out by 25 points at Ole Miss before bouncing back to win at Arkansas in the closing seconds. Mississippi State also played its first 10 games without Nick Weatherspoon, which included a home loss to Louisiana Tech. The Bulldogs' best wins are on the road at Florida and a sweep of fellow bubbler Arkansas, but the remaining schedule doesn't allow many chances for other big wins. This week features a home date with South Carolina and a road trip to Texas A&M.
Arkansas – Following Saturday's last second loss to Mississippi State, the Hogs have now lost four straight and seven of nine. Guard Isaiah Joe has missed the last four games following knee surgery, and if he can't return, it's hard to expect Arkansas to win enough to earn an at-large bid. As it stands, Arkansas' only two wins of note came at Alabama and at Indiana, but they have avoided losses in Quad 3 and 4. A road trip to Gainesville awaits this week before the Razorbacks return home to host Missouri.
Alabama – The Crimson Tide took Auburn to overtime on the road but came up just short before bouncing back to knock off LSU at home over the weekend. A 14-11 overall mark is less than ideal, as is a Quad 3 home loss to Penn. Still, the computer numbers are solid, and they have managed to pick up six victories in the top two quadrants. Similar to Mississippi State, the remaining schedule doesn't provide a ton of top-end opportunities, but Alabama needs to perform well this week in a home game against Texas A&M and a trip to Ole Miss.
Stanford – After being swept at home by the Arizona schools, the Cardinal have now lost seven of their last eight with the lone win somehow coming against Oregon. Stanford's other notable win this season came on a neutral floor against Oklahoma, but those are the only victories over tournament-caliber teams. A road loss at Cal doesn't help matters, which means the Cardinal can ill afford losses on their trip to the Washington schools this week.
Conference Breakdown:
Big Ten (11): Illinois, Indiana, Iowa, Maryland, Michigan, Michigan State, Ohio State, Penn State, Purdue, Rutgers, Wisconsin
Big East (7): Butler, Creighton, Georgetown, Marquette, Seton Hall, Villanova, Xavier
Big 12 (5): Baylor, Kansas, Oklahoma, Texas Tech, West Virginia
Pac-12 (5): Arizona, Arizona State, Colorado, Oregon, USC
ACC (4): Duke, Florida State, Louisville, Virginia
SEC (4): Auburn, Florida, Kentucky, LSU
American (3): Cincinnati, Houston, Wichita State
West Coast (3): BYU, Gonzaga, Saint Mary's
Atlantic 10 (2): Dayton, Rhode Island
Mountain West (2): San Diego State, Utah State
America East: Vermont
Atlantic Sun: Liberty
Big Sky: Montana
Big South: Winthrop
Big West: UC Irvine
Colonial: Hofstra
Conference USA: North Texas
Horizon: Wright State
Ivy: Yale
MAAC: Siena
MAC: Akron
MEAC: Norfolk State
Missouri Valley: Northern Iowa
Northeast: Robert Morris
Ohio Valley: Murray State
Patriot: Colgate
Southern: ETSU
Southland: Stephen F. Austin
SWAC: Prairie View A&M
Summit: South Dakota State
Sun Belt: Little Rock
WAC: New Mexico State
Follow Andy on Twitter (@andybottoms) for more thoughts on college hoops and to receive an update whenever new brackets are posted.
Filed to: 2019-2020 bracketology