Big Ten Power Rankings: February 17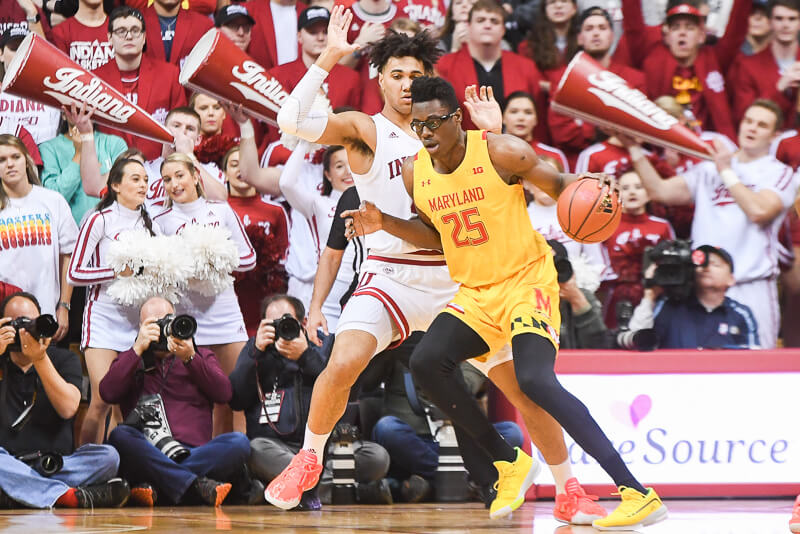 Maryland remains at the top of the Big Ten standings after beating Nebraska and Michigan State last week. With eight straight wins, the Terps are the favorite to win the league's regular season crown.
The power rankings will run each Monday throughout the remainder of the regular season.
14. Northwestern (1-13, .936 PPP, 1.092 PPP allowed)
The Wildcats have dropped nine straight games and there's little reason for optimism for another win in the regular season. Northwestern does have a road trip to Nebraska left on the docket, but the Wildcats have the worst efficiency margin in conference play by a significant margin. If there's been a bright spot this season for Northwestern, it's been the play of sophomore Miller Kopp. He's shooting 39.8 percent on 3s overall and 38.3 percent in conference play.
13. Nebraska (2-12, .969 PPP, 1.08 PPP allowed)
Nebraska's losing streak is even longer than Northwestern's – 10 games – but the Huskers should be able to lock up the 13 seed in the Big Ten tournament with a win over the Wildcats on March 1. Nebraska's patched together roster in Fred Hoiberg's first season is simply not built for success in a conference as unforgiving as the Big Ten.
12. Indiana (6-8, .997 PPP, 1.06 PPP allowed)
Archie Miller is now 1-6 on the road this season in conference and 7-19 in road conference games since taking over in Bloomington in the spring of 2017. Indiana was listless in a 89-65 blowout loss at Michigan on Sunday afternoon. Unless the Hoosiers can find a way to win out at home, the program may miss the NCAA tournament for a fourth straight season.
11. Minnesota (6-8, .995 PPP, 1.025 PPP allowed)
Minnesota's NCAA tournament hopes were dealt a significant blow on Sunday afternoon as it collapsed late and lost 58-55 to Iowa at Williams Arena. Daniel Oturu is one of the league's best players, but he doesn't have enough reliable help surrounding him to win consistently in a rugged Big Ten. The Gophers have now lost four of five, but have two winnable games this week as Indiana travels to Minneapolis on Wednesday before a road trip to Northwestern on Sunday.
10. Purdue (7-8, 1.007 PPP, .993 PPP allowed)
The Boilermakers appeared to be hitting their stride just over a week ago, but came crashing back down to Earth last week with a pair of double digit losses. Purdue was beaten handily by Penn State in West Lafayette and followed that up with a blowout loss at Ohio State on Saturday afternoon. There's still enough meat on the Purdue resume to make the NCAA tournament, but the Boilermakers probably need to go 3-2 to close out the regular season to feel safe.
9. Wisconsin (8-6, 1.016 PPP, .997 PPP allowed)
The Badgers played just once last week and won easily at Nebraska. Wisconsin already has eight conference wins and still has four home games to go, so there's ample opportunity to challenge for a double bye in next month's Big Ten tournament. This is a crucial week for Wisconsin as it hosts Purdue and Rutgers. Despite just a 15-10 record overall, the Badgers are closing in on lock status for the NCAA tournament.
8. Illinois (8-6, .995 PPP, .976 PPP allowed)
It was a rough week for the Fighting Illini as a home loss to Michigan State ended with an injury to Ayo Dosunmu that looked much worse than it actually was. On the final play of the game, Dosunmu fell awkwardly and had to be helped off the court, but he's expected to return this season. Dosunmu wasn't available over the weekend at Rutgers and the Illini were beaten soundly by the Scarlet Knights. Things don't get any easier for Illinois this week as a roadtrip to Penn State awaits on Tuesday.
7. Iowa (9-6, 1.091 PPP, 1.068 PPP allowed)
Iowa avoided a disastrous week by staging a late comeback on Sunday in Minneapolis to beat Minnesota. The Hawkeyes lost at Indiana on Thursday and are the Big Ten's 12th best defensive team, which doesn't inspire much trust that a deep NCAA tournament run is in the cards. Luka Garza continues to perform at an All-America level and is firmly in the mix for Big Ten player of the year.
6. Ohio State (7-7, 1.037 PPP, 1.016 PPP allowed)
The Buckeyes have won five of six and are ninth nationally in the KenPom ratings. In a Big Ten that is devoid of reliable perimeter shooting, Ohio State is the league's best 3-point shooting team at 37.3 percent. Ohio State's ability to space the floor around Kaleb Wesson makes the Buckeyes a legitimate threat to advance to the second weekend of the NCAA tournament or perhaps beyond.
5. Michigan (7-7, 1.061 PPP, 1.024 PPP allowed)
Outside of Maryland and Penn State, no one in the Big Ten is playing better than Michigan. The Wolverines now have Isaiah Livers back and his presence along with Zavier Simpson gives Michigan one of the league's best one-two combos. The Wolverines absolutely throttled Indiana at home on Sunday as Simpson finished with 12 points and 11 assists as Michigan scored 1.38 points per possession.
4. Rutgers (9-6, 1.013 PPP, .969 PPP allowed)
Barring a complete collapse, Rutgers is going to make the NCAA tournament for the first time since 1991. The Scarlet Knights have a tough schedule to close out the regular season with Michigan and Maryland at home and road trips to Wisconsin, Penn State and Purdue. At 18-8 overall, Rutgers can probably punch its ticket to the tournament with one more win, but that will be no easy task.
3. Michigan State (9-6, 1.025 PPP, .95 PPP allowed)
Michigan State still has the Big Ten's best efficiency margin thanks to several blowout wins and the fact that most of its losses have been narrow. There's still a run left in this team as Cassius Winston and Tom Izzo are the best player-coach combination in the league. At 17-9 overall, Michigan State is going to be under-seeded in the NCAA tournament and a potential nightmare matchup as early as the round of 32.
2. Penn State (10-4, 1.057 PPP, 1.016 PPP allowed)
The Nittany Lions have won eight straight and are still within striking distance of the Big Ten regular season title. Penn State still has road trips to Indiana, Iowa and Northwestern, but all of those games are certainly winnable. While most schools would not have given a coach nine years to make the NCAA tournament, Penn State did exactly that with Pat Chambers and is being rewarded with a season that won't soon be forgotten in State College.
1. Maryland (11-3, 1.013 PPP, .954 PPP allowed)
The Terps have won four straight road games in league play and are going to have to earn it if they want to win the Big Ten regular season crown outright. Maryland still has home games against Michigan and Michigan State along with road trips to Ohio State, Minnesota and Rutgers. Saturday's win at Michigan State was one of the most impressive wins this season in the Big Ten as the Terps blew a sizable lead before a couple of late 3-pointers by Anthony Cowan closed out a 67-60 victory.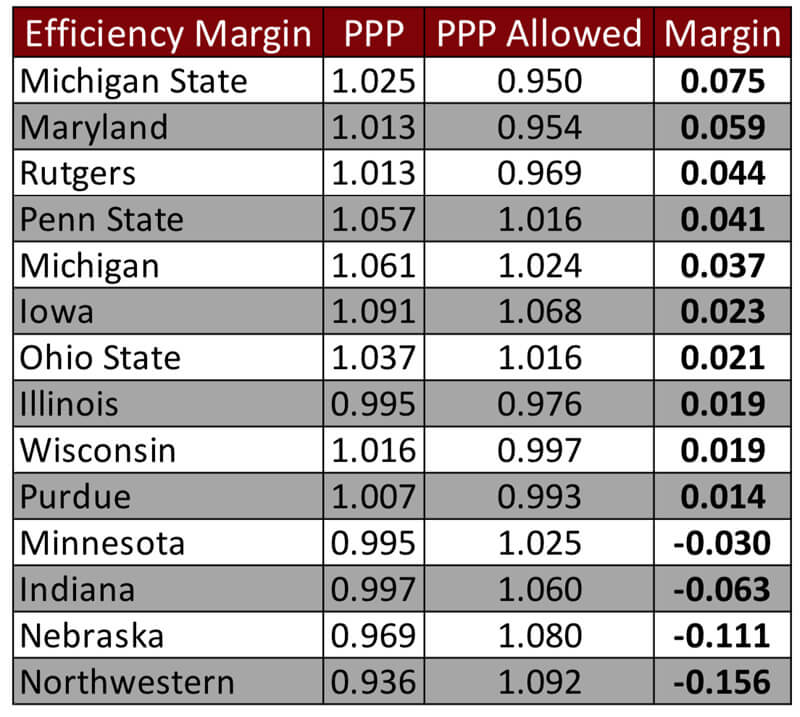 Filed to: Big Ten Power Rankings