The Minute After: Michigan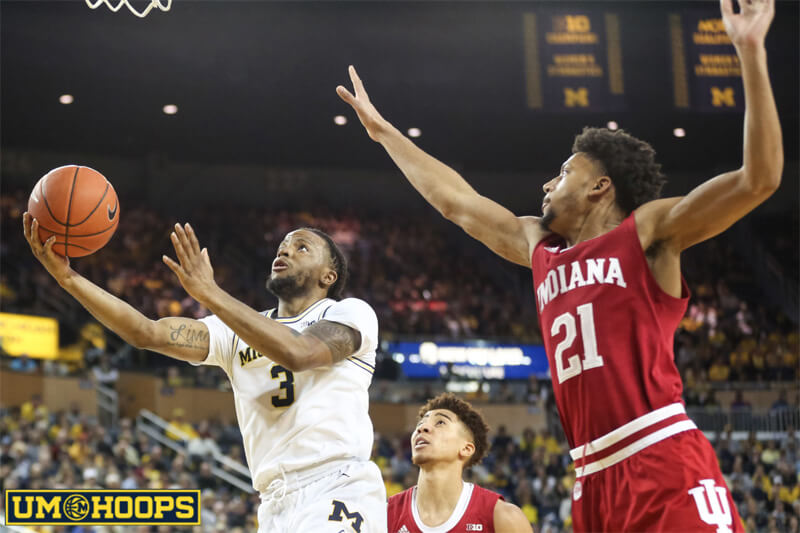 Thoughts on an 89-65 loss to the Wolverines: 
It's easy to look at this one as another disastrous double-digit Big Ten road loss for the Hoosiers. And that would be a fair assessment.
Indiana had absolutely no answer for Michigan's offense today. None. The Wolverines broke down Indiana off the dribble on the perimeter again and again and again and again the entire contest. Once that happened, Indiana's defense was left in scramble mode. Either Michigan would keep going to the rim for scores when Indiana didn't stop the ball. Or the Wolverines would simply find wide open teammates as Indiana defenders rotated over to the ball.
Zavier Simpson was the leader in this regard for the Wolverines, dishing out 11 assists on the afternoon to go along with his 12 points. Simpson often found his teammates beyond the arc as he got into the lane, and a number of his 11 assists were 3-point makes. It helped the Wolverines along to a red hot 9-of-17 (52.9 percent) mark from distance. And when Indiana was working at a disadvantage, constantly out of position to challenge at the rim, Michigan got to the line a lot — especially as the second half went along. There the Wolverines also excelled, shooting an impressive 18-of-22 from the line (81.8 percent). Michigan finished the game with 1.38 points per possession and an effective field goal percentage of 66. Let a team carve you up this much with their offense and you're unlikely to win no matter the location.
"Just defensively, poor, all the way around," Archie Miller said after the contest.
This was also a game Indiana had trouble finding Trayce Jackson-Davis. He had just three field goal attempts and five points. Those three field goal attempts matched a season low (vs. Ohio State on Jan. 11). The Hoosiers also rebounded just 21 percent of their misses. Michigan doubled that (42 OR%). It's no surprise then, that Michigan had 17 second-chance points to Indiana's five.
Yet, there were some sneaky positives in this one for the Hoosiers. After four straight games of turning it over on more than 20 percent of their possessions, they only turned it over on 10.8 percent today, which is their second best mark in that category all season. (Just imagine how much more out of hand this one would have be had IU been poor with the ball.) It helped their offense to a decent 1.007 points per possession, their second best mark in a conference road loss this season. And while Jackson-Davis was mostly absent today on the offensive end — feel free to add Devonte Green (three points, 1-of-7) and Rob Phinisee (four points, 2-of-7) into that category, too — De'Ron Davis and Al Durham picked up the slack. Davis scored a career-high 18 points on a perfect 9-for-9 mark from the floor. Al Durham hit his first two 3-point attempts early in the first half and it propelled him to 17 points.
In the end, we're finding out this is just the reality for Indiana this season: The Hoosiers aren't good on the road. And with three of their next four games coming away from home and an NCAA tournament appearance hanging in the balance, that's not an encouraging sign.
Photo credit: UMHoops
Filed to: Michigan Wolverines