What to expect: Iowa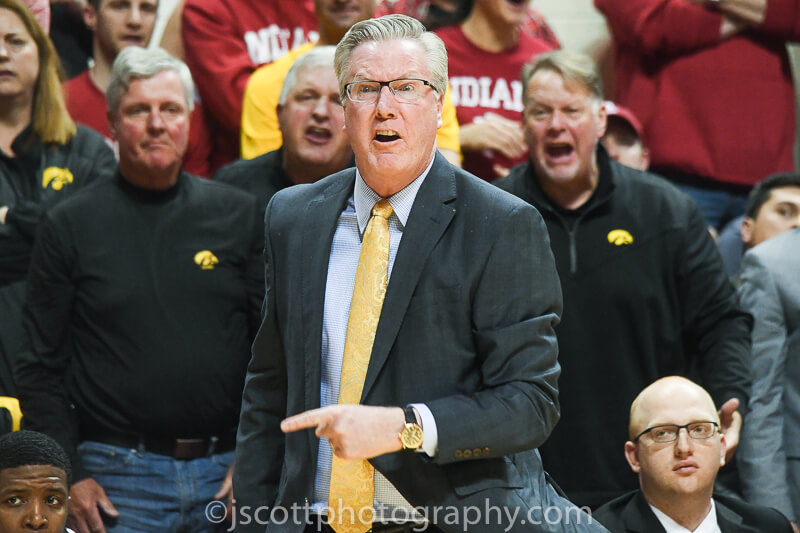 Indiana will wrap up a two-game homestand Thursday night when it hosts Iowa at Simon Skjodt Assembly Hall. The Hawkeyes are 17-7 overall and 8-5 in Big Ten play.
Thursday's game will tip at 8 p.m. ET on BTN with Dave Revsine and Shon Morris on the call:
Indiana's once promising season is teetering on the edge of disaster.
The Hoosiers have not won a game since beating Michigan State on Jan. 23 and it's easy to pinpoint the moment things changed. Indiana led Maryland 76-70 at home with 1:25 to play on Jan. 26 and lost the game, 77-76.
Since that collapse against the Terps, the Hoosiers have been beaten soundly three straight times. They now play four of their next six games on the road. And the two home games in that stretch are against ranked teams in Iowa and Penn State.
The home court advantage Assembly Hall provides has dwindled in recent seasons. The Hoosiers have already dropped three home games this season and are just 15-10 in home conference games under Archie Miller.
A team that was touted as one that would be built with a defense first mentality is 10th in the conference in points per possession allowed, 12th in effective field goal percentage defense, 11th in defensive turnover percentage, 11th in opponent free throw rate, 12th in 3-point field goal percentage defense and 11th in 2-point field goal percentage defense.
The road gets no easier from here as Indiana's defense now faces the challenge of Iowa, the league's best offense, on Thursday night on Branch McCracken Court.
MEET THE HAWKEYES
Junior center Luka Garza is in the midst of an incredible season. Garza, who was often overshadowed by Tyler Cook during his first two seasons in Iowa City, is averaging 23.1 points and 9.9 rebounds in 30.6 minutes per game.
At 6-foot-11 and 260 pounds, Garza can step out of the paint and knock down shots and can also finish plays in the paint and at the rim. He's shooting 38.2 percent on 3s, 59.5 percent on 2s and is drawing 7.2 fouls per 40 minutes in league play. According to Synergy Sports, Garza has scored 217 points on 203 post-up possessions, which ranks in the 90th percentile nationally.
Garza also ranks fourth in the conference in offensive rebounding percentage and seventh in defensive rebounding percentage. Garza currently sits third in KenPom's national player of the year rankings behind Devon Dotson of Kansas and Markus Howard of Marquette.
Sophomore Joe Wieskamp tested the NBA draft waters last spring, but returned to Iowa City and is one of the league's best shooters. Wieskamp is a deadly spot-up shooter and has scored 117 points on 107 spot-up possessions, per Synergy Sports. That ranks in the 84th percentile nationally. In Big Ten play, Wieskamp is shooting 39.7 percent on 3s, which is 12th best in the league. Wieskamp is Iowa's second leading scorer (15.4 ppg) and second leading rebounder (6.1 rpg).
Redshirt freshman CJ Fredrick is Iowa's third leading scorer and ranks 14th in the country in 3-point shooting percentage (47.2). A former AAU teammate of Rob Phinisee with Indiana Elite, Fredrick moves well away from the ball and has the benefit of playing with Garza and Wieskamp, which helps tremendously with floor spacing.
Freshman point guard Joe Toussaint has filled in admirably for Jordan Bohannaon, who shut his season down after 10 games and opted to take a redshirt rather than battle through hip pain. Toussaint isn't a shooter and is the guy Indiana will be able to afford to leave when sending help defensively. He's averaging 6.7 points per game, but is shooting just 36.7 percent from the field.
Redshirt sophomore Connor McCaffery is only a career 29.1 percent 3-point shooter, but is a good passer and plays like a coach's son. McCaffery leads the Hawkeyes with 3.7 assists per game and is shooting 77.6 percent from the free throw line.
Ryan Kriener, a 6-foot-10 senior, is instant offense off the bench for the Hawkeyes. Kriener averages 7.4 points in just 17.4 minutes per game and is shooting 66 percent on 2s in conference play, which leads the league. Bakari Evelyn, a 6-foot-2 grad transfer from Valparaiso, is playing over 16 minutes per game, but averages just 2.3 points on 25.4 percent shooting.
TEMPO-FREE PREVIEW
As has typically been the case under McCaffery, Iowa is an elite offensive team with a suspect defense. The Hawkeyes are first in the league in offensive efficiency, first in effective field goal percentage, third in offensive rebounding percentage, fifth in free throw rate and first in free throw percentage.
Indiana cannot afford to watch a few Iowa 3-pointers go down and then try to make it a shooting contest from the perimeter. The weakness in Iowa's defense is in the paint. The Hawkeyes are allowing Big Ten opponents to shoot 53.9 percent on 2s and there's no legitimate shot blocker on the roster. As great as Garza is offensively, his limitations on defense are what will likely keep him in college for four seasons.
The Hoosiers have had three straight games with a turnover percentage of 21.4 or more, which has crippled the offense. Offensive rebounding has also been on the downswing as Indiana hasn't grabbed more than 29 percent of its missed shots since the Maryland game. Both of these deficiencies have caused the offense to sputter as the Hoosiers haven't scored more than a point per possession in their last three contests.
WHAT IT COMES DOWN TO 
The KenPom projection is Iowa by 1 and the Sagarin ratings also like Hawkeyes by less than a point.
If Indiana wants to keep its NCAA tournament hopes alive, the Hoosiers have to start winning home games. Indiana still has four games left at Assembly Hall and winning out would secure an at-large bid even if another road win isn't in the cards.
But consecutive losses at home have left the margin for error razor thin and the uninspired play Indiana exhibited against Purdue doesn't suggest this team is currently on steady ground.
Filed to: Iowa Hawkeyes