What to expect: Purdue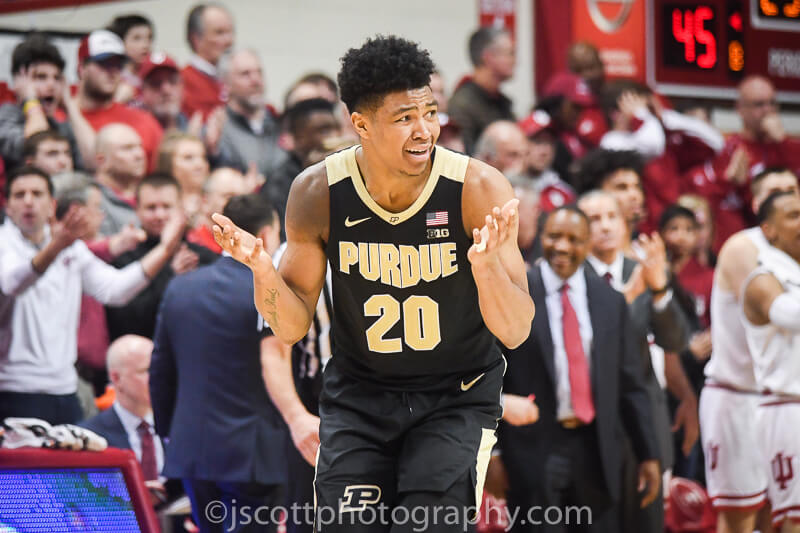 Indiana will try to snap a three-game losing streak on Saturday afternoon when it hosts Purdue at Simon Skjodt Assembly Hall. The Boilermakers are 13-10 overall and lead the all-time series 120-89.
Saturday's game will tip at 2 p.m. ET on ESPN with Bob Wischusen, Dick Vitale and Kris Budden on the call:
Indiana desperately needs a win. The Hoosiers are still firmly in the NCAA tournament according to most projections, but that will quickly change if the current losing streak continues.
Saturday's opponent, Purdue, has strong computer numbers and is also in many of the current NCAA tournament projections, but also needs to bolster its resume. Purdue already has 10 losses and still has road trips to Ohio State, Wisconsin and Iowa remaining after Saturday's game in Bloomington. The Boilermakers have been great at home, but own just two road wins this season (at Ohio, at Northwestern).
Purdue coach Matt Painter has dominated the rivalry series with Indiana in recent seasons. Since losing four straight to Indiana from 2012 to 2013, Purdue has won eight of its last nine against the Hoosiers. Purdue is one of two Big Ten programs that Archie Miller has not beaten (Michigan is the other) since taking over in the spring of 2017.
Saturday will also mark a special occasion in Assembly Hall as the 1980 Big Ten championship team will be honored at halftime. Former Purdue coach Gene Keady is also expected to be in attendance.
MEET THE BOILERMAKERS
It's been a season of transition in West Lafayette. Carsen Edwards, Ryan Cline and Grady Eifert all graduated from last season's 26-10 team that made a run to the Elite Eight and narrowly lost to Virginia.
With Edwards and his high usage rate gone to the NBA, Purdue has been forced to become a far more balanced team offensively this season. Five Boilermakers are averaging between 9.3 and 11.2 points per game.
Sophomore big man Trevion Williams is the go-to option offensively for Painter. At 6-foot-9 and 270 pounds, Williams is a load to handle in the post and has good touch in the paint and out to 7 to 10 feet. Williams, who is averaging 11.2 points and 7.4 rebounds per game (both team-highs), has the third highest usage rate of any Big Ten player in league play. Williams is shooting 55.1 percent on 2s in Big Ten play, but just 47.5 percent from the free throw line.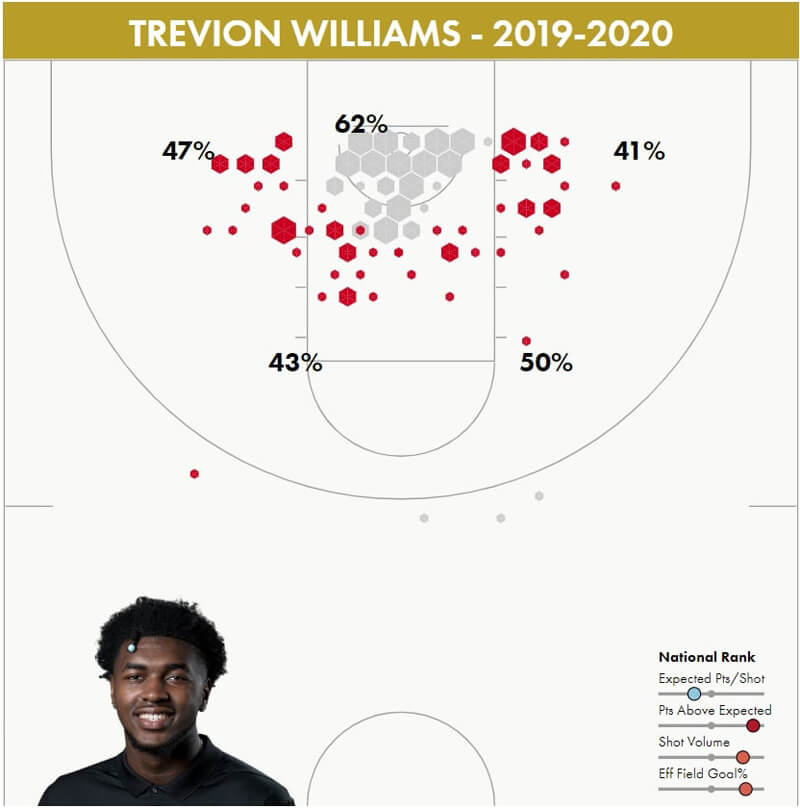 Matt Haarms, a 7-foot-3 junior, is the Big Ten's best shot blocker. Haarms will likely draw the assignment of making life difficult for Trayce Jackson-Davis when he's on the court and his length makes him difficult to finish over. Haarms has a block percentage of 12.1 for the season, which ranks 16th nationally. He's third on the team in scoring at 9.7 points per game and is shooting 56.4 percent from the field. In last year's 48-46 win for Purdue in Bloomington, it was Haarms who scored the game winning bucket for the Boilermakers.
Playing time for graduate senior Evan Boudreaux has fluctuated greatly, but he's coming off a season-high 18 points in Wednesday's blowout win over Iowa. The 6-foot-8, 220 pound forward is shooting 43.5 percent on 3s in Big Ten play.
Sophomore Aaron Wheeler was viewed as a breakout candidate in the preseason, but has struggled for a majority of the season. The 6-foot-9 forward is shooting just 21.8 percent on 3s on 78 attempts and has scored in double figures just three times. If Wheeler ever gets on track, he has the potential to make Purdue a far more dangerous team because of his size and versatility on the wing.
Sophomore guard Eric Hunter Jr. is the team's second leading scorer at 10.3 points per game and can fill it up from the perimeter. Hunter is shooting 39.3 percent on 3s, but has been a below average finisher at the rim and in the paint. As his shot chart below shows, Hunter is most comfortable shooting from the left side of the floor: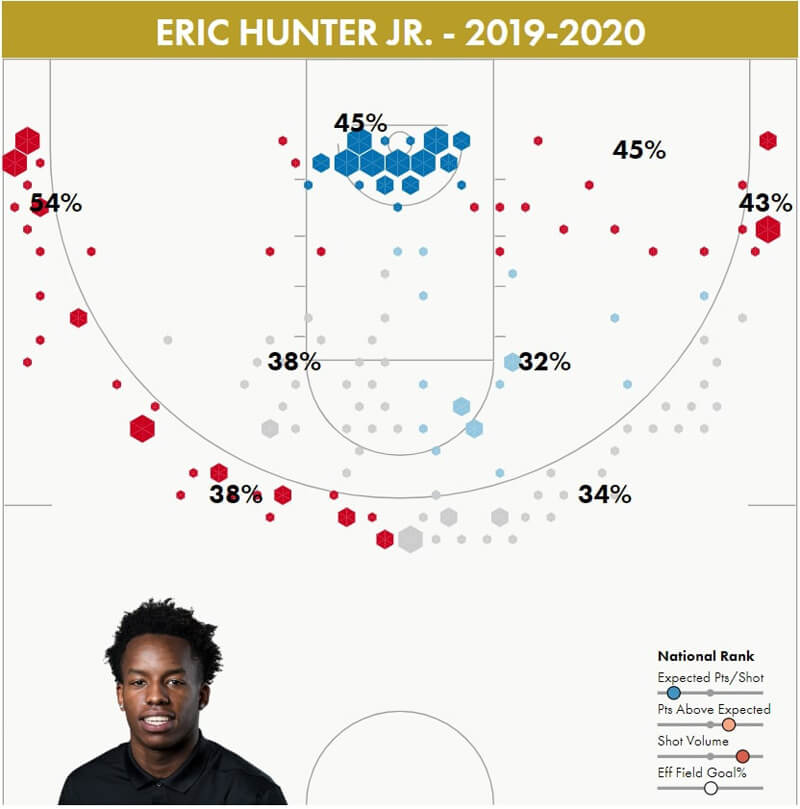 Sophomore Sasha Stefanovic gets a ton of screens in the Purdue offense and when he finds space, he's capable of changing a game with his perimeter prowess. Stefanovic is in his third year of college, but utilized a redshirt season. He's shooting 39.1 percent on 3s and leads Purdue with 50 makes from beyond the arc: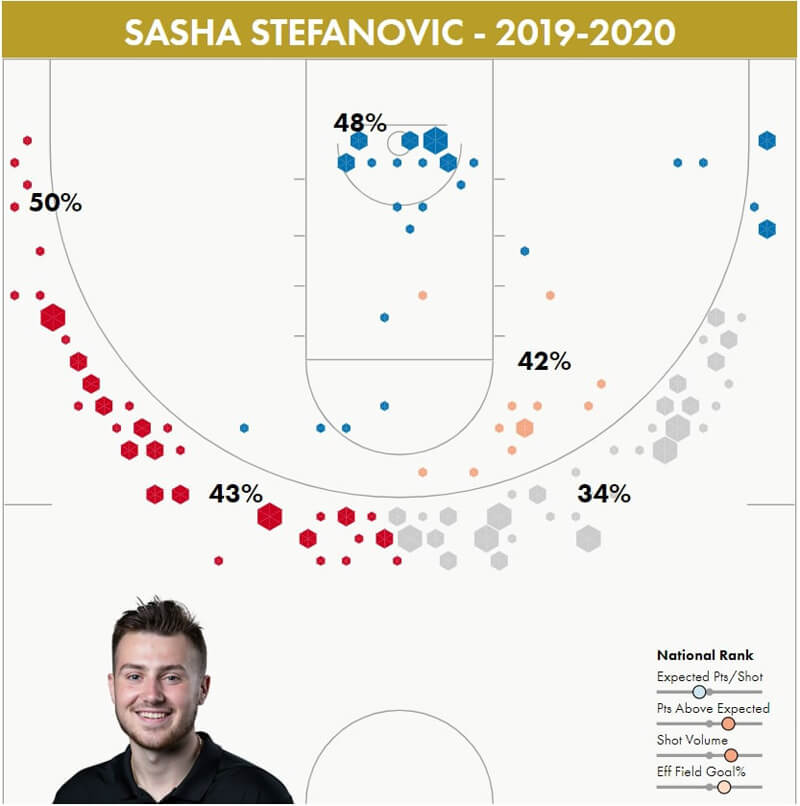 Junior Nojel Eastern is one of the Big Ten's best defenders, but has yet to establish an identity for himself offensively. Eastern is 6-foot-7 and 225 pounds, but doesn't do anything particularly well offensively. Eastern has only taken 24 free throws this season and is shooting just 41.7 percent. He's also shooting just 42.5 percent on 2s overall and just 38.9 percent in Big Ten play.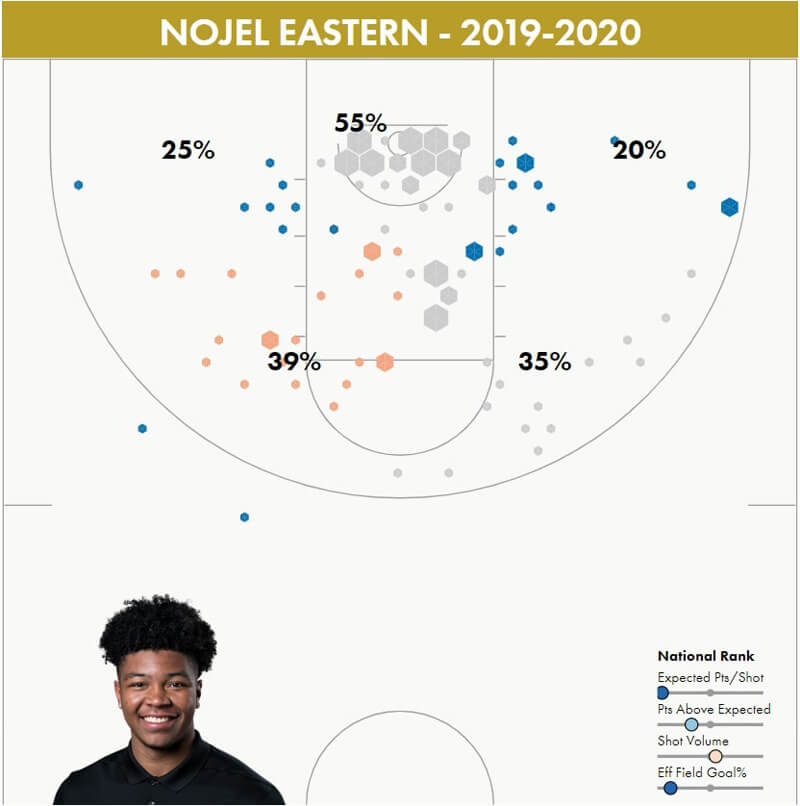 Graduate senior Jahaad Proctor and freshman Isaiah Thompson will both see minutes in the backcourt. Proctor, who played his first three seasons at High Point, is seventh in league play in steal percentage and is shooting 40 percent on 3s. Thompson, a Zionsville product and the younger brother of former Purdue guard P.J. Thompson, is third on the team in made 3-pointers with 27.
TEMPO-FREE PREVIEW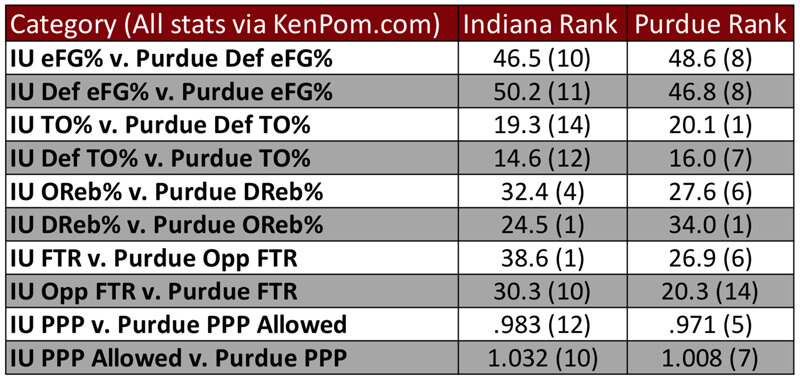 While the two teams enter with similar conference records, Purdue has been the better team in league play. The Boilermakers are in the top half of the league in both offensive and defensive efficiency while Indiana is the Big Ten's third worst offense and fifth worst defense.
Purdue plays the slowest tempo in the conference with an average of just under 63 possessions in league play and rarely gets to the free throw line. Purdue's free throw rate of 20.3 percent ranks last in the conference and the Boilermakers are scoring just 12.2 percent of their points from the line in conference play, which is the lowest in the league.
Rebounding will be a key for both teams as Purdue is the Big Ten's best offensive rebounding team and Indiana isn't far behind. For the Hoosiers to win, a strong effort on the defensive glass and getting to the line reliably will be essential.
WHAT IT COMES DOWN TO
KenPom likes Indiana by 1 with a 53 percent chance of a Hoosier victory while the Sagarin numbers like Purdue by a point.
Despite a poor overall road record, Purdue has been playing better away from home recently. The Boilermakers won their most recent road game, 61-58 at Northwestern, and lost the previous two by seven at Rutgers and Maryland.
Indiana's last two opponents, Penn State and Ohio State, both had a week off to prepare for the Hoosiers. It's now Indiana's turn to come off the bye week as the Hoosiers have had a full week to prepare for Saturday's game.
Protecting home court is of the upmost importance in this season's Big Ten race and if the Hoosiers want to keep a .500 record or better in play, Saturday's game is crucial. While both teams have strong front courts who are generally reliable, this game will likely come down to guard play. For the Hoosiers to prevail, Rob Phinisee, Al Durham Jr. and Devonte Green must take care of the ball and provide the on floor leadership that has been missing recently.
Filed to: Purdue Boilermakers