Film Session: Maryland
Indiana failed to close out the contest against Maryland on Sunday and lost by a point. But it was still the team's best offensive performance of the Big Ten season, as the Hoosiers scored 1.28 points per possession. It helped the Hoosiers had an uncharacteristically strong shooting performance from 3-point range (9-of-19, 47.3 percent). Yet, Maryland's defensive pressure on Indiana's bigs — a key component of many defensives against IU this season — also didn't slow the Hoosiers down.
Instead of getting stagnant when the likes of Joey Brunk, Trayce Jackson-Davis and De'Ron Davis received extra defenders and ramped up pressure — which has been a problem for the Indiana offense at time this year — the Hoosiers instead used it to their advantage, turning the tables and finding open teammates for looks in the paint or for 3-pointers in rhythm.
We'll look at four such possessions in the latest edition of Film Session:
On Indiana's first score of the game, Rob Phinisee comes down the court quick after a Maryland make. He's looking for Joey Brunk for a quick entry pass. Brunk gets position on Donta Scott, but Jalen Smith is sitting in front of him: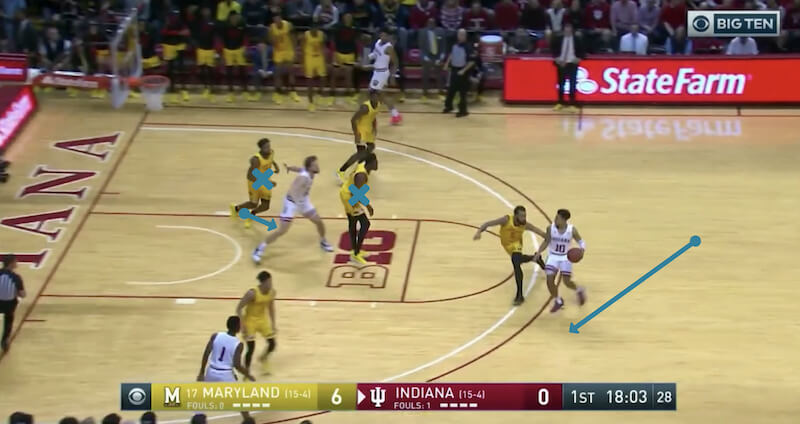 Things get even harder as Scott is able to come around and front Brunk as Phinisee keeps peering in: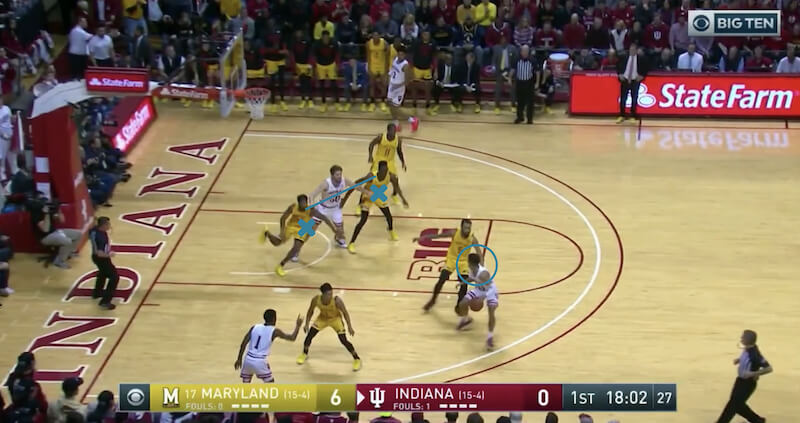 But with Smith still in the paint giving attention to Brunk, Jackson-Davis has now entered the picture as a trailer and Phinisee whips the pass to him near the top of the key: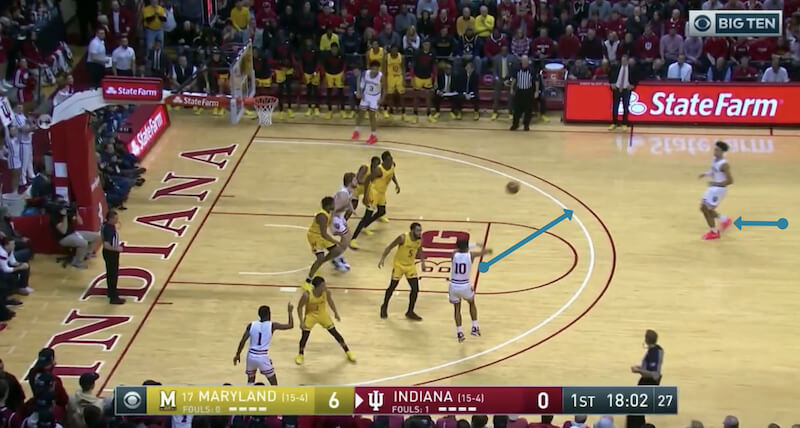 As Jackson-Davis catches, Darryl Morsell pushes Smith out to him: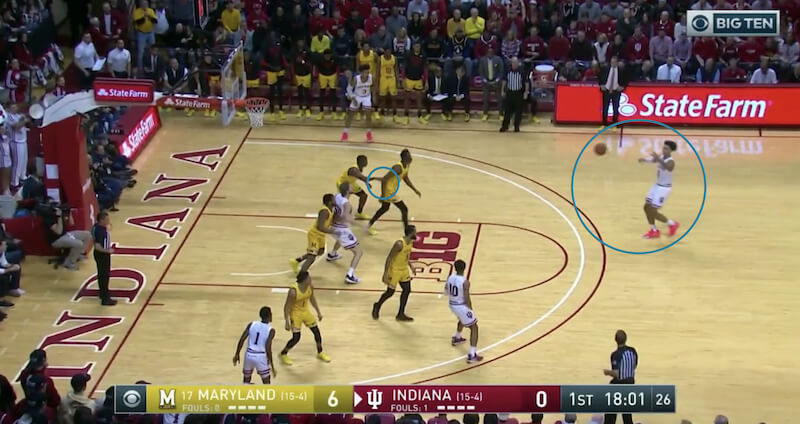 But Smith only comes up a few feet. So Jackson-Davis decides to get a head of steam and make a move: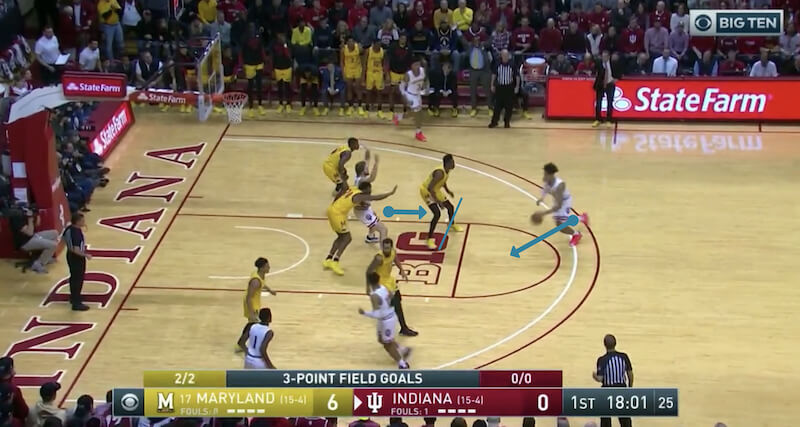 Jackson-Davis gets into the paint and Scott and Smith are near: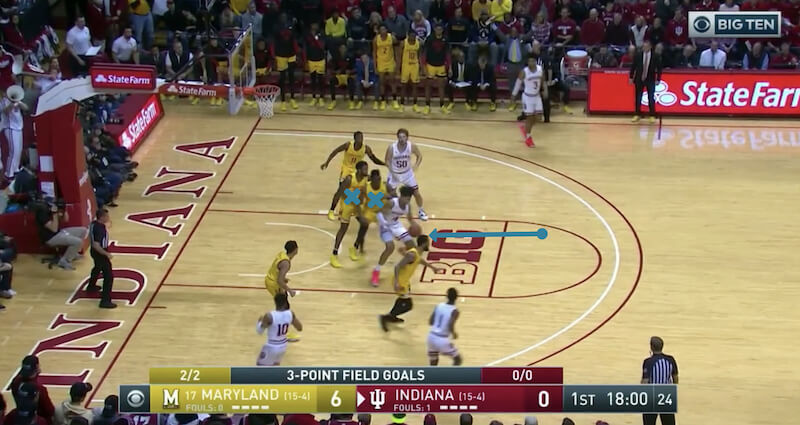 But as Jackson-Davis turns into the middle of the lane, he's able to maneuver in such a manner that he gets a shot up and over both of them without either leaving the ground. It drops in and Jackson-Davis is fouled. He hit the ensuing free throw to make this a 3-point play: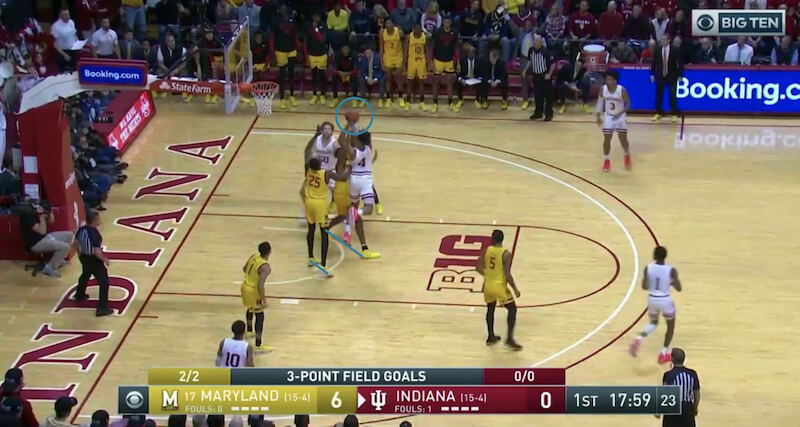 Jackson-Davis is starting to show he can make moves off the perimeter on occasion as the season goes along, and the Hoosiers are better for it. With space like this, it allows for more freedom of movement and the ability to draw fouls, which isn't always the case when he catches back to basket and draws multiple defenders.
Video:
Filed to: Deron Davis, Maryland Terrapins, Trayce Jackson-Davis