What to expect: Nebraska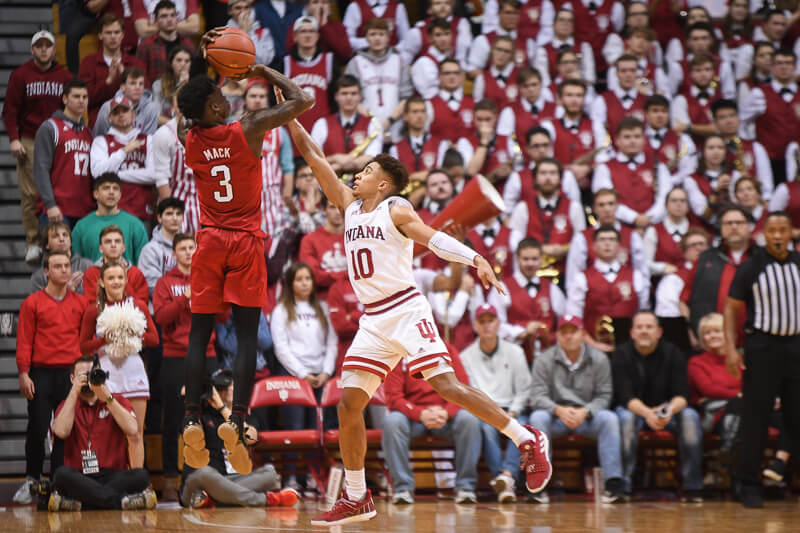 Indiana will wrap up its regular season series with Nebraska later today in Lincoln at Pinnacle Bank Arena. The Cornhuskers are 7-10 overall and 2-4 in Big Ten play.
Tonight's game will tip at 7 p.m. ET on BTN with Drew Carter and Stephen Bardo on the call:
Statistically speaking, Indiana's best chance at a true road win is tonight at Nebraska. The Hoosiers will be a road favorite for the first (and likely last) time this season.
Indiana is getting a late start on this road trip due to weather related travel issues and won't arrive in Lincoln until later this morning. Nebraska, meanwhile, is coming off a five-point loss at Northwestern and a 12-point loss at Ohio State. The Cornhuskers, despite taking some brutal non-conference losses at home this season, are a respectable 2-1 at Pinnacle Bank Arena in league play thus far with wins over Purdue and Iowa and a loss to Rutgers.
"Nebraska has one of the best home courts in the league," Archie Miller said Friday. "Very, very concerning game, but we have played them one time, so we have some familiarity."
THE FIRST MEETING
Indiana won the first meeting, 96-90 in overtime, back on December 13 in Bloomington.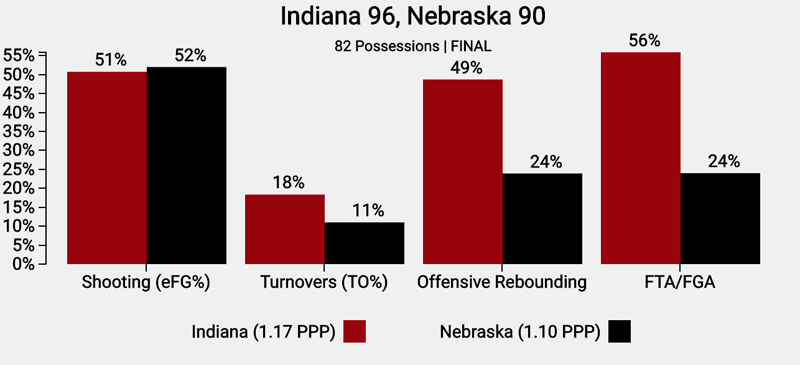 It was Indiana's second worst defensive effort of the season as Fred Hoiberg was able to spread the Hoosier defense out in the halfcourt and produce some easy looks at the rim off of cuts from the corner and also 12 made 3-pointers.
"We weren't good enough defensively by any stretch," Miller said. "And coming off of that game and now going into the second time, we're going to have to be much, much better defensively in terms of how we defended the ball and getting back."
Nebraska rode four of its five starters for 40-plus minutes in the first meeting as Dachon Burke exploded for 25 points and Haanif Cheatham, Thorir Thorbjarnarson and Cam Mack all scored in double figures.
It was Burke's best scoring output of the season thus far and the 12 3-pointers were also a season-high for Nebraska. Defending the 3-point line will be near the top of the scouting report for the Hoosiers as Nebraska is shooting 34.5 percent on 3s in league play, which ranks third.
Indiana won the first matchup on the strength of its rebounding and a massive free throw advantage. The Hoosiers shot 20 more free throws than Nebraska and made 15 more. Indiana also grabbed 48.7 percent of its missed shots and scored 26 second chance points, which are numbers that will be hard to replicate even against an extremely undersized Cornhusker frontline.
One thing that Indiana must avoid in the rematch is being goaded into taking 3-point shots. The Hoosiers took 25 of them against Nebraska in Bloomington and made just five. It was one of the first examples of a team this season daring the Hoosiers to beat them from the perimeter and it nearly resulted in a horrific home loss for Indiana.
TEMPO-FREE PREVIEW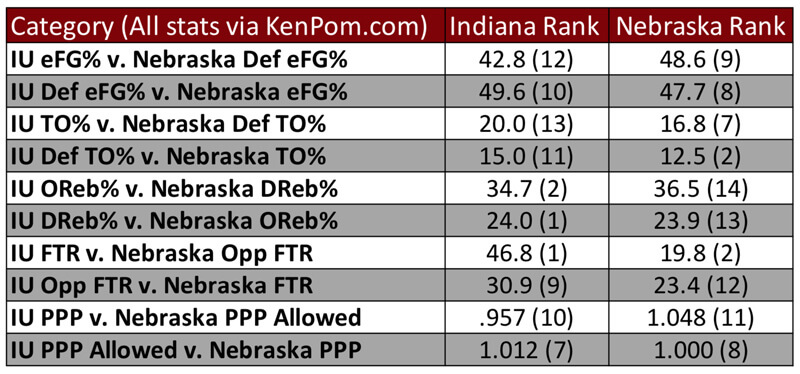 Indiana's offensive numbers in league play are ugly. The Hoosiers were only able to score 50 points in Wednesday's loss at Rutgers and turnovers remain a major problem for this group.
Indiana is turning it over on 20 percent of its possessions in league play and when coupled with the fact that the Hoosiers are shooting just 24.5 percent on 3s, the offense is very one dimensional with little margin for error.
The free throw line will be a major factor in Saturday's game. Nebraska is second in the conference in opponent free throw rate and if Indiana can't get to the line at Pinnacle Bank Arena, it is fair to wonder how the Hoosiers are going to produce offense.
Rebounding on both ends will also be pivotal as Indiana is the Big Ten's best offensive rebounding team and second best defensive rebounding team. Nebraska is the league's worst defensive rebounding team and second worst offensive rebounding team.
Indiana will have a mismatch in the post with either Joey Brunk or Trayce Jackson-Davis being guarded primarily by Thorbjarnarson. In the first meeting, the Cornhuskers had no answer for Jackson-Davis, who went for 25 points and 15 rebounds. Since that game, the play of Jackson-Davis has been uneven as he had 21 points in a win over Northwestern and 20 in a loss to Arkansas, but also has seven or fewer points in three of IU's last four games.
WHAT IT COMES DOWN TO
Indiana is a 5.5-point favorite in Vegas and the KenPom numbers favor the Hoosiers by six with a 70 percent chance for victory. The Sagarin numbers favor Indiana by 4.5 points.
This is a critical game for Indiana for a couple of reasons. From an NCAA tournament selection standpoint, it is Indiana's last chance to take a bad loss in the regular season. Nebraska is ranked 165th in the latest NET ratings, which makes this a quadrant three game.
The Hoosiers also don't have a road win this season, which doesn't technically matter from an NCAA tournament selection perspective. It does matter, however, when trying to piece together a path to get to the eight, nine or 10 Big Ten wins that will be needed for an at-large bid. Until Indiana wins away from Simon Skjodt Assembly Hall, its back is up against the wall to win every home game just to have a shot at a .500 record in league play.
For Indiana to leave Lincoln with a win, the Hoosiers are going to have to vastly improve on their defensive performance from the first meeting and dominate the paint against a Cornhusker squad that lacks legitimate Big Ten size.
Filed to: Nebraska Cornhuskers