What to expect: Northwestern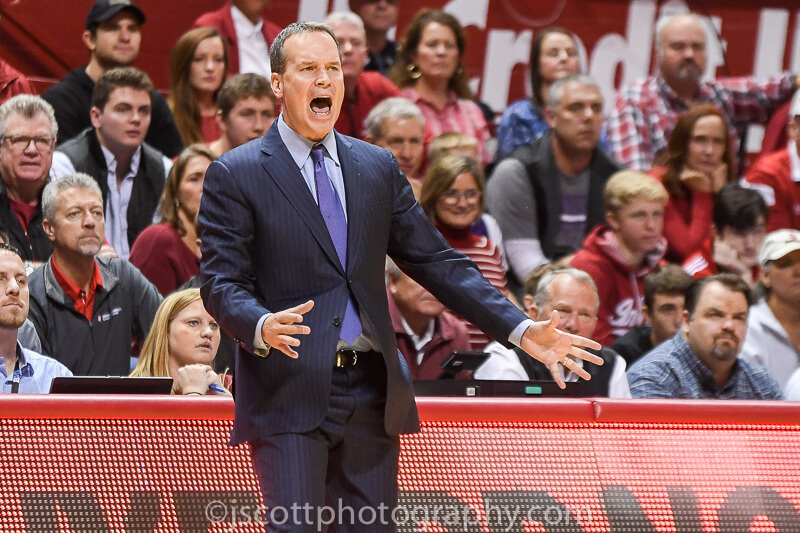 Indiana will look to snap a two-game losing streak on Wednesday evening when it hosts Northwestern at Simon Skjodt Assembly Hall.
The Wildcats are 5-8 overall and 0-3 in Big Ten play. Wednesday's game will tip at 7 p.m. ET on BTN with Kevin Kugler and Seth Davis on the call:
Indiana and Northwestern enter Wednesday's game a combined 1-5 in six league games and the two programs currently occupy the cellar of the Big Ten in terms of efficiency margin.
Expectations were low for Northwestern in year seven of the Chris Collins era, but have actually been much worse than anticipated. The Wildcats have already lost at home to Merrimack, Radford and Hartford and injuries have started to pile up in recent weeks.
Junior guard Anthony Gaines is out for the season with a shoulder injury. Freshman guard Boo Buie has a stress fracture in his left foot and is out indefinitely. Senior AJ Turner missed Sunday's game at Minnesota with a thigh bruise.
Collins now has just seven healthy scholarship players and only two of them, Pete Nance and Miller Kopp, logged significant minutes in conference play last season. In a Big Ten that promises to be as unforgiving as ever, it's shaping up to be a dark winter for Northwestern basketball.
MEET THE WILDCATS
With Turner's availability uncertain, Northwestern could enter Wednesday's game in Bloomington with just one upperclassmen in the rotation.
Pat Spencer, the nation's top lacrosse player at Loyola (Md.) last year, is finishing his time in college as a guard at Northwestern. The 6-foot-3 Spencer has the seventh highest usage rate among Big Ten players in conference play (28.5 percent) and is averaging 10.2 points, four assists and 3.2 rebounds in 26.1 minutes per game.
Kopp, a 6-foot-7 sophomore, is enjoying a solid season under Collins and is currently the team's leading scorer at 12.7 points per game. Given the current injuries, he's spending the majority of his time at the two. Kopp has 59 points over the team's last three games and is the only real perimeter threat on the roster. He's shooting 42.4 percent from distance this season on 54 attempts.
Nance, the son of former NBA standout Larry Nance and the younger brother of Larry Nance Jr. of the NBA's Cleveland Cavaliers, was viewed as a big recruiting win for the Wildcats in the 2018 class. However, his pedigree hasn't translated to production at the Big Ten level. The 6-foot-10 sophomore is a solid defensive rebounder, but is shooting just 49.3 percent on 2s and 29.2 percent on 3s.
Two freshmen, Ryan Young and Robbie Beran, are playing major minutes in their debut seasons. Young is a 6-foot-10 center who averages 10.8 points and 7.2 rebounds in 27.4 minutes per game. He's shooting 61 percent on 2s and currently ranks seventh in the conference in defensive rebounding percentage. Beran, a four-star recruit from Richmond (Va.), played a career-high 33 minutes in Sunday's loss at Minnesota and scored nine points.
Ryan Greer, a 6-foot-2 sophomore guard, and Jared Jones, a 6-foot-10 freshman, are the other two scholarship players currently available. Greer's role was minimal when Buie was healthy, but his absence has led to minutes for the point guard out of necessity. Greer is just a 23.8 percent 3-point shooter for his career. Jones has logged double figure minutes in just three games and will be used to steal minutes at the five when Young needs a break.
Turner's availability for Wednesday's game is unknown, but he's just 4-for-28 on 3s in 12 games this season and is averaging just 3.7 points in 20.6 minutes per game.
TEMPO-FREE PREVIEW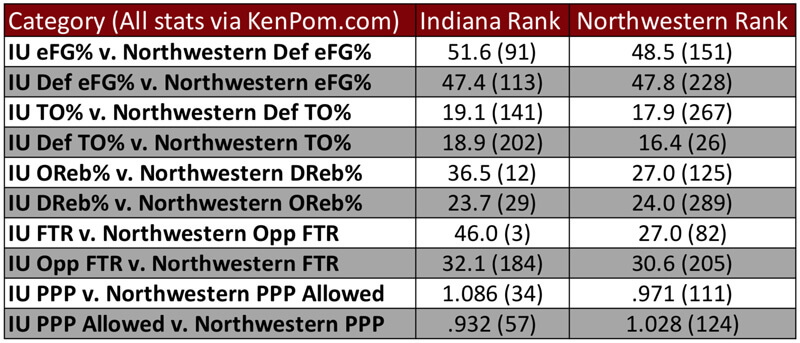 As you'd expect for a team that has three losses to low major schools on its home court, Northwestern doesn't do much particularly well on either end of the floor. The Wildcats do a solid job of taking care of the ball and defending without fouling and the latter will be essential on Wednesday.
Indiana should have a significant advantage on the glass in this game as the Hoosiers rank in the top 30 nationally in both offensive and defensive rebounding percentage.
Northwestern generates little offense from the offensive glass and is shooting just 41.8 percent on 2s against Big Ten opponents. Indiana's defense has been poor so far in league play (1.17 PPP allowed), but a poor performance against the Wildcats would raise serious eyebrows. In three league games, Northwestern has the Big Ten's 13th ranked offense at .93 points per possession.
WHAT IT COMES DOWN TO
The KenPom projection is Indiana by 10 with an 82 percentage chance for victory. It's one of three remaining games that Pomeroy has at a 61 percent chance or better for an IU victory. The other two are at Nebraska (73 percent) and Minnesota at home (61 percent). The Sagarin ratings like Indiana by 11.
After a rough week that featured losses to Arkansas and Maryland, Wednesday represents a solid opportunity for the Hoosiers to regain some positive momentum ahead of Saturday's noon clash against No. 11 Ohio State in Bloomington.
Filed to: Northwestern Wildcats