Big Ten Power Rankings: January 6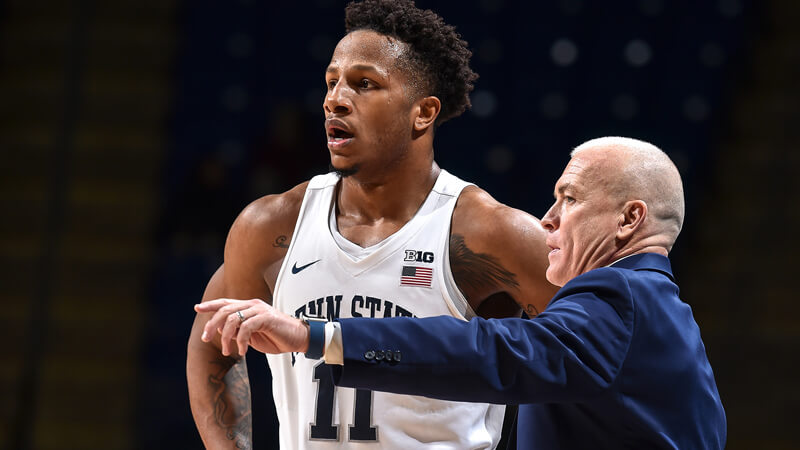 Every Big Ten team has played three games and several have played four, which means it's time for another Big Ten power rankings update. The power rankings will run each Monday throughout the remainder of the regular season.
Twelve of the Big Ten's 14 teams are ranked inside of the top 43 of the Ken Pomeroy ratings as of Monday, Jan. 6:
14. Northwestern (0-3, .928 PPP, 1.069 PPP allowed)
The Wildcats are the only Big Ten team who have yet to record a win in league play, but they were competitive in a five-point home loss to Michigan State last month and a nine-point loss on Sunday at Minnesota. Sophomore Miller Kopp has been a bright spot for Chris Collins. The 6-foot-7 forward is shooting 42.4 percent on 3s. Northwestern travels to Indiana on Wednesday on a four-game losing streak.
13. Nebraska (1-2, 1.021 PPP, 1.062 PPP allowed)
It's tough to know what to expect from the Huskers on a game-to-game basis. Nebraska pushed Indiana to overtime at Assembly Hall and beat Purdue at Pinnacle Bank Arena, but recently dropped home games to both North Dakota and Rutgers. The home loss to the Scarlet Knights was particularly alarming as it came by 17 points and Rutgers was without one of its top players in Geo Baker.
12. Indiana (1-2, 1.026 PPP, 1.166 PPP allowed)
Shooting woes continue to plague the Hoosiers in year three of the Archie Miller era. For the third straight season, Indiana is one of the worst 3-point and free throw shooting teams in the conference. The Hoosiers trailed by 30 points in both of their Big Ten road losses (at Wisconsin, at Maryland) and the early season optimism that was established with a win over Florida State is beginning to disappear.
11. Minnesota (2-2, 1.026 PPP, 1.036 PPP allowed)
The Golden Gophers have won four of their last five games and the lone defeat in that stretch came in double overtime to Purdue in West Lafayette. Minnesota could be a team that challenges for a .500 record in league play, but its four non-conference losses will be tough to overlook when evaluating this group for an NCAA tournament bid.
10. Purdue (2-2, .855 PPP, .932 PPP allowed)
Offense has been a challenge for the Boilermakers in Big Ten play so far and it's tough to be optimistic in the immediate future as Purdue's next three games are at Michigan, home vs. Michigan State and at Maryland. Purdue scored just 37 points in Sunday's road loss at Illinois.
9. Rutgers (2-1, 1.053 PPP, .994 PPP allowed)
An underwhelming non-conference resume may prevent Rutgers from serious NCAA tournament consideration, but one thing is clear: this program is no longer the league's doormat. Steve Pikiell has built a legitimate defense in Piscataway and as the talent level continues to improve, look for Rutgers to continue to climb up the Big Ten hierarchy.
8. Illinois (2-2, .93 PPP, .878 PPP allowed)
Through four league games, Illinois owns the Big Ten's best defense. The Illini are now 10-5 overall and have a chance to make a statement on Wednesday night when they travel to Wisconsin to take on the Badgers.
7. Michigan (1-2, 1.081 PPP, 1.15 PPP allowed)
Michigan wasn't the first team to get blown out by Michigan State at the Breslin Center this season and it certainly won't be the last, either. The Wolverines are struggling defensively in league play and without Isaiah Livers in the lineup, Michigan is without one of the league's most versatile wing players.
6. Iowa (1-2, 1.161 PPP, 1.138 PPP allowed)
Iowa nearly went to the Palestra and knocked off Penn State, but the Hawkeyes continue to struggle to get stops when it matters most. Fortunately for Fran McCaffery, he has the third best offense in the nation to rely on and on many nights, that will be enough to win in a Big Ten littered with subpar offensive teams.
5. Wisconsin (2-1, 1.104 PPP, 1.015 PPP allowed)
The Badgers looked dead in the water after three straight losses to Richmond, New Mexico and N.C. State in late November/early December, but have now won five of six. Their most recent triumph came in Columbus over Ohio State, which is the most impressive in-conference win for any team so far. That win will age well on Wisconsin's NCAA tournament resume.
4. Penn State (2-1, 1.094 PPP, 1.195 PPP allowed)
The efficiency margin for Penn State is a bit skewed due to a blowout loss it suffered in Columbus last month, but the Nittany Lions now own wins over Maryland and Iowa in league play. At 12-2 overall with a solid non-conference resume, it would take a complete collapse for Pat Chambers not to reach March Madness in his ninth season at the helm in State College.
3. Ohio State (1-2, 1.147 PPP, 1.073 PPP allowed)
It's not time to hit the panic button yet for Ohio State, but the Buckeyes have dropped two in a row and play at Maryland and Indiana this week. Chris Holtmann must find a way to quickly steady the ship or the Buckeyes will quickly lose any hope of challenging Michigan State for the Big Ten regular season championship.
2. Maryland (2-1, .973 PPP, .925 PPP allowed)
The Terps started the season 10-0, lost games to Penn State and Seton Hall, but have rebounded with a pair of home wins in the last week. Saturday's beatdown of Indiana in the Xfinity Center was impressive because Maryland didn't even shoot it well, but still led by as many as 30 points. Anthony Cowan and Jalen Smith remain one of the league's most formidable one-two punches.
1. Michigan State (4-0, 1.096 PPP, .906 PPP allowed)
Is it already time to declare the Big Ten title race over? Michigan State has the league's most accomplished coach in Tom Izzo and its best player in Cassius Winston. The Spartans didn't start out the season as expected and the absence of Joshua Langford may ultimately lower this team's ceiling, but there's no disputing who the best team in the league currently is.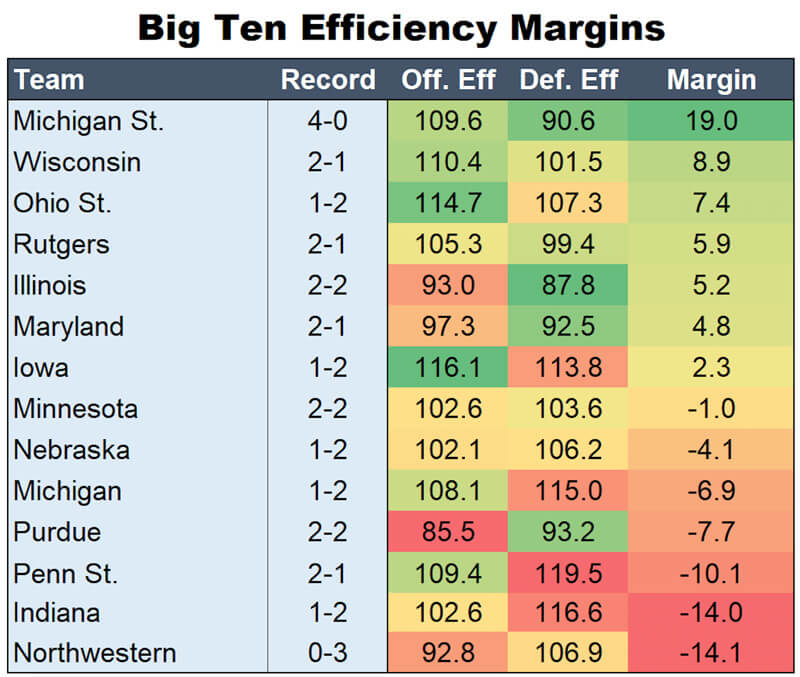 Chart credit: Dylan Burkhardt
Filed to: Big Ten Power Rankings