What to expect: Wisconsin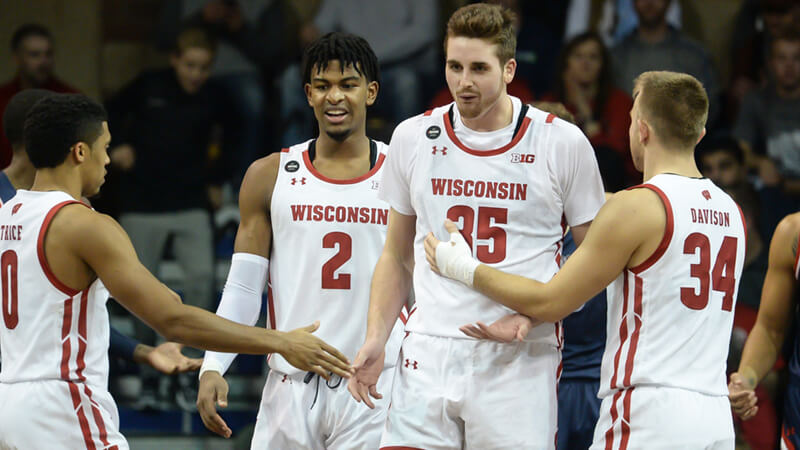 Indiana will look to go 9-0 for the first time since the 2012-13 season on Saturday afternoon when it travels to Wisconsin. The Hoosiers have not won in Madison since Jan. 25, 1998.
Wisconsin is 4-4 with losses to Saint Mary's, Richmond, New Mexico and N.C. State. The game will be broadcast on BTN at 4:30 p.m. ET with Brian Anderson, Robbie Hummel and Andy Katz on the call:
As impressive as Indiana has been in its eight game start, the Hoosiers have yet to be tested away from Bloomington. College basketball stats guru (and Wisconsin fan) Bart Torvik astutely pointed out that Indiana is the only remaining Division I team yet to play a game away from its home arena, but that will change on Saturday.
This matchup, however, is no ordinary road trip for the Hoosiers.
Indiana hasn't won a game in the Kohl Center since the year the building opened and this is a rivalry the Badgers have dominated for more than 19 years. From Feb. 28, 1980 to March 2, 1996, Indiana won 31 straight games against Wisconsin.
But in 35 games between the two programs since 2000, Indiana is just 8-27 against the Badgers. If there's a home win Wisconsin can count on each year, it's the Indiana game as the Hoosiers have dropped 16 straight in the Kohl Center.
MEET THE BADGERS
Much of the preseason conversation on Wisconsin centered on how it would fare without all-time program great Ethan Happ. So far, the results haven't been particularly encouraging.
Wisconsin does own a 4-0 home record this season and a nice 16-point win over Marquette. But is otherwise 0-4 against top 100 KenPom teams.
Depth is a serious issue right now for Greg Gard as Wisconsin is playing just eight guys regularly and four different guys are averaging over 30 minutes per game. The Badgers are expected to a get a lift in the frontcourt later this month when Ohio State transfer Micah Potter becomes eligible, but that won't happen until December 21.
Without Happ, Wisconsin is relying on a solid core of returnees that should be familiar to Big Ten fans. Junior big man Nate Reuvers looked like a solid breakout candidate in the preseason, but is still growing into his newfound high-usage role.
After flashing a reliable 3-point stroke as a sophomore (38.1 percent), Reuvers has been unable to find his perimeter touch through eight games. He's shooting just 26.9 percent from distance and the majority of his offensive production is coming from paint touches.
According to Synergy Sports, Reuvers has been a low efficiency post-up player (.76 PPP), but has excelled as the roll man in pick-and-roll situations. His 1.21 points per possession as the roll man rank in the 72nd percentile nationally, per Synergy. In 30 minutes per game, Reuvers leads Wisconsin in points per game (14.9), rebounds (5.4) and blocked shots (2.6).
Junior guard Brad Davison is a player that Big Ten fans love to hate for a variety of reasons. Most notably, Davison appeared to intentionally stick his leg under Minnesota's Jordan Murphy in a game last season. It's also been speculated that Davison taking four charges against NC State in a game last season helped lead to an offseason rule change that intends to punish players who flop.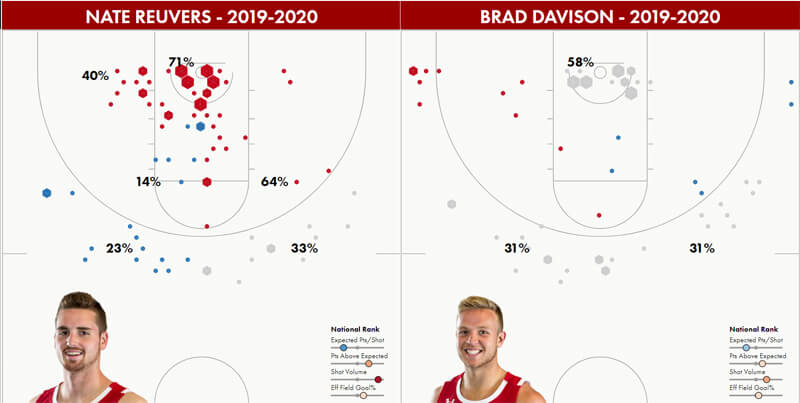 While the charges Davison takes will always be under the microscope, his efficiency is up slightly from a season ago. His 3-point shooting hasn't been great (30.3 percent), but he has been able to connect at a solid clip from the left corner. He's shooting a solid 54.3 percent on 2s and 95.3 percent from the foul line. Davison's 11 points per game are second on the team and he's been solid off of screens per Synergy with 11 points in 10 possessions.
Sophomore guard Kobe King is using 21 percent of Wisconsin's possessions while on the floor, but has struggled to produce reliably. He's third on the team in scoring at 10.4 points per game, but is shooting just 44.2 percent on 2s and 28.6 percent on 3s. King does have a solid free throw rate (FTA/FGA) of 56.1 percent and is knocking down 71.9 percent of his attempts at the line.
Junior point guard D'Mitrik Trice is the team's best distributor (20.8 assist rate), but like King, has really struggled with his shooting. Trice is shooting just 30.2 percent on 3s and 42.3 percent on 2s. He's only taken six free throw attempts all season.
Junior forward Aleem Ford played a ton as a freshman. After his role diminished last season as a sophomore, he is now firmly back in the mix this season. Ford, who is just 6-foot-8 and 217, is being forced to play the five at times when Reuvers goes to the bench. After shooting over 40 percent on 3s as a freshman, he dropped down to 28.7 percent last season and is knocking down triples at just a 24.2 percent clip this season.
Senior guard Brevin Pritzl is an excellent spot-up shooter that Indiana must force to put the ball on the floor. Pritzl ranks in the 84th percentile nationally as a spot-up shooter, per Synergy, and has 33 points in 28 spot-up possessions. Freshman forward Tyler Wahl will also see some minutes in the frontcourt and he's shooting a solid 60 percent from the field in 14.4 minutes per game off of the bench. Another junior guard, Trevor Anderson, will see spot minutes but has been a non-factor offensively.
TEMPO-FREE PREVIEW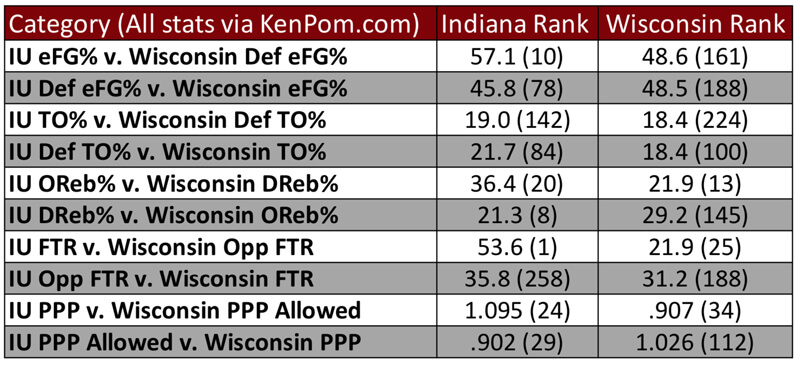 Wisconsin's deliberate style of play has been a staple throughout the KenPom era and this year's Badgers are no different. Wisconsin is playing the 347th fastest pace in the country and ranks 337th in average offensive possession length (19.7 seconds).
Those long possessions are obviously demoralizing for opposing defenses when Wisconsin is able to run time and then score in late shot clock situations. When coupled with a stingy defensive style that cuts off the offensive glass and rarely sends teams to the free throw line, Wisconsin's style can be frustrating to play against.
For Indiana, which has struggled in recent games at taking care of the ball, the Hoosiers simply cannot afford to give away possession on the road. The Hoosiers are unlikely to find nearly as many offensive rebounding opportunities or free throw attempts against this Wisconsin defense, so making 3s will be key in producing a respectable offensive performance.
WHAT IT COMES DOWN TO
The KenPom projection favors Indiana by 1 and the Sagarin numbers like the Hoosiers by less than a point when adjusted for home court.
As Bart Torvik noted on Thursday's Podcast on the Brink, this game is close to must win territory for Wisconsin. The Badgers have been bad away from home and if they can't protect homecourt in a series they've owned for nearly 20 years, it could be a sign of a long winter to come in Madison.
The primary concern for Indiana entering the game has to be defending the 3-point line. Wisconsin has shot it poorly for most of the season, but several of its shooters are due to return to their career averages at some point. If the Hoosiers can contain Wisconsin from deep, limit turnovers and use their advantage on the frontline, there's a legitimate chance the 16-game streak ends this weekend.
(Photo credit: UWBadgers.com)
Filed to: Wisconsin Badgers