6-Banner Sunday: Indiana improves to 4-0 and Bob Knight shows up at The Bluebird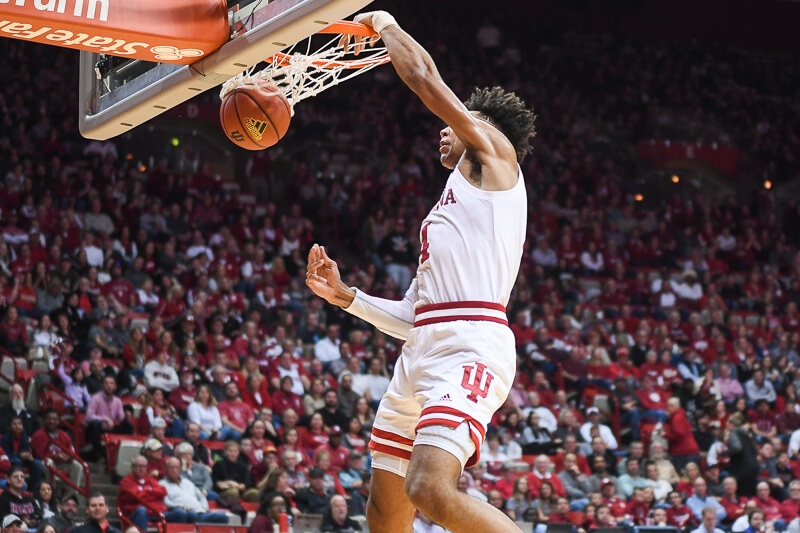 6-Banner Sunday is Inside the Hall's weekly newsletter in partnership with The Assembly Call. More than 6,500 Indiana fans receive the newsletter each week. In addition to appearing each week on the site, you can also opt to receive 6-Banner Sunday by email. A form to subscribe via email is available at the bottom of this week's 6-Banner Sunday.
Welcome to another edition of 6-Banner Sunday, a joint production between The Assembly Call and Inside the Hall where we highlight the five most essential IU basketball stories of the past week, plus take a look at how the other IU sports programs are doing.
The past, present and future all showed up in the news for Indiana basketball this week.
Highlighted by two more wins, accompanied with a legendary appearance and three future Hoosiers inking their national letters of intent, it was a good week for the cream and crimson.
In this week's edition:
• Indiana picks up a pair of victories, Devonte Green returns
• Bob Knight makes appearance at Hoosier Hysterics event
• 'Self made' Al Durham provides boost in backcourt
• Trayce Jackson-Davis and Armaan Franklin strengthen bond off court
• Leal, Galloway, Geronimo officially sign; Garcia announces decision date
• Hoosier Sports Roundup
Banner #1
Indiana picks up a pair of victories, Devonte Green returns
After a sub-par performance against North Alabama on Tuesday night, Assembly Call Radio, hosted by Jerod Morris with Brian Tonsoni and Chad Schwartzkopf, discussed whether Indiana's poor defense should be a concern this early in the season.
The Hoosiers came out on Saturday and, despite a few lapses, looked much better on the defensive end of the floor en route to a 100-62 victory over Troy.
Some of the best news for the Hoosiers was that Devonte Green finally returned to the court after missing the first three games with a hamstring injury. Rob Phinisee was out due to illness, so Indiana still hasn't had its full backcourt yet, but it looks like they are getting closer.
Green finished the game with six points and four assists.
Indiana (4-0) is now one of five Big Ten teams to be undefeated at this point in the season.
Banner #2
Bob Knight makes appearance at Hoosier Hysterics event
The Bluebird in Bloomington doesn't usually get rowdy until the evening, but Saturday afternoon was an exception after Bob Knight showed up for the Hoosier Hysterics event.
Knight has only been seen a few times in Bloomington since getting fired from the program in 2000. He made an appearance at a baseball game last spring, and after reportedly purchasing a house in Bloomington over the summer, the hopes of seeing "The General" increased for Indiana fans.
The Hoosier Hysterics event had a lot of former Hoosiers in attendance, but Knight stole the show when he took the stage and dazzled the crowd with humor and appreciation.
Stefan Krajisnik, special to the Indianapolis Star, included numerous good quotes from Knight in an article about the event. Here's one of his best ones that had everyone in attendance smiling:
"This was a great place to coach, and it was an opportunity to coach a lot of great kids," Knight said. "And more important than that, we just about beat everybody's ass."
Banner #3
'Self made' Al Durham provides boost in backcourt
Through the first four games of the season, Al Durham has led the team in scoring with 16.8 points per game.
With Green's absence, Durham has become the go-to perimeter scorer for Indiana. Indianapolis Star reporter Zach Osterman wrote about Durham's progression from a freshman to a junior, and how Miller made it a point of emphasis to keep Durham after he took the head coaching position in 2017.
Here's a quote in the article from the Indiana coach that stands out about Durham:
"Some guys are self-made," Miller said. "He takes great pride in his own development. In general, where he's at right now, proud of him. He's doing a great job for our team of giving us a guy that stabilizes us at times."
Banner #4
Trayce Jackson-Davis and Armaan Franklin strengthen bond off the court
Trayce Jackson-Davis and Armaan Franklin have fit in seamlessly with Indiana to begin this season. There's no question both of them will play significant roles on this year's team.
As their chemistry on the court with one another improves, so does their chemistry off the court. Jackson-Davis and Franklin are roommates, so they do a lot of off-the-court activities that strengthens their friendship, which has been ongoing since about the seventh grade.
The Indiana Daily Student's Matt Cohen wrote about their bond, including details on the movies they watch and the video games they play.
While watching Will Ferrell movies or playing FIFA might not improve their ability to defend a pick-and-roll, it has made the freshmen feel more comfortable when their number gets called on the court.
Banner #5
Leal, Galloway, Geronimo officially sign; Garcia announces decision date
Although Anthony Leal, Trey Galloway, and Jordan Geronimo were already committed for the class of 2020, the three made it official this past week.
Leal and Galloway signed their national letter of intent during after-school ceremonies at their respective schools on Wednesday afternoon. While Geronimo was scheduled to sign at his school on this upcoming Monday, he posted this to Instagram on Thursday, signaling it's official.
With those three officially signed, Indiana has one scholarship spot left for the class of 2020, and they are heavily focused on landing Dawson Garcia. The five-star forward announced he will officially decide on Nov. 20, and his final four schools are Memphis, Minnesota, Marquette and Indiana.
Banner #6
Hoosier Sports Roundup
This content was contributed by Aaron Shifron.
Recruiting took center stage with the fall signing day occurring. Also, Football returned to action as a ranked team following a bye week, Men's Soccer will play for another Big Ten Championship, and Women's Basketball obtained their highest ranking in program history after an undefeated start.
It was National Signing Day this week and several IU teams announced their recruiting classes for the 2020-2021 season. This included Men's Golf, Softball, Volleyball, Women's Golf, Women's Soccer and Wrestling.
• Football was ranked this week for the first time since 1994. For their first game as a ranked team, IU lost a close game to Penn St. They play Michigan at home next weekend at 3:30pm. Away from the field first year offensive coordinator Kalen DeBoer was named a candidate for the Broyles Award given to the top assistant coach each year and punter Haydon Whitehead was granted a sixth year of eligibility. Also quarterback junior Peyton Ramsey was named a team captain after being elevated to starter following the season ending injury to redshirt freshman Michael Penix.
• Men's Soccer won their first two games of the Big Ten Tournament against Ohio State and Maryland to advance to the finals against Michigan.
• Women's Basketball dominated Nicholls State. With the win the Hoosiers moved up to no. 21 in the national rankings which is their highest ever in school history. Also Mackenzie Holmes was named Big Ten Freshman of the Week and Big Ten Player of the Week.
• Volleyball ended their long losing streak with a victory at Rutgers before suffering a heartbreaking five set loss to Maryland.
• Cross Country competed at the Great Lakes Regional with the men placing fourth and the women sixth. Both teams will wait to see if these results were enough for an At-Large Bid to the National Championship.
• Men's Tennis saw senior William Piekarsky go undefeated at the Chowder Fest in their final fall meet of season.
• Wrestling competed at the Journeyman Classic and Ohio Intercollegiate Open.
Thanks for your continued support for The Assembly Call. We'll be back next weekend with a new roundup.
Now go enjoy yourself a 6-banner Sunday.
Filed to: