Five takeaways from Indiana's win over Portland State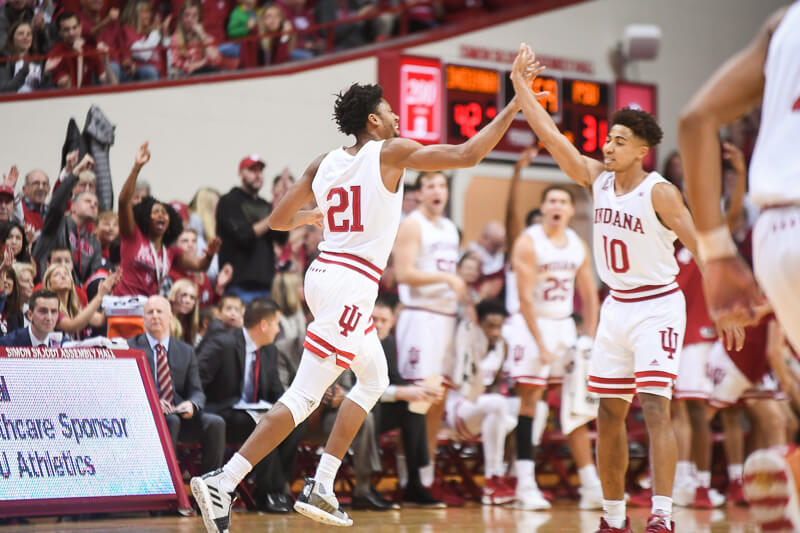 Indiana improved to 2-0 with an 85-74 win over Portland State on Saturday afternoon at Simon Skjodt Assembly Hall.
Here's a look at five takeaways from the win over the Vikings:
· Hoosiers handle the pressure: Portland State is known for its full court, high pressure defense, but Indiana handled it without many problems on Saturday.
Despite being down its most experienced guard in Devonte Green and being hounded with traps for most of the game, Indiana committed just 10 turnovers in the win.
Through two games, Indiana has committed just 21 turnovers and owns a turnover percentage of 14.9. Last season, Indiana finished the season with a turnover percentage of 17.9.
"Taking care of it was huge," Archie Miller said postgame. "I haven't really looked at it yet, but I know Rob (Phinisee) had seven assists and three turnovers, which was great. Al (Durham) added two more. Good assist-to-turnover ratio, which is good."
· Durham's fast start continues: Despite missing 10 days in October with a knee contusion suffered in the closed scrimmage against Marquette, Al Durham Jr. has shown little rust to start the season.
In fact, the left-handed guard looks like one of the Big Ten's most improved players early in the season.
Durham Jr. was terrific again on Saturday as he finished with 18 points on 7-for-11 shooting in 32 minutes.
"He's greatly improved. Has a maturity level about him, experience level about him," Miller explained. "Very, very, very proud of Al and where he's at right now regardless of who we play against. We're comfortable with him, how we trust him, how his teammates trust him."
· Jackson-Davis asserts himself: After a solid, but unspectacular showing in Indiana's season opener against Western Illinois, freshman forward Trayce Jackson-Davis was a man amongst boys in the paint on Saturday.
Portland State lacked legitimate size in the post and Jackson-Davis took advantage of it en route to posting his first career double-double.
Indiana's 2019 Mr. Basketball finished with 13 points, 11 rebounds and two blocked shots in 29 minutes. Through two games, Jackson-Davis is shooting 64.3 percent from the field and looks like a player who will be able to play the five in smaller lineups or the four if the Hoosiers have Joey Brunk or De'Ron Davis on the floor alongside him.
· Thompson's aggressiveness earns him extended run: Redshirt sophomore Race Thompson was one of the first Hoosiers off the bench for the second consecutive game and he's already making the case for a bigger role.
Thompson's impact during the 2018-19 season was minimal because of an injury, but his aggressiveness and willingness to mix it up in the paint were on display on Saturday.
The Minnesota native nearly notched a double-double (10 points, nine rebounds) in just 16 minutes. In the second half, Thompson played eight minutes, which was more than Brunk (seven) and Davis (zero).
· Indiana's defense is a major work in progress: Miller has made no secret about the fact that Indiana has to become an outstanding defensive team if it hopes to realize its potential, but the performance against Portland State showcased major holes for the Hoosiers.
The Vikings got too many easy looks at the rim and also knocked down eight of 16 attempts from behind the 3-point line.
In short, Indiana's defense right now isn't making the opposition uncomfortable.
"In general our team's toughness level on the ball, its ability to really sticky on the ball is not there," Miller said. "Also, I think just in general for a team with great size, we're very spread out. It's not hard around the paint right now. We got to make some improvements."
Fortunately for Indiana, there's time to get things figured out. Indiana has five more non-conference home games this month before Florida State comes to Bloomington for the Big Ten-ACC Challenge on Dec. 3.
Filed to: Portland State Vikings