6-Banner Sunday: New-look Indiana offense takes center stage at Media Day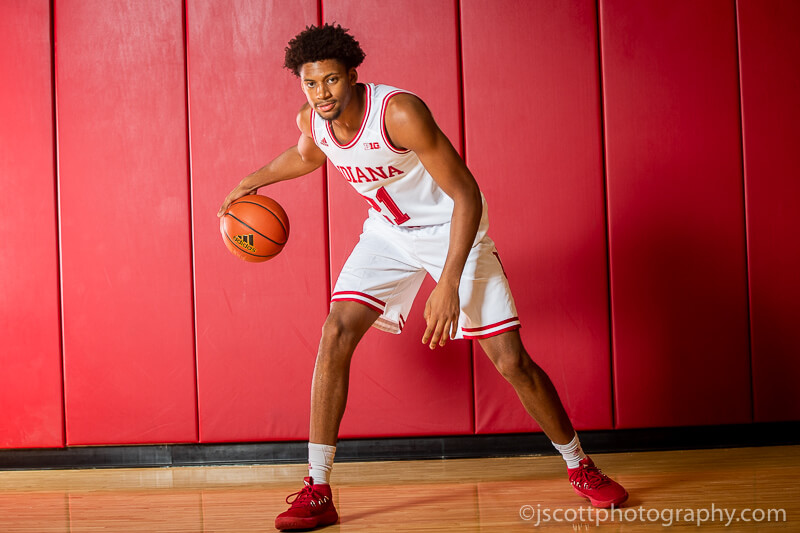 6-Banner Sunday is Inside the Hall's weekly newsletter in partnership with The Assembly Call. More than 6,500 Indiana fans receive the newsletter each week. In addition to appearing each week on the site, you can also opt to receive 6-Banner Sunday by email. A form to subscribe via email is available at the bottom of this week's 6-Banner Sunday.
Welcome to another edition of 6-Banner Sunday, a joint production between The Assembly Call and Inside the Hall where we highlight the five most essential IU basketball stories of the past week, plus take a look at how the other IU sports programs are doing..
With Hoosier Hysteria now firmly on the horizon, Indiana's preseason media obligations kicked into high gear this week with the team's media day.
All 11 Indiana scholarship players met with media members Tuesday afternoon, while head coach Archie Miller did the same on Wednesday.
Coming up this week is Big Ten media day on Wednesday and the Hoosier Hysteria on Saturday, but there is already plenty to decipher from what the players and Miller said last week.
From the return of Jerome Hunter to having more off-the-ball movement on offense, this week's 6-Banner Sunday is focused on the most significant moments from the media days, along with the thoughts of Indiana Athletic Director Fred Glass ahead of the new season.
In this week's edition:
• Jerome Hunter participating in all-basketball activities
• More off-the-ball offensive movement
• The frontcourt plan for this season
• Joey Brunk's locker-room presence
• Fred Glass talks IU basketball chemistry, importance of Archie's third season
• Hoosier Sports Roundup: Another close loss for the football Hoosiers
Banner #1
Jerome Hunter participating in all-basketball activities
An official release from the Indiana men's basketball program during Tuesday's media day brought forth the most concrete update on the redshirt freshman forward.
He's back.
Hunter is participating in all basketball-related activities with Indiana after receiving a medical redshirt following season-ending leg surgery last November. He still hasn't played a game for the Hoosiers, but Miller said Hunter's outside shooting ability will be something the Hoosiers rely on this season.
Hunter is also eager to display his talents in Bloomington.
"As you keep going through it, you start thinking of other things and how you can get better off the court," Hunter said. "So that's all I focused on is how next year I could be the best player I could be."
Dustin Dopirak of The Athletic and Matt Cohen of the Indiana Daily Student both spoke with Hunter's trainer, Andreas James, to get a sense for Hunter's work ethic in high school and during this recovery process.
Miller said Hunter hasn't missed a workout in the last five weeks. While he isn't back to the "full-strength Jerome we inherited as he came off his high school season," Miller said Hunter is bigger and stronger than he was before.
"I think all that is going to come with repetition of being out there every day," Miller said. "We're hopeful. One day at a time.
"He worked very, very hard. When you work that hard to get back off any kind of setback there is a little bit of pride in yourself, so he's anxious to get back, too."
Discussion about Hunter's return to the court was the featured Banner Moment on this week's edition of Assembly Call Radio, featuring Brian Tonsoni, Galen Clavio, and Chronic Hoosier.
It was also featured on this week's episode of Podcast on the Brink with Jerod Morris, Alex Bozich, and WDRB's Rick Bozich, as Hunter was referenced as a wing option for Indiana who can create plays for others, similar to the role Troy Williams served for the Hoosiers. Bozich also wrote about five things that need to go right for Indiana to have a season that is more successful than the 9th/10th/11th place finishes being predicted by all the preseason prognosticators.
Banner #2
More off-the-ball offensive movement
After stagnant and stale half-court offensive sets last season, senior guard Devonte Green hinted at a new mindset for those situations this season.
"I think there's going to be a lot more off-the-ball movement involving everyone on the team," Green said.
This would be the logical progression for Indiana's offense. Losing Romeo Langford and Juwan Morgan takes away the two primary scoring options from last season's Indiana team.
With few players who have proven themselves as established shooters at the college level, Miller will look to use motion to play to Indiana's strengths.
"I think that's going to be the quest for this team, by far and away offensively, is to have more movement," Miller said. "Definitely have more ball movement and play more people."
At the same time, this concept only works if the Hoosiers can get reliable outside shooting. Players like Green and Al Durham have to remain consistent threats from 3-point range to free up Indiana's frontcourt players near the basket.
"From our offensive perspective, how we generate offense, how we score, how we're efficient, is going to be through the bulk of the parts, not one guy," Miller said.
Banner #3
The frontcourt plan for this season
There's plenty of big bodies for Miller to try and utilize on this Indiana roster.
Joey Brunk, Trayce Jackson-Davis, and De'Ron Davis all stand 6-9 or taller, providing Miller with three players of legitimate size to bang around in the post.
The idea of playing two of those three players at the same time is a retro concept, but Miller left open the possibility of the Hoosiers using that "old-school lineup" at times.
"In my opinion and how these guys find that niche, will be their ability to defend together," Miller said. "That's obviously the hardest part for two bigs on the floor. It's not offense. You can run a lot of different types of offense, especially when you have some guys who can score the ball down low."
In particular, Miller isolated the athleticism and lateral mobility of Jackson-Davis as a reason why a larger lineup can have success defensively.
"That's one thing I think that we're all hopeful for, is he can take that role as a guy who can defend inside and out a little bit," Miller said. "He's not a prototype typical big. He's very mobile, athletic, he's got great endurance for a young player."
Banner #4
Joey Brunk's locker-room presence
Miller admitted Wednesday this year's group of players "naturally are kind of quiet natured." It was a criticism of last season's team, in particular during the stretch of Big Ten play in which the Hoosiers lost 12 of 13 games.
Enter Brunk, a graduate transfer center from Butler with a loud voice and two years of eligibility remaining.
"I think that's where Joey has been a great boost with his voice," Miller said. "His personality has really helped our workouts; he's helped our locker room."
It's critical as well that Brunk's leadership emerges prior to the season, rather than midway through it. Indiana's late-season resurgence last spring came in part after Morgan and fellow senior Zach McRoberts became more vocal in practice and behind the scenes.
Brunk has no problem with putting himself in that role right from the start.
"I'm comfortable with who I am and I don't have any problem talking and speaking," Brunk said.
Banner #5
Fred Glass talks IU basketball chemistry, importance of Archie's third season
Fred Glass believes most of the reasons why Indiana missed the NCAA tournament last season are no longer present.
Speaking to Bob Kravitz of The Athletic, Indiana's athletic director suggested a lack of team chemistry, along with the assimilation of five freshmen and the quiet-natured presence of Langford and Morgan, helped contribute to Indiana's downfall.
"Basketball is an emotional game," Glass told The Athletic. "It's hard when your best players are not vocal."
That's part of the reason Glass is bullish on Miller's third Indiana team. Glass believes Brunk, Davis, and Green will provide more emotional leadership.
But even should the Hoosiers miss the NCAA Tournament for a third-straight season, Glass doesn't view the 2019-20 season as make-or-break moment for Miller.
"We all want progress and I'm at the head of the line," Glass said. "Last year was a conundrum and very frustrating and nobody was more pissed off than Archie. But nobody is more competitive than he is. I like the direction we're heading."
Banner #6
Hoosier Sports Roundup
This content was contributed by Aaron Shifron (twitter @ashifron).
All the major fall sports were in action with some already in Big Ten Play. Assembly Call will continue to have coverage of Men' Soccer and IU's other Olympic sports this fall in the Assembly Call Community for those with a subscription under the 'Men's Soccer' and "Other Sports" topic.
• Football lost a heartbreaker to Michigan State. The week also saw WR Nick Westbrook named a Senior Class Award Candidate and a William V Campbell Trophy Semifinalist.
• Men's Soccer suffered its first loss of the year to Butler on the road before rebounding with a victory over Sacramento State.
• Women's soccer suffered their second straight Big Ten defeat to Nebraska and had their game against MSU postponed due to bad weather.
• Volleyball beat Florida Gulf Coast for a second straight match before falling in their Big Ten opener to Minnesota.
• Field Hockey lost a Big Ten game to Michigan.
• Women's Golf defeated Iowa in Match play.
• Men's Golf finished 15th at the Olympia Fields/Fighting Illini Invitational.
• Cross Country went to nearby Terre Haute for the John McNichols Invite.
• Women's Basketball brought in McIntyre Webb as a Team Recruitment Analyst.
• IU announced former athlete Courtney Cox Cole passed away from cancer at 48 years old.
• Men's Tennis saw Bennett Crane named Scholar Athlete Of The Month and two players go far at the Farnsworth-Ivy Plus Tournament.
• Women's Tennis announced their schedule for the upcoming year.
Thanks for your continued support for The Assembly Call. We'll be back next weekend with a new roundup.
Now go enjoy yourself a 6-banner Sunday.
Cameron DrummondStudent Intern The Assembly Call
Filed to: