6-Banner Sunday: Galloway commits and Leal declares final two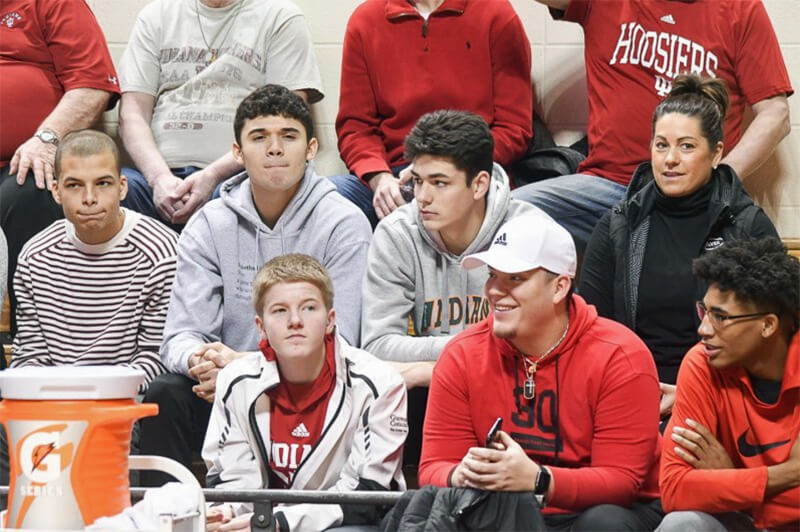 6-Banner Sunday is Inside the Hall's weekly newsletter in partnership with The Assembly Call. More than 6,500 Indiana fans receive the newsletter each week. In addition to appearing each week on the site, you can also opt to receive 6-Banner Sunday by email. A form to subscribe via email is available at the bottom of this week's 6-Banner Sunday.
Welcome to another edition of 6-Banner Sunday, a joint production between The Assembly Call and Inside the Hall where we highlight where we highlight the five most essential IU basketball stories of the past week plus take a look at how the other IU sports teams are doing.
In this week's edition:
• Galloway commits to Indiana
• Leal narrows list to two
• IU Artifacts Offseason Extravaganza
• Mike Miller joins Podcast on the Brink
• Former Hoosiers in the news
• Hoosier Sports Roundup … including more swimming
Banner #1
Galloway commits to Indiana
Trey Galloway, a 6-foot-5 guard from Culver Academies in Indiana, became the first commit of IU's 2020 recruiting class Friday afternoon. Galloway announced via Instagram his intention to remain in-state after high school.
He is the first player to commit to IU since Trayce Jackson-Davis announced his decision in November.
Despite still being fairly raw, Galloway is a sound all-around player with a chance to contribute as a freshman. Much will depend on how he improves his shooting, but the rising senior is a solid defender and athlete, a confident finisher with either hand, and an intuitive off-ball worker.
His size and versatility could allow him to play as many as three positions at the college level, and if he improves as a shooter, could offer another dynamic presence in what figures to be a sturdy backcourt in the coming years.
For a more in-depth look at Galloway's game, peruse Inside the Hall's library of highlights and video footage. At the Indy Star, Kyle Neddenriep offers the full scouting report on Galloway and how he might fit into Indiana's system while Zach Osterman examines the early returns on Archie Miller's "inside-out" recruiting approach.
Also, check out the latest edition of the Heard on the Hoosier podcast, where Stu Jackson and Jon Sauber provide their impressions of Galloway and his future fit with the Hoosiers.
Banner #2
Leal narrows his list to two
Galloway's fellow in-state recruit Anthony Leal trimmed his list of potential schools to Indiana and Stanford on Tuesday. The IU coaching staff has focused heavily on the Bloomington native and evidently made a fairly persuasive pitch.
Leal is an outstanding shooter with solid passing feel for his age, and should eventually capable of playing a featured role on or off the ball. Much like Galloway, he remains a work in progress who shouldn't be expected to singlehandedly or immediately alter the program's trajectory, but figures to develop into an impactful three- or four-year player wherever he attends school.
Banner #3
The IU Artifacts offseason extravaganza!
As has become annual tradition, Chris Williams (@IUArtifacts) joined Jerod Morris and Brian Tonsoni on this week's Assembly Call Radio to share some of his favorite pieces of IU relics and memorabilia over the course of an hour rich in Indiana basketball history.
Then, the trio fielded listener questions about their favorite IU basketball artifacts and who they have the most confidence in entering next season.
Subscribe and listen to every episode of Assembly Call Radio here.
Banner #4
Mike Miller joins Podcast on the Brink
In a special edition of Podcast on the Brink, former Bloomington Herald-Times beat writer Mike Miller joined Alex Bozich and Jerod Morris in a wide-ranging and entertaining conversation.
The three gentlemen discuss the state of IU basketball, Mike's favorite memories from the beat, the state of sports journalism, stories of the inimitable Josh Margolis, and much more. Miller shares a unique and candid perspective of the Indiana basketball program, the city of Bloomington, and the people he encountered through them that is well worth the listen.
Subscribe and listen to every episode of Podcast on the Brink here for the latest IU hoops news and analysis.
Banner #5
Former Hoosiers in the news
Former IU big man Evan Fitzner signed with Team FOG Naestved, a professional club in Denmark's Basketligaen, his agency announced via Twitter.
Fitzner's lone year at Indiana after transferring from Saint Mary's was relatively uneventful, but the California native has long been set on playing professionally, and his ability to shoot, screen, and cut could translate in a league likely to be less physical than last season's Big Ten.
Meanwhile, The Ringer spotlighted OG Anunoby as a potential breakout candidate in the NBA in 2020. The forward had a tumultuous season last year, dealing with multiple personal issues and falling out of Nick Nurse's rotation, but figures to start for the Raptors this season and stands to benefit massively from increased playing time, a steady role, and additional development entering the third year of his career.
Oh, and in case you missed it, the IU men's basketball Twitter account posted a number of fun pictures and videos this week — including a recap of the team's trip to lake and a highlight video of the squad's top leapers.
Banner #6
Hoosier Sports Roundup … including even more swimming
This content was contributed by Aaron Shifron (twitter @ashifron).
For the third week in a row, Swimming and Diving competed in a major off-season meet. Besides that, a few other stories occurred with the 2019-2020 athletic season rapidly approaching.
• IU Men's Swimmers and Divers medaled at a major event yet again as Zach Apple and Blake Pieroni won gold and bronze medals at the FINA World Championship. Pieroni also placed fourth in the 100 meter freestyle.
• On the Women's Side, former IU star and Olympic Champion Lily King won a gold medal in the 100 Meter breaststroke. She also won a silver medal as part of the 4×100 relay team.
• Men's Soccer announced a major update to the playing surface at Jerry Yeagley Field at Bill Armstrong Stadium.
• Men's Golf released their schedule for next year that includes a tournament on the newly renovated Pfau Course at IU.
• Softball has a new player with the transfer of Hannah Davis to Indiana.
Rowing saw a former athlete named to the Norwegian National Team.
• Track and Field had 22 athletes earn All-Academic Accolades.
Thanks for your continued support for The Assembly Call. We'll be back next weekend with a new roundup.
Now go enjoy yourself a 6-banner Sunday.
Filed to: