6-Banner Sunday: Recruiting Updates, Preseason Projections, and the IU All-Decade Team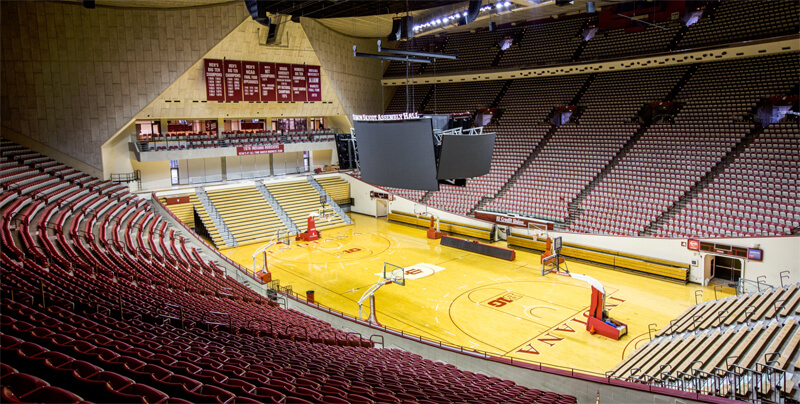 6-Banner Sunday is Inside the Hall's weekly newsletter in partnership with The Assembly Call. More than 6,500 Indiana fans receive the newsletter each week. In addition to appearing each week on the site, you can also opt to receive 6-Banner Sunday by email. A form to subscribe via email is available at the bottom of this week's 6-Banner Sunday.
Welcome to another edition of 6-Banner Sunday, a joint production between The Assembly Call and Inside the Hall where we highlight where we highlight the five most essential IU basketball stories of the past week plus take a look at how the other IU sports teams are doing.
In this week's edition:
• Recruit updates
• Podcast on the Brink
• Assembly Call Radio
• Big Ten rosters overlook
• IU All-Decade Team
• IU Sports Roundup
Banner #1
Recruit updates
Last weekend, several IU recruits competed in the Nike Peach Jam in South Carolina. Inside the Hall posted highlights of four of those recruits last week.
• Four-star 2020 guard R.J. Davis averaged 21.4 points, 7.2 rebounds and 4.2 assists per game.
• Four-star 2020 guard DJ Steward averaged 20.4 points, 6.2 rebounds, 4.4 assists and 1.4 steals per game.
• Four-star 2020 guard Hassan Diarra averaged 16 points, 4.2 rebounds, 3.6 assists and 1.4 steals per game.
• Four-star 2021 forward Caleb Furst averaged 11.2 points, 5.3 rebounds and 1.8 assists per game.
Banner #2
Podcast on the Brink
In this week's episode of Podcast on the Brink, Alex and Jerod are joined by Bart Torvik, creator of T-Rank. They discuss a range of topics, from his favorite team, the Wisconsin Badgers, to his outlooks for the 2019-2020 college basketball season. They even get into the process behind his preseason ratings and projections, which can be useful in forecasting seasons for players and teams.
Check out POTB wherever you listen to podcasts for new episodes every week!
Banner #3
Assembly Call Radio
In this week's edition of Assembly Call Radio, Jerod and Andy were joined by Chronic Hoosier. The trio went in-depth on expectations for next season's IU basketball team. They outline what those expectations will look like and analyze how the Hoosiers could top them. They also delve into listener questions, along with thoughts about the IU fan base and more.
Assembly Call Radio goes live every Thursday night at 9 p.m. with in-depth IU basketball discussion. You can check out episodes from previous weeks at AssemblyCall.com.
Banner #4
Big Ten rosters overlook
Earlier last week, Inside the Hall posted another update to its series of looks at Big Ten roster changes for the upcoming season. As more recruits make decisions, transfers get announced and more, rosters start to look closer to their final versions.
The updates are listed in order of preseason ranking in Bart Torvik's T-Rank system. The Big Ten teams check in as follows:
• No. 2 Michigan State
• No. 7 Maryland
• No. 8 Purdue
• No. 14 Illinois
• No. 17 Ohio State
• No. 20 Penn State
• No. 25 Wisconsin
• No. 29 Michigan
• No. 49 Iowa
• No. 55 Rutgers
• No. 57 Indiana
• No. 80 Minnesota
• No. 94 Nebraska
• No. 108 Northwestern
(Note: the ITH piece was written on Monday, July 15, and some of the rankings have changed since then.)
Banner #5
IU All-Decade Team
As this season will usher in a new decade of IU basketball, Dustin Dopirak of The Athletic reflected on the last decade of Hoosier hoops and selected an All-Decade team. Dopirak's starting five was as follows: Yogi Ferrell, Victor Oladipo, Christian Watford, Thomas Bryant and Cody Zeller.
Dopirak lamented Oladipo's unlikely success.
A three-star recruit who frequently came off the bench at DeMatha (Md.) Catholic and barely cracked the top 150 in the Class of 2010, Oladipo came in with a reputation for having high energy and athleticism but not much in the way of skill. His jump shot was a mess, and he generally only drove the ball in straight lines. But with a legendary work ethic, he improved that jumper, developed a good enough handle to become one of the best slashers and finishers in the Big Ten and became one of the best perimeter defenders in the nation.
Further explanations, as well as his bench selections, are in the article.
Banner #6
IU Sports Roundup
This content was contributed by Aaron Shifron (twitter @ashifron).
Swimming and Diving competed again, this time at the FINA World Championship. Besides that a few other off-season happenings occurred in IU Sports.
• IU Swimmers and Divers medaled again at a major event, the FINA World Championship where Andrew Capobianco and Katrina Young won a bronze medal as did Michael Brinegar. In addition to this, Michael Hixon finished seventh in the 3m Springboard and these same Hoosiers had results in other events as well.
• Feature stories about former Hoosier greats Aaron Slegers and Justin Rennicks will be free on the Assembly Call website blog under "Recent Posts" by the end of weekend. Slegers was a star pitcher on IU baseball's College World Series team while Rennicks was a top player on last year's College Cup team for IU soccer.
• Women's soccer added a transfer in Oliwia Wos.
• Men's golf won a team academic for a seventh straight year.
• The Men's and Women's tennis won ITA Academic Honors.
• Wrestling added an NCAA Champion to its coaching staff.
Thanks for your continued support. We'll be back next weekend with a new roundup.
Now go enjoy yourself a 6-banner Sunday.
Filed to: