A mid-July look at who is coming and going in the Big Ten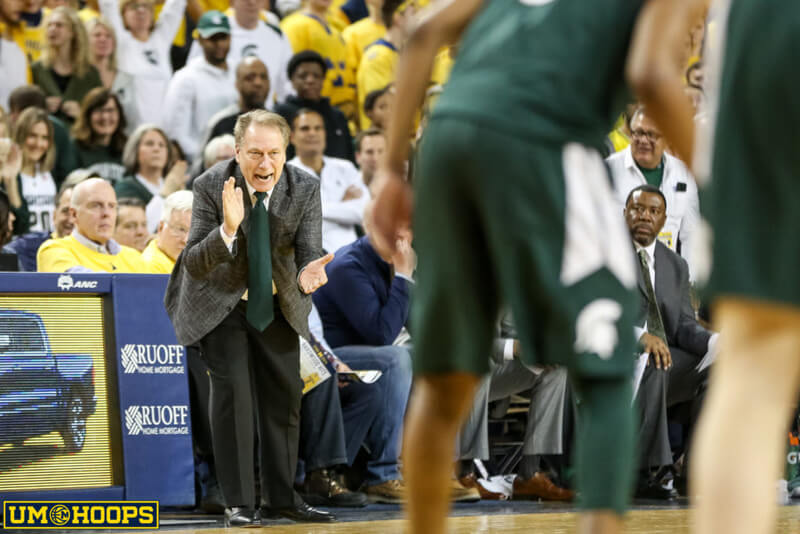 The fall semester will begin at most Big Ten campuses next month, but roster movement has continued across the conference since our last update in late May.
Here's the latest on the rosters across the conference heading into the 2019-20 season. Current preseason Bart Torvik T-Rank ratings are in parenthesis for each team and teams are listed in order of their T-Rank.
(Note: This is the seventh post in a series that will be updated multiple times. In most instances, only scholarship players are included. If we missed anything, please email corrections to [email protected] or post in the comments.)
Michigan State (No. 2)
· Returning: Cassius Winston, Joshua Langford, Aaron Henry, Kyle Ahrens, Xavier Tillman, Foster Loyer, Gabe Brown, Thomas Kithier, Marcus Bingham Jr.
· Arriving: Malik Hall (247Composite No. 58), Rocket Watts (247Composite No. 38), Julius Marble (247Composite No. 210), Joey Hauser (transfer from Marquette, must sit out)
· Departing: Matt McQuaid (graduation), Kenny Goins (graduation), Nick Ward (NBA draft)
Notes: The Spartans were No. 1 in our last update in Bart Torvik's ratings, but have fallen to No. 2 after Florida added Virginia Tech grad transfer Kerry Blackshear.
Maryland (No. 8)
· Returning: Anthony Cowan, Jalen Smith, Eric Ayala, Joshua Tomaic, Aaron Wiggins, Serrel Smith Jr., Darryl Morsell, Ricky Lindo Jr.
· Arriving: Makhi Mitchell (247Composite No. 66), Donta Scott (247Composite No. 143), Makhel Mitchell (247Composite No. 163), Hakim Hart (247Composite No. 453), Chol Marial (247Composite No. 171)
· Departing: Ivan Bender (graduation), Trace Ramsey (transfer), Bruno Fernando (NBA draft)
Notes: Maryland was No. 12 in the Torvik ratings in our last update, but have since moved up four spots into the top 10 at No. 8. There's no denying the Terps will be one of the league's most talented teams next winter.
Purdue (No. 9)
· Returning: Matt Haarms, Aaron Wheeler, Eric Hunter, Trevion Williams, Emmanuel Dowuona, Evan Boudreaux, Sasha Stefanovic, Nojel Eastern
· Arriving: Mason Gillis (247Composite No. 209), Isaiah Thompson (247Composite No. 201), Brandon Newman (247Composite No. 122), Jahaad Proctor (graduate transfer from High Point)
· Departing: Ryan Cline (graduation), Grady Eifert (graduation), Carsen Edwards (NBA draft)
Notes: Is Purdue really a top 10 team? There's where they land in Torvik's ratings and Matt Painter has earned the benefit of the doubt after last season's run to the Elite Eight.
Illinois (No. 13)
· Returning: Alan Griffin, Trent Frazier, Kipper Nichols, Tevian Jones, Andres Feliz, Ayo Dosunmu, Giorgi Bezhanishvili, Da'Monte Williams
· Arriving: Kofi Cockburn (247Composite No. 44), Bernard Kouma (247Composite No. 341), Benjamin Bosmans-Verdonk (Not ranked in 247Composite, international prospect)
· Departing: Aaron Jordan (graduation), Adonis De La Rosa (graduation), Anthony Higgs (transfer), Samba Kane (transfer)
Notes: Illinois moved up from No. 16 to No. 13 since our last update and the Illini also had another roster move recently as Kane entered the transfer portal.
Ohio State (No. 18)
· Returning: Kaleb Wesson, Musa Jallow, CJ Walker, Andre Wesson, Luther Muhammad, Duane Washington Jr., Justin Ahrens, Kyle Young
· Arriving: DJ Carton (247Composite No. 33), Alonzo Gaffney (247Composite No. 48), EJ Liddell (247Composite No. 42), Ibrahima Diallo (247Composite No. 356), Justice Sueing (transfer from Cal, must sit out)
· Departing: CJ Jackson (graduation), Jaedon LeDee (transfer), Keyshawn Woods (graduation)
Notes: Ohio State at 18 seems low as the Buckeyes have one of the league's best rosters and a coach who has proven himself capable of winning Big Ten games.
Penn State (No. 20)
· Returning: Lamar Stevens, Myles Dread, Daniil Kasatkin, Izaiah Brockington, Myreon Jones, Mike Watkins, John Harrar, Jamari Wheeler, Trent Buttrick
· Arriving: Seth Lundy (247Composite No. 211), Abdou Tsimbila (247Composite No. 312), Patrick Kelly (247Composite No. 479), Curtis Jones (graduate transfer from Oklahoma State)
· Departing: Josh Reaves (graduation), Deivis Zemgulis (graduation), Rasir Bolton (transfer)
Notes: If Ohio State seems low at 18, Penn State at No. 20 seems way too high. Since our last update, the Nittany Lions added Jones, who began his career at IU.
Wisconsin (No. 23)
· Returning: D'Mitrik Trice, Brevin Pritzl, Micah Potter, Aleem Ford, Kobe King, Brad Davison, Nate Reuvers, Trevor Anderson, Joe Hedstrom
· Arriving: Tyler Wahl (247Composite No. 192)
· Departing: Ethan Happ (graduation), Charles Thomas (graduation), Khalil Iverson (graduation), Tai Strickland (transfer), Taylor Currie (transfer)
Notes: Wisconsin returns a solid nucleus, but how will it replace Happ? It is a question that we will not be able to answer until the meat of the schedule arrives.
Michigan (No. 29)
· Returning: Zavier Simpson, Jon Teske, David DeJulius, Isaiah Livers, Austin Davis, Adrian Nunez, Colin Castleton, Brandon Johns, Eli Brooks
· Arriving: Cole Bajema (247Composite No. 108), Franz Wagner (247Composite No. 110)
· Departing: Jordan Poole (NBA draft), Ignas Brazdeikis (NBA draft), Charles Matthews (NBA draft)
Notes: The Wolverines added a major piece earlier this month when Wagner, the younger brother of Moritz Wagner, committed to the program. He will likely be in the conversation for Big Ten freshman of the year under new coach Juwan Howard.
Iowa (No. 49)
· Returning: Jordan Bohannon, Joe Wieskamp, Jack Nunge, CJ Fredrick, Ryan Kriener, Connor McCaffery, Cordell Pemsl, Luka Garza
· Arriving: Pat McCaffery (247Composite No. 83), Joe Toussaint (247Composite No. 229)
· Departing: Nicolas Baer (graduation), Maishe Dailey (transfer), Isaiah Moss (transfer), Tyler Cook (NBA draft)
Notes: The Hawkeyes will have a solid one-two punch with Wieskamp and Garza, but if Bohannon is unable to play, it could be a long season in Iowa City.
Rutgers (No. 57)
· Returning: Geo Baker, Myles Johnson, Mamadou Doucoure, Montez Mathis, Shaq Carter, Ron Harper Jr., Caleb McConnell, Jacob Young, Peter Kiss
· Arriving: Paul Mulcahy (247Composite No. 153), Akwasi Yeboah (graduate transfer from Stony Brook)
· Departing: Shaquille Doorson (graduation), Issa Thiam (dismissed from program), Eugene Omoruyi (transfer)
Notes: Rutgers continues to move up the Big Ten hierarchy, but was dealt a significant blow when Omoruyi opted to transfer this offseason.
Indiana (No. 58)
· Returning: Devonte Green, Al Durham Jr., Justin Smith, De'Ron Davis, Race Thompson, Jerome Hunter, Rob Phinisee, Damezi Anderson
· Arriving: Trayce Jackson-Davis (247Composite No. 29), Armaan Franklin (247Composite No. 147), Joey Brunk (graduate transfer from Butler)
· Departing: Juwan Morgan (graduation), Evan Fitzner (graduation), Zach McRoberts (graduation), Jake Forrester (transfer), Clifton Moore (transfer), Romeo Langford (NBA draft)
Notes: Can Indiana outplay the Torvik expectation? If not, it will be a fourth straight NCAA tournament miss for the Hoosiers.
Minnesota (No. 81)
· Returning: Eric Curry, Gabe Kalscheur, Daniel Oturu, Jarvis Omersa, Marcus Carr, Michael Hurt, Payton Willis
· Arriving: Tre Williams (247Composite No. 129), Sam Freeman (247Composite No. 392), Aliham Demir (grad transfer from Drexel), Isaiah Inhen (Not ranked in 247Composite, international prospect), Bryan Greenlee (Not ranked in 247Composite)
· Departing: Amir Coffey (NBA draft), Jordan Murphy (graduation), Isiah Washington (transfer), Dupree McBrayer (graduation), Brock Stull (graduation), Matz Stockman (graduation)
Notes: The Gophers added a guard in mid-June when Greenlee, who is from Florida, committed to the program.
Nebraska (No. 93)
· Returning: Dachon Burke, Thorir Thorbjarnarson
· Arriving: Jervay Green (junior college signee), Akol Arop (247Composite No. 319), Haanif Cheatham (graduate transfer from Florida Gulf Coast), Dalano Banton (transfer from Western Kentucky), Matej Kavas (graduate transfer from Seattle), Cameron Mack (junior college signee), Shamiel Stevenson (graduate transfer from Seattle), Yvan Ouedraogo (Not ranked in 247Composite, international prospect), Samari Curtis (247Composite No. 182), Kevin Cross (Not ranked in 247Composite), Derrick Walker Jr. (transfer from Tennessee, must sit out)
· Departing: Isaiah Roby (NBA draft), Isaac Copeland (graduation), James Palmer Jr. (graduation), Thomas Allen (transfer), Glynn Watson Jr. (graduation), Tanner Borchardt (graduation), Johnny Trueblood (graduation), Nana Akenten (transfer), Brady Heiman (transfer), Amir Harris (transfer), Karrington Davis (transfer)
Notes: Nebraska has a tour to Italy scheduled for next month and the Huskers are going to need as a new coaching staff attempts to bring together a slew of new pieces.
Northwestern (No. 108)
· Returning: A.J. Turner, Ryan Greer, Miller Kopp, Pete Nance, Anthony Gaines, Ryan Young
· Arriving: Robbie Beran (247Composite No. 106), Jared Jones (247Composite No. 216), Daniel Buie (247Composite No. 320), Chase Audige (transfer from William & Mary, must sit out)
· Departing: Aaron Falzon (transfer), Barret Benson (transfer), Vic Law (graduation), Dererk Pardon (graduation), Jordan Ash (transfer), Ryan Taylor (graduation)
Notes: It could be another tough season in Evanston as Northwestern will be projected by most to finish in the bottom two or three of the league.
Filed to: 2019-2020 Big Ten preview