Q & A: 2020 guard Trey Galloway recaps official visit to Indiana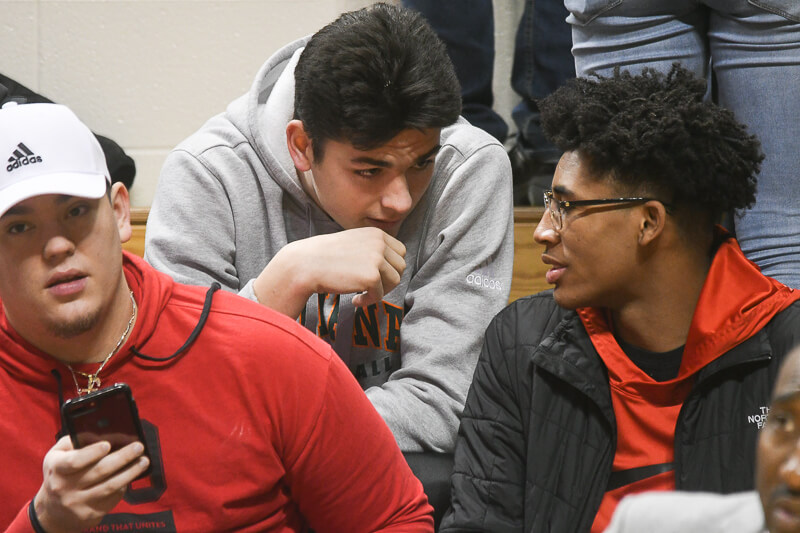 LOUISVILLE, Ky. – Class of 2020 Culver Academies and Indiana Elite guard Trey Galloway was on Indiana's campus last week for a junior year official visit.
The 6-foot-5 Galloway, who earned a scholarship offer from Indiana in late April, is playing this for the Indiana junior all-stars in a pair of exhibitions against Kentucky and an exhibition against the Indiana All-Stars.
Galloway spoke to the media on Sunday night following a 115-104 loss to Kentucky at Mercy Academy and gave his thoughts on his visit to IU and much more.
On what he learned on his official visit:
"A lot. I got to spend quality time with the coaches. A lot of time with their whole staff and it was good just to get some personal time with them with me and my family. I got to hang out with Armaan (Franklin) and Trayce (Jackson-Davis) a little bit and kind of get to see where they live and just learn a little bit more about the program. They told me about how they play and the way they see me fitting into the program."
On his impressions of IU beyond just basketball:
"Just where they live, it's incredible. It's a nice place. Obviously I've been to a couple of games, but just being able to see out of season stuff like lifting. I met with the strength coach. He's a great guy. Just being able to see the daily life and what they do outside of basketball, it was good to see that."
On what he's looking for during visits and what stood out:
"One thing I'm looking for is just a family environment and being around guys that want to win. That's one thing I'm really looking forward to is being around great coaches that care for the players. And I think they for sure have that going there. Coach (Archie) Miller, he's really competitive, so I think that's one thing we kind of have in common is our competitiveness. He wants to win and I want to win. It was good just to talk with them and hear their side of things."
On upcoming visits this month:
"I haven't really planned anything yet. My family and I are going to talk a little bit more. But right now, no, because I've got the the Indiana All-Stars right now. I'm going to get through that and then I think once things kind of clear up in mid-June, I'll start to plan some more."
On whether he took any other junior year official visits:
"Yeah, I took one in the fall to Iowa."
On the schools he's hearing the most from recently besides IU:
"Georgetown, Notre Dame, a little bit with Kansas, Michigan State, Cincinnati and California, too. Those are the main ones right now that are staying in contact with me."
On what he likes about Notre Dame:
"Close to home. Coach (Mike) Brey is a really good guy. I've been there I think three or four times in the fall and played some pickup with their guys. Those are probably the guys I've been with the most."
On what the rest of the month looks like in terms of a schedule:
"I'll have Culver team stuff at the end of the month and I think we have some things coming up here in a couple of days. And then I think I'm doing the top 100 camp."
On what the experience was like playing with the junior all-stars on Sunday:
"It was good playing with all of the guys because everyone is really talented and it's just good to see all of the guys. We got off to a great start, but we didn't play very well towards the end. But with our talent, I think we can pull away. Once we get a feel for each other, I think we'll start to play with more pace. Tomorrow will be fun to see where we're at."
On his plan going forward for the recruiting process and a timetable:
"I'm not going to set a time where I'm going to commit. It's just when I feel is the right moment to commit. If I need to take some officials in the fall, I'll do that. But whenever the time comes, that's when I'll commit."
On if he believes he could play with Anthony Leal in college:
"Yeah, I think so. For sure."
On whether they've talked about playing together:
"Yeah, we talk a little bit. Not much, but when we do talk about it, we just talk about where he's thinking about going and where I'm thinking about going. Other than that, it's not really like that. We talk about other stuff than just basketball."
On how important it will be to bounce back with a better effort on Monday:
"It's important. Obviously representing the state of Indiana, it's a big accomplishment to be able to play. I think we've got to play a lot harder than we did today. They just showed they wanted it more than us obviously. They came out and tried to really beat us."
On what happened late in the first half when they surrendered the lead:
"We were up 21, actually. They just went on a run and we didn't rebound. They had 21 offensive rebounds and we for sure didn't rebound like we should have. They had a little bit of size, but that doesn't really mean anything. We've got to find a way to box out and get rebounds for sure."
Filed to: Trey Galloway