Q & A: 2020 guard Anthony Leal talks IU visit, junior all-stars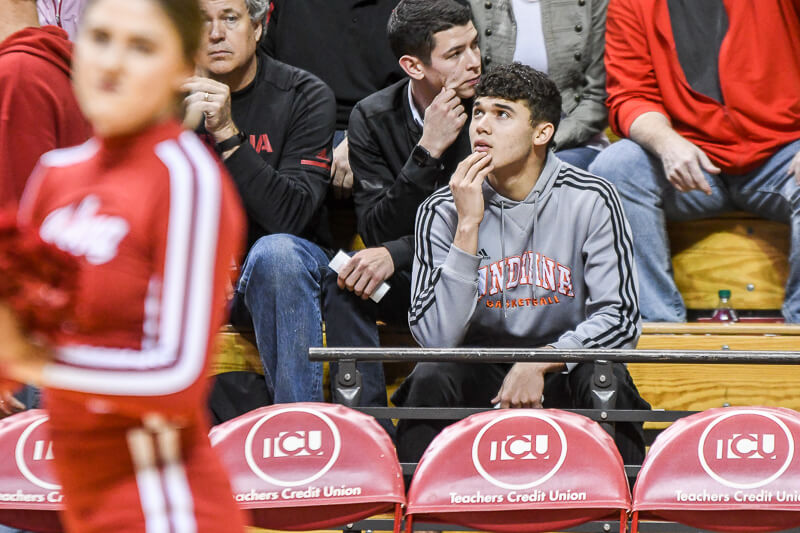 LOUISVILLE, Ky. – Class of 2020 Bloomington South and Indiana Elite guard Anthony Leal is a core junior all-star and a major IU recruiting target.
On Sunday, Leal scored 11 points as the Indiana junior All-Stars fell 115-104 to Kentucky at Mercy Academy.
Postgame, Leal spoke with reporters about his recent unofficial visit to IU, the experience of playing with the junior All-Stars and much more.
On the loss Sunday night:
"It's impossible to win a game when the other team has 21 offensive rebounds. They just out-toughed us and wanted it a little bit more. It's going to be a lot different tomorrow."
On Thursday's visit to IU:
"It was good to finally actually see everything as far as athlete living and the nutrition stuff and the academic stuff. It was good to finally get an up close and personal look."
On what it meant to get a closer look at IU beyond just the basketball:
"I've obviously been around the town and been to Cook Hall and Assembly Hall and stuff like that, but that was my first time getting to see what it would be like in terms of the life of an athlete if I went to IU. It was definitely good for me."
On what's new in terms of recruiting:
"I'm going to Cincinnati on June 11 for an unofficial. Virginia Tech reached out as well. That's the newest contact."
On his plans for June:
"Just getting better with my high school team and getting ready to try and win state next season."
On where Bloomington South will be competing this month:
"The IU team camp, the Charlie Hughes annual shootout and then a couple of league games."
On playing with Trey Galloway as a junior all-star:
"It's special. We're really close and we have that chemistry on the court. We're both pretty ticked off that we just lost to Kentucky."
On whether they talked much about their recent visits to IU:
"Yeah, I live in Bloomington so when he was in town, I said hello for a quick second and then we've talked a lot."
On what he's looking for as he navigates the recruiting process:
"I'm looking for coaches that have a plan for me as far as a player and being able to develop and get to the next level. And being able to get a degree that will help me after basketball later on down the line."
On whether being from Bloomington makes things different for IU in terms of his recruitment:
"I definitely view it differently because I grew up there and I grew up a fan. But when it comes down to it, it is about trying to find where I fit in best and where I'm going to be able to grow the most as a player and a person."
On his plan for the recruiting process and a timetable for a decision:
"As far as timetable, I'm definitely going to get this all done with before the high school season starts so I can just focus on that. Our goal is state, so I just want to be able to focus on that and winning games with my team. I'm definitely going to take some officials in the fall and later on in the summer, but nothing planned right now."
On playing with Nijel Pack:
"Up until this year, we played AAU together. We've got some chemistry and that connection, so it's good. I like playing with Nijel."
On having to adjust to the mass lineup changes in the all-star game environment and whether it was discussed going in:
"The coaches didn't really talk about it, but it is just part of the game. It's an all-star game, so it is expected that they were going to try and let everyone play. Whether or not, I like it, I'd rather just sub to win and leave guys in if they're playing well and take guys out if they're not, but it's all about the experience and everyone just wants to be able to play with that name across their chest so I definitely understand how we did the subs."
Filed to: Anthony Leal