Around the Hall: Juwan Morgan Q & A, Michael Lewis to UCLA, more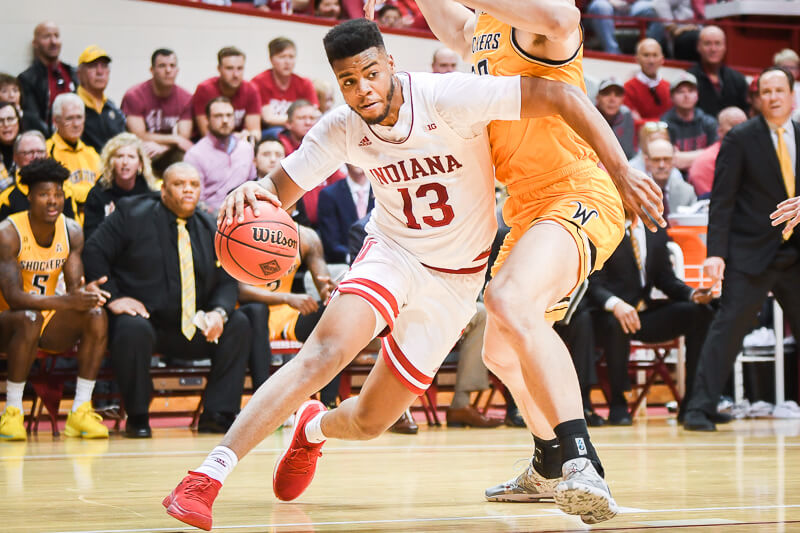 Around the Hall is recommended reading from the Inside the Hall staff.
• HoopsHype has a Q & A with Juwan Morgan:
What position do you feel is the most natural fit for you at the next level?

JM: Power forward. I am comfortable working out of the mid-post to block but I am definitely comfortable on the wing, too. I don't need the ball in my hands but I can pick-and-pop, drive and kick with that as well. On defense, I feel good guarding whoever is in front of me. I think people will be surprised by how effective I am even when I don't have the ball in my hands beyond my scoring and my rebounding.
• Yahoo! Sports takes a look at the huge pay raise NCAA president Mark Emmert received while his organization is in the midst of scandal:
The eternally embattled Emmert received a 60 percent increase in compensation between Sept. 1, 2017 and Aug. 31, 2018, according to the NCAA's 990 financial disclosure. Emmert's pay skyrocketed from $2.4 million the previous year to $3.9 million, thanks to what was described as a one-time, $1.4 million deferred payment that was written into his contract.

The timing of that payday is coincidental, but also far from ideal.
• Former Indiana guard Michael Lewis is the newest member of Mick Cronin's staff at UCLA:
Lewis, a former standout guard at Indiana, served as Nebraska's offensive coordinator in each of the past two seasons, helping the Cornhuskers compile 41 victories and back-to-back appearances in the National Invitation Tournament. He was also heavily involved with coaching the team's guards.
• Former IU walk-on Taylor Wayer is the new coach at Bishop Chatard and spoke to Kyle Neddenriep of The Indianapolis Star about his new post:
Taylor Wayer, a 2010 Chatard graduate and former standout guard for the Trojans, was named coach Wednesday. Wayer, 28, is former walk-on at Indiana University and has been involved in basketball as a high school assistant, trainer and coach at the grassroots level for several years.

"We've got to get back to being that gritty type of team that can be competitive," Wayer said. "Playing in the city of Indianapolis, you have to use everything you've got. We want to be competitive with everyone on our schedule."
• Why is the head of the NABC making over $1 million a year? Yahoo! Sports took a closer look:
According to the NABC's public filings as a non-profit organization, Jim Haney made $1.17 million in 2016. From 2013-17, the most recent five years of available documents, the 70-year-old Haney averaged more than $1 million per year.

Given the federal investigation and ensuing scandal that has enveloped college basketball for the past 20 months, tainting the sport's coaching fraternity, several NABC members questioned what Haney is doing to earn that handsome salary. In troubled times, the one-time head coach at Oregon and former commissioner of the Missouri Valley and Big West conferences has kept a very low profile.
• Victor Oladipo is hosting a fantasy basketball experience at IU in August:
Hoosiers basketball great Victor Oladipo has announced the launch of his inaugural Basketball Fantasy Experience in partnership with Indiana Basketball.

This unique charitable weekend will be held August 23rd – 25th at Indiana University and offers inside access to the Indiana University Men's Basketball program.

The Game On Mouthguards Victor Oladipo Basketball Fantasy Experience in partnership with Indiana Basketball provides fans with the opportunity to spend a weekend in the life of a Hoosiers basketball player. Attendees have the option to play or coach and will receive expert instruction from Victor Oladipo, head coach Archie Miller, the current IU men's basketball staff, former IU basketball greats, and other celebrity guests. The event will be held in the world-famous Simon Skjodt Assembly Hall and the state-of-the-art Hoosiers Basketball practice facilities.
• OnTheBanks looks at the rise of Rutgers basketball:
We are just now arriving at Memorial Day weekend, but the optimism around the Rutgers men's basketball program is already in full bloom. Next season is the most anticipated in many years and postseason aspirations are warranted. Entering year four of the Steve Pikiell era, the foundation is solid to the point that his pledge upon being hired that he would make Rutgers dance in March seems more of a question of when, not if. Whether that happens next season or not remains to be seen, but the fact is that the national media is taking notice of the program and helping to raise expectations for the program moving forward.
Filed to: