Big Ten roundup: Bohannon injury, Brazdeikis draft decision, more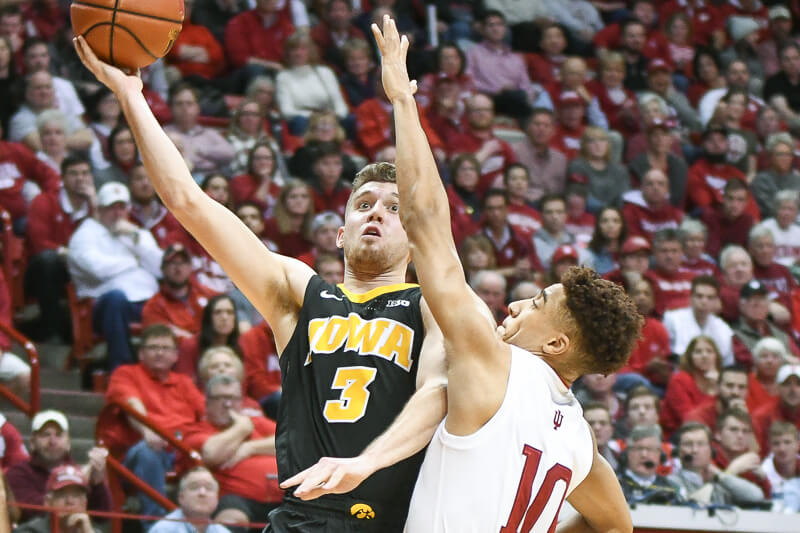 We're in the midst of a "down" time in college hoops, but there's still plenty going on around the Big Ten that could have a major impact on next season.
Here's what you need to know from around the conference:
• The status of Iowa guard Jordan Bohannon is in serious doubt for next season. According to HawkCentral.com, Bohannon will have surgery today to shave bone off his right hip and repair a labral tear. The recovery timetable is five to nine months, which means Bohannon could opt to sit out next season and use a redshirt.
The timetable for recovery, he's been told, is between five and nine months. Bohannon said if he's not ready by the exhibition season (late October/early November), he'll probably opt to redshirt and return as a fifth-year senior in 2020-21.

"I want a shot at playing, but I've been hurt so much these past couple years, I just want to take some time and get my body right," Bohannon said. "Especially having just one year left, I want to make sure I'm 100% going into the season for once."
• Michigan freshman Ignas Brazdeikis announced that he's staying in the 2019 NBA draft. This isn't particularly surprising given that Brazdeikis is already 20 and Michigan doesn't currently have a head coach, but the Canadian guard is no sure thing to be drafted, either.
The Wolverine forward is the first and only one-and-done player of the John Beilein era. He averaged 14.8 points and 5.4 rebounds per game as a freshman and was named the Big Ten's Freshman of the Year.
• Ohio State big man Kaleb Wesson continues to work through the NBA pre-draft process, according to Eleven Warriors. Wesson is expected to return to school for his junior season:
Nearly three weeks after taking part in a workout in Atlanta in front of the Hawks' organization, Ohio State big man Kaleb Wesson will go through a group workout for the Boston Celtics on Monday, a source told Eleven Warriors. Boston has the No. 14, 20, 22 and 51 picks in the draft.

Wesson has until May 29 to decide whether or not to keep his name in the 2019 NBA Draft pool. He is able to retain his college eligibility while going through workouts.
• Providence coach Ed Cooley, who interviewed for the Michigan coaching job, is staying in the Big East.
• According to the Milwaukee Journal Sentinel, Wisconsin is the favorite to land the Hauser brothers.
• Penn State forward Lamar Stevens worked out for the Indiana Pacers on Tuesday. Stevens is still undecided on whether to return to State College for his senior season or stay in the draft. He was not invited to the NBA draft combine.
• Indiana was the latest school to be featured in ESPN's "Chasing Ghosts" series:
John Gasaway, college basketball writer: The Indiana head-coaching job is about so much more than basketball. Embrace the paradox: Knight set the standard that every IU head coach labors (and, so far, has failed) to meet. Yet the very first coach to fall short in that category was … Bob Knight. After the three national titles and a superb run of basketball in the early 1990s (the 1993 team was one of the best he ever had), Knight never earned a top-four NCAA tournament seed over his last seven seasons with the Hoosiers. Any once-contentious divide in the fan base specifically related to Knight surely becomes less divisive and more antiquarian with each passing year, but the challenge of living up to the body of work he compiled across his first 20 or so seasons in Bloomington remains.
• Former IU guard Eric Gordon returned to Bloomington on Monday:
Welcome home, @TheofficialEG10! #ProIU pic.twitter.com/DcM4lDf4dW

— Indiana Basketball (@IndianaMBB) May 20, 2019
• Romeo Langford believes he's the best player in the 2019 NBA draft:
"I feel like I'm the best (player) in this draft. That's just the confidence I have and I know what I'm capable of doing."@yeahyeah22's full interview with @espn during the @NBA Combine ?? #IUBB pic.twitter.com/RAqSDwwGkY

— Indiana Basketball (@IndianaMBB) May 21, 2019
Filed to: Eric Gordon, Romeo Langford