Indiana's roller-coaster season ends in fitting fashion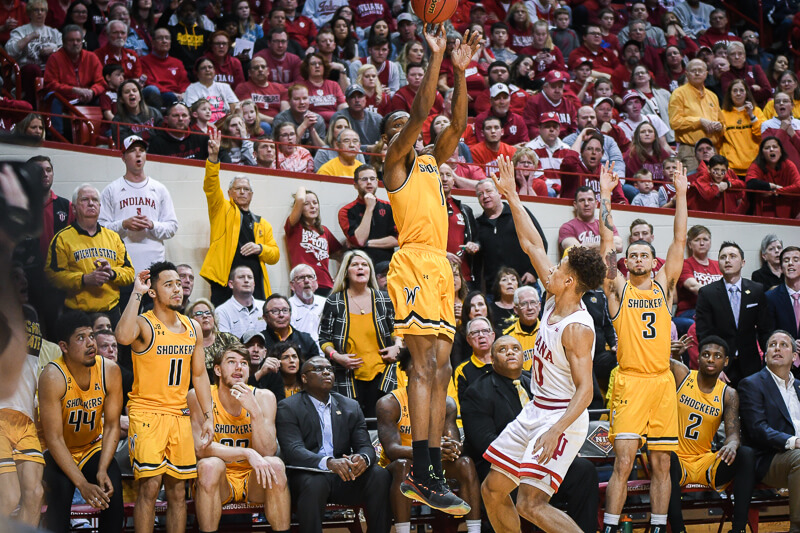 After Indiana's 73-63 NIT Quarterfinal loss to Wichita State, it would have been appropriate for this to play over the PA system:
"We hope you enjoyed the ride. Please watch your step as you exit the train, and make sure you have all your belongings. Enjoy the rest of your day, and come back and ride again soon!"
The Hoosiers' roller-coaster of a season came to a crashing halt. Indiana finishes 19-16.
IU started the season on a largely upward trajectory, rising up the slope that was built when Romeo Langford grabbed the Indiana hat in April 2018. As the ball dropped on the New Year, Indiana looked like one of the better teams in the Big Ten. March was a foregone conclusion. The main question was how far could IU go?
But like so many roller coaster rides, the passengers were never fully prepared for the drop. It always comes sharper and sooner than they expect. And it wasn't the type of drop that's a quick thrill before another climb.
It was a slow, steady drop that made passengers question if the ride would ever turn around and look like its old self again, or if it would continue to pile-drive itself into the ground. Indiana's slump of losing 12 of 13 was a combination of hopeless despair and some moments of promise washed away by heartbreak.
And then, just when all seemed lost, the Hoosiers upset Wisconsin and Michigan State. IU's four-game winning streak to close the regular season provided a ray of hope many felt it didn't deserve, but it was nonetheless available for the taking.
After the slow but long drop, it suddenly seemed like Indiana had a chance to ascend to a height that, while still smaller than one most envisioned when they stood in line for the coaster, would still have satisfied the cravings of roller coaster aficionados.
But despite IU's resurgence, the ride dropped early once again, making passengers question all they knew about roller coasters and why they even waited for this ride in the first place.
The NIT provided a chance for a smaller track — not what anyone thought they signed up for, but a chance for a thrill after all. Half of the passengers weren't interested, while the other half fully invested, just wanting the ride to continue in any form.
This season-ending loss is a microcosm of how Indiana's year turned out once the calendar flipped to 2019. From the opening tip, the Hoosiers were never able to get their feet under them, and it was evident from the start that it would be bumpy. Whenever Indiana made a push of any size and seemed ready to turn it around, the Shockers responded with a dagger or two to remind IU why it was in this position.
"Every single time we were right there, we could not get over the hump," Archie Miller said. "Whether it was a foul at the end of the shot clock, a rebound on the weak side that leads to an and one — they just made some really tough, hard plays in a game like that when we didn't."
The loss brings Juwan Morgan's Indiana career to an end, and he, too, went out in fitting style. As he did so many times over the last two years, he carried the Hoosiers on the scoreboard for much of the game as IU's guards were unable to adequately support him for most of the contest. Even when that changed and Al Durham and Devonte Green heated up, they still just couldn't do quite enough.
Miller has plenty to do to rebuild his roller coaster for next season and beyond. He'll have some key pieces returning, some intriguing pieces entering and anticipation only rising.
But who knows what to expect anymore in this theme park?
Filed to: 2019 National Invitation Tournament