A tale of two halves in IU's NIT win over Saint Francis (Pa.)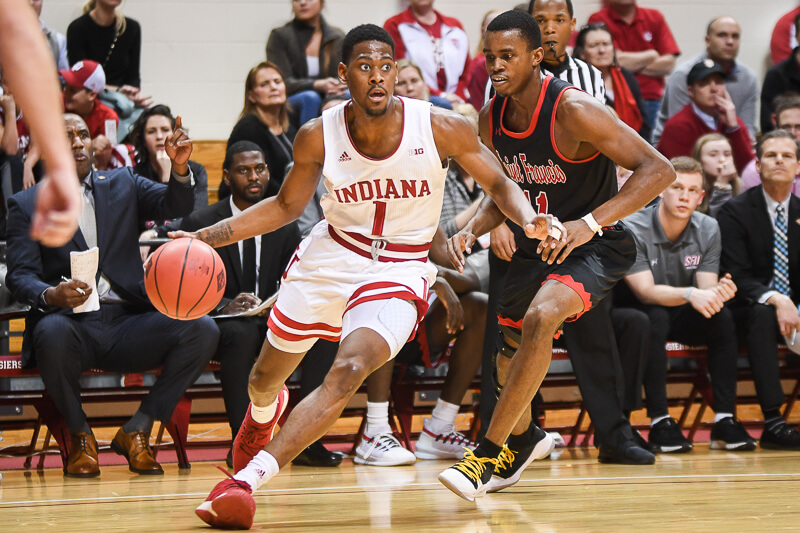 For the first 20 minutes of Indiana's NIT opener against Saint Francis (Pa.), the Hoosiers echoed how a portion of the fan base felt about the tournament: what's the point?
IU was two days removed from being excluded from the NCAA tournament and was playing without star freshman Romeo Langford, who injured his back in Thursday's Big Ten tournament loss to Ohio State. The Hoosiers had spurts of strong play in the first half, but the full outlook showed a lack of energy, concentration and discipline.
Indiana spurned its traditional offensive sets for 3s early in the shot clock far too often, and jogging back on defense was a common occurrence in the first half. The Red Flash scored 17 fast break points in the game, and 14 of those came in the first half.
IU head coach Archie Miller said the first half continued IU's defensive regression to close the regular season and in the Big Ten tournament.
"I don't think we're playing very well defensively as a team here in this last, maybe three games. We've sort of let our guard down," Miller said. "We are going to have to find a way to get back that confidence level on defense, that toughness level on defense, which at times in the second half, we got it going. But we're going to need it from the jump ball here kind of moving forward."
At halftime, Miller said things he later joked were inappropriate to repeat in the press conference. But his message regarding adjustments was clear: increase Juwan Morgan's involvement.
In the first half, the senior scored seven points on a 3-for-6 line with three rebounds in 12 minutes. It was not his weakest output in a half, but certainly not the level IU needed him at with Langford sidelined.
Following the intermission, the Hoosiers prudently followed Miller's directive. Morgan opened the second half with a layup 10 seconds in. His next bucket, another layup, gave Indiana its first lead of the second half at 43-42 with 17:46 remaining. It would be the game's final lead change.
IU continued to feed Morgan, and Morgan continued to dominate. He made it eminently clear the Red Flash were ill-equipped to stop him. He didn't miss a field goal in the second half, draining all seven attempts, and scored 21 points for a game total of 28.
Saint Francis head coach Rob Krimmel hopes his big men learned something from playing against Morgan.
"(Morgan) knows how to play angles," Krimmel said. "You could tell he's well-coached. You know, knows how to play to his strengths. But I think it's a good thing, though, for our post players to see. It's something that they can learn from someone like that. As tough as it is in the moment, those are things as coaches, we can go back and say, hey, see how he did it."
A career-high 22 points from Al Durham didn't hurt, either, for IU. He was one of the few Hoosiers who were productive and locked in during the first half (I'd throw Devonte Green in that category as well), and he upped his play in the second half as the rest of the team did.
But with or without Langford — whom Miller said wouldn't have played even if Indiana played an NCAA tournament game Tuesday and remains day-to-day — IU won't be able to overpower a team in a single half the rest of the tournament the way it did Tuesday.
If the Hoosiers bring the same low intensity and focus it did in the first half against Saint Francis into their next game against Arkansas, they may not be able to recover as swiftly.
Filed to: 2019 National Invitation Tournament