The Minute After: St. Francis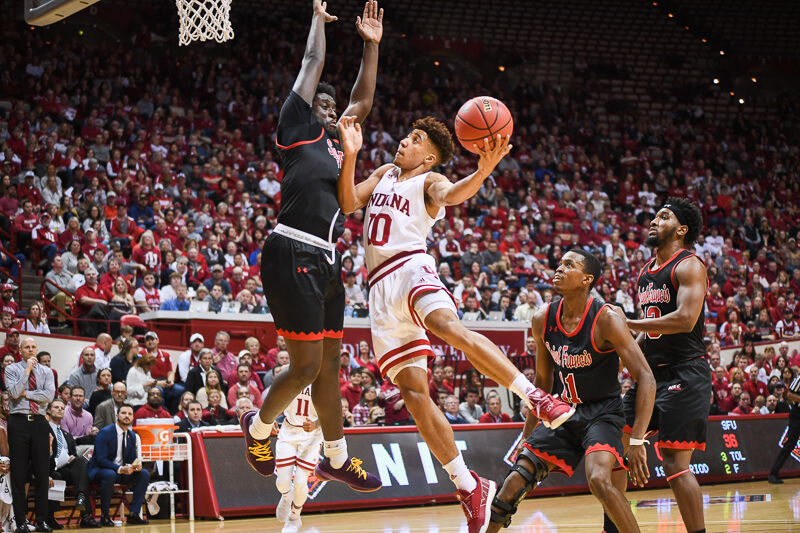 Thoughts on a 89-72 win against the Red Flash:
There was no question heading into this one which team had more talent, more size and was just flat out better: your Indiana Hoosiers.
But after falling short of making the NCAA Tournament and having to settle for a No. 1 seed in the NIT, it was fair to wonder what sort of Indiana team was going to show up tonight. Would the Hoosiers struggle to focus? Would they bring proper effort, intensity and energy?
The returns in the first half were not good. While it was apparent Indiana could score at will on the Red Flash, jumping out to an early nine-point lead at the 14:32 mark as they quickly erased a 7-2 deficient thanks to a 14-0 run, things started to unravel as the first half went along. Indiana settled for too many 3-pointers when it was clear scoring in the paint was key in this one. They became lackadaisical and didn't hustle. St. Francis, on the other hand, was never void of effort. The Red Flash kept coming, erasing Indiana's nine-point lead and carrying a six-point lead into the break, as a technical foul on Archie Miller to close the half gave them an extra two points.
As I noted at half, despite the deficit, all the Hoosiers really needed to do in the second half was play hard and focus, and they'd still win this one going away. And that's pretty much what happened. Their first possession of the second half rightly went to Juwan Morgan in the paint and he scored for two. Morgan has felt more dominant in other games in his career, but this one still ranked amongst his best ever, as he went for 28 points on 10-of-13 shooting. Had he not gotten lazy with a couple attempts in the first half, he would have been dang near perfect from the field on the night. Morgan also snagged eight boards for a near double-double.
The Hoosiers were absolute dominant on the interior in this game, outscoring St. Francis in the paint 56-18.
Unlike some of his teammates, and as he's done all season long, Al Durham went hard in this one all game and was rewarded with his best offensive performance of the season (22 points, 9-of-15). Building on his performance from the Big Ten Tournament, Devonte Green made his first two 3-pointers of the contest, before settling for a 3-of-8 mark from distance and 12 total points. Green also dished out a team-high six assists against two turnovers.
After stumbling in the turnover department against Ohio State last week, the Hoosiers returned to late regular season form, turning it over on just 10 percent of their possessions. All the scoring inside and low turnovers amounted to a strong 1.22 points per possessions for the Hoosiers.
Indiana was up enough late that Jake Forrester was able to see time and score as bucket and Johnny Jager — wink and all — knocked down two late free throws after getting fouled.
Despite some effort problems and a loss of focus in the first half, this one pretty much went as it should with the Hoosiers picking up a dominant victory.
Next time around, whether against Arkansas or Providence, it won't be so easy for the Hoosiers to come back if they slip out of attention.
Filed to: 2019 National Invitation Tournament, Saint Francis Red Flash