Bracketology: NCAA tournament projection as of March 17, 2019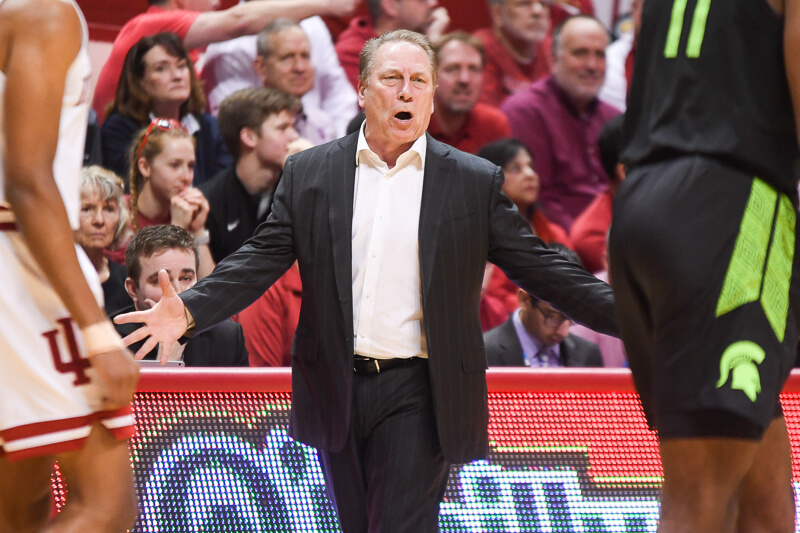 As we head into the final day of Championship week, there are just six automatic bids left to be handed out, and there are no bid thieves lurking in any of those six leagues.
Bubble teams spent the bulk of Saturday dodging bullets from other potential bid thieves, and they nearly emerged unscathed, but Oregon had other ideas. The Ducks blew out Washington to earn the automatic bid from the Pac-12, leaving one more potential at-large team on the outside looking in.
Before looking at the one seeds, I wanted to give a quick reminder about how the NCAA selection committee classifies wins based on the new NET Rating.
A breakdown of the four tiers:
· Tier 1: Home vs. teams ranked 1-30 / Neutral vs. teams ranked 1-50 / Road vs. teams ranked 1-75
· Tier 2: Home vs. teams ranked 31-75 / Neutral vs. teams ranked 51-100 / Road vs. teams ranked 76-135
· Tier 3: Home vs. teams ranked 76-160 / Neutral vs. teams ranked 101-200 / Road vs. teams ranked 136-240
· Tier 4: Home vs. teams ranked 161-351 / Neutral vs. teams ranked 201-351 / Road vs. teams ranked 241-351
One Seeds
It's amazing how quickly the picture can change even at this stage of the season, but the return of Zion Williamson allowed the committee to assess Duke at full strength once again. After watching the Blue Devils run through the ACC tournament, they are the top overall seed on my list. Virginia gets bumped to second based on losing both regular season games to Duke, but after that things get interesting.
Tennessee seems likely to claim one of the remaining spots after a late comeback to beat Kentucky. The Vols took two of three from the Wildcats, boast a 9-4 mark in Quad 1, and don't have a loss to a team outside the Top 20 of the NET. Given how little the Sunday games seem to have mattered in the past, I tend to believe they will be on the one line even with a loss to Auburn.
Michigan State has been in the mix, but ultimately their losses are worse than any of the other teams vying for a one seed.
That leaves Gonzaga and North Carolina for the final spot. I spent an exorbitant amount of time comparing the two, and I waffled back and forth as I have over the last couple days. If you base it solely on the resume, UNC is the choice based on the higher volume of Quad 1 victories, but that's a bit tough to do with Gonzaga since they have dramatically fewer opportunities for those kinds of wins.
However, the Bulldogs are the only team to beat Duke at full strength, and a last second loss to Tennessee and a road loss at North Carolina are understandable. The Zags were steamrolling all comers before slipping up in the WCC final against Saint Mary's, who is ranked just outside the Top 30 of the NET, so by definition it really isn't a bad loss. That defeat falls into the same bucket as UNC's home loss to Louisville (by 21 points) and their neutral court loss to Texas, who is unlikely to make the tournament. So the question boils down to whether one bad shooting game against a team Gonzaga beat by a combined 62 points in their two regular season matchups is enough to knock them off the one line, where they had been entrenched since the committee's February reveal. Ultimately Gonzaga had proven themselves worthy of a one seed in 32 of 33 games, so I ended up shifting them back to the one line.
I'm sure I will review this another time or two before the selection show, but that's an in depth look of where my head is at right now.
The Bracket
The projections below are based on all games played through March 16, 2019. Following the bracket, I included a few thoughts on the last four in as well as the other teams I considered.
| | | |
| --- | --- | --- |
| EAST (WASHINGTON, DC) | | SOUTH (LOUISVILLE) |
| Columbia – March 22/24 | | Columbia – March 22/24 |
| 1) Duke | | 1) Virginia |
| 16) N. Dakota St. / NC Central | | 16) Abilene Christian |
| 8) Minnesota | | 8) Ole Miss |
| 9) Baylor | | 9) Utah St. |
| | | |
| San Jose – March 22/24 | | Hartford – March 21/23 |
| 5) Villanova | | 5) Marquette |
| 12) Saint Mary's | | 12) Murray St. |
| 4) Kansas St. | | 4) Purdue |
| 13) Old Dominion | | 13) Northeastern |
| | | |
| Tulsa – March 22/24 | | Salt Lake City – March 21/23 |
| 6) Maryland | | 6) Cincinnati |
| 11) Temple / St. John's | | 11) VCU / Arizona St. |
| 3) LSU | | 3) Texas Tech |
| 14) Saint Louis | | 14) Harvard |
| | | |
| Des Moines – March 21/23 | | Columbus – March 22/24 |
| 7) Nevada | | 7) Wofford |
| 10) Syracuse | | 10) TCU |
| 2) Michigan St. | | 2) Kentucky |
| 15) Bradley | | 15) Montana |
| | | |
| WEST (ANAHEIM) | | MIDWEST (KANSAS CITY) |
| Salt Lake City – March 21/23 | | Columbus – March 22/24 |
| 1) Gonzaga | | 1) Tennessee |
| 16) Iona / F. Dickinson | | 16) Prairie View A&M |
| 8) Iowa | | 8) Seton Hall |
| 9) Oklahoma | | 9) Central Florida |
| | | |
| San Jose – March 22/24 | | Hartford – March 21/23 |
| 5) Virginia Tech | | 5) Iowa St. |
| 12) New Mexico St. | | 12) Liberty |
| 4) Kansas | | 4) Wisconsin |
| 13) UC Irvine | | 13) Vermont |
| | | |
| Jacksonville – March 21/23 | | Tulsa – March 22/24 |
| 6) Auburn | | 6) Mississippi St. |
| 11) Oregon | | 11) Washington |
| 3) Florida St. | | 3) Houston |
| 14) Northern Kentucky | | 14) Georgia St. |
| | | |
| Des Moines – March 21/23 | | Jacksonville – March 21/23 |
| 7) Louisville | | 7) Buffalo |
| 10) Florida | | 10) Ohio St. |
| 2) Michigan | | 2) North Carolina |
| 15) Gardner-Webb | | 15) Colgate |
Last Four In:
VCU – Oregon's victory in the Pac-12 championship game pushed the Rams into the last four in. They went 16-2 in the A-10 and have a gaudy 25-7 record. However, a closer look shows just one win over a team in these projections as an at-large, and even that is against a Temple team that I've also pegged for a trip to Dayton. VCU has a terrific non-conference strength of schedule, but a pair of Quad 3 losses and five total losses to teams not in the at-large picture pushed them closer to the cutline for me.
Arizona State – The fact that the Sun Devils find themselves in this spot is a direction result of the bid thieves we've seen, as I tend to think they are pretty safe. ASU has Quad 1 wins over Mississippi State, Kansas, and Utah State, and they have eight Quad 2 victories as well. However, the Sun Devils have a pair of Quad 3 losses and two more in Quad 4, all of which have pushed their NET ranking into the 60s.
St. John's – The Red Storm did very little in the non-conference outside of beating VCU, and they lost two times each to DePaul, Providence, and Xavier. St. John's did sweep Marquette in the regular season before getting run off the floor against the Golden Eagles on Thursday night.
Temple – The Owls could have essentially locked up a bid by beating Wichita State on Friday night, but they came up short against the Shockers, setting up a long couple days of waiting. Temple has a pair of Quad 1 wins, but those home victories over Houston and Central Florida are their only wins over at-large caliber teams. Eight road wins help Temple's case though, and six Quad 2 victories bolster their profile as well.
Other Teams Considered:
NC State – A huge comeback and late free throws propelled the Wolfpack to a win over Clemson in their ACC tournament opener, but they were blown out by Virginia on Thursday. The Wolfpack's non-conference strength of schedule is the worst in the nation, and just one of their nine ACC regular season victories came against a team with a winning league record (Syracuse). Additional home wins over Auburn and Clemson are helpful, but it seems like each year there is a team that winds up getting punished for a poor non-conference schedule, which this year just might be NC State.
Belmont – After losing in the OVC championship game to Murray State, the Bruins find themselves in the at-large pool, and they have the most compelling case of any of the mid-majors who failed to win the auto-bid so far. So far, things have actually broken pretty well for them. They own a sweep of fellow bubbler Lipscomb and won the regular season matchup at Murray State. But despite a gaudy 25-5 mark against Division I teams, Belmont's status on the bubble is tenuous given a pair of Quad 3 losses and no victories over potential at-large candidates.
Indiana – The Hoosiers won their last four regular season games to play their way back into the bubble picture, but a lackluster performance for most of Thursday's game with Ohio State may have been the final nail in the coffin. A sweep of Michigan State represents two of IU's six Quad 1 wins, and the committee chair's comments about being diligent in researching the impact of injuries could certainly come into play here. Still, the Hoosiers now have 15 losses, and we haven't seen a team receive an at-large bid at just two games over .500 since Georgia in 2001. So despite no Quad 3 or Quad 4 losses, history is assuredly not on the side of the Hoosiers.
UNC Greensboro – The Spartans gave Wofford a tough test in the SoCon Final and picked up another win over fellow bubbler Furman to get there. All six of UNCG's losses fall in Quad 1, but two wins over Furman are the only ones of note. The predictive metrics don't do them any favors either, so it's likely the Spartans are headed to the NIT despite winning 26 Division I games.
Alabama – The Crimson Tide came from behind to knock off Ole Miss on Thursday evening, but they were blown out by Kentucky on Friday night. That leaves Alabama with 15 losses, with two of them falling in Quad 3 and five of them coming against teams not in the at-large discussion. Home wins over Kentucky, Mississippi State, and Ole Miss are Alabama's best, but it's hard to see them making it into the field given the way things have played out over the last couple days.
Conference Breakdown:
Big Ten (8): Iowa, Maryland, Michigan, Michigan State, Minnesota, Ohio State, Purdue, Wisconsin
ACC (7): Duke*, Florida State, Louisville, North Carolina, Syracuse, Virginia, Virginia Tech
Big 12 (7): Baylor, Iowa State*, Kansas, Kansas State, Oklahoma, TCU, Texas Tech
SEC (7): Auburn, Florida, Kentucky, LSU, Mississippi, Mississippi State, Tennessee
American (4): Central Florida, Cincinnati, Houston, Temple
Big East (4): Marquette, St. John's, Seton Hall, Villanova*
Pac-12 (3): Arizona State, Oregon*, Washington
Atlantic 10 (2): Saint Louis, VCU
Mountain West (2): Nevada, Utah State*
West Coast (2): Gonzaga, Saint Mary's*
America East: Vermont*
Atlantic Sun: Liberty*
Big Sky: Montana*
Big South: Gardner-Webb*
Big West: UC Irvine*
Colonial: Northeastern*
Conference USA: Old Dominion*
Horizon: Northern Kentucky*
Ivy: Harvard
MAAC: Iona*
MAC: Buffalo*
MEAC: NC Central*
Missouri Valley: Bradley*
Northeast: Fairleigh Dickinson*
Ohio Valley: Murray State*
Patriot: Colgate*
Southern: Wofford*
Southland: Abilene Christian*
SWAC: Prairie View A&M*
Summit: North Dakota State*
Sun Belt: Georgia State
WAC: New Mexico State*
* – Earned automatic bid
Follow Andy on Twitter (@andybottoms) for more thoughts on college hoops and to receive an update whenever new brackets are posted.
Filed to: 2018-2019 bracketology