Bracketology: NCAA tournament projection as of March 12, 2019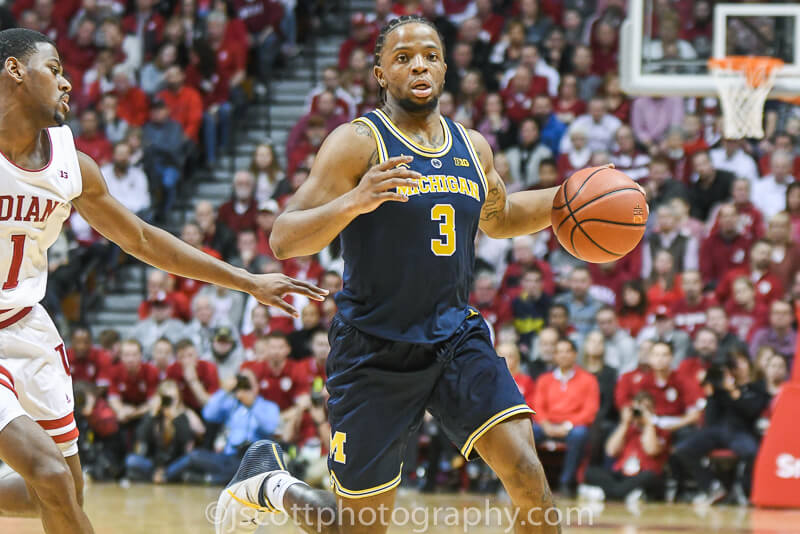 Championship Week is in full swing with six automatic bids already handed out. Bubble teams were able to exhale when Wofford took care of UNC Greensboro to finish a perfect season in the SoCon, but Belmont's loss on Saturday and a crowded bubble have plenty of teams and fans already sweating with just five days until Selection Sunday.
Starting today I'll be doing daily updates, although the early week updates will be predominately related to automatic bids.
The one thing I would call out is that there is no threshold that bubble teams need to cross in order to be considered a lock, as their fate is dependent not only on their own play but also the others near them on the seed list. Indiana is actually a perfect example, as scenarios exist where a win over Ohio State in the Big Ten Tournament would be enough to earn a bid but others where the Hoosiers would be left out even if they beat the Buckeyes. It truly all depends on how other teams play and how other conference tournaments play out, specifically the West Coast, Mountain West, Atlantic-10, and MAC to name a few.
Before looking at the one seeds, I wanted to give a quick reminder about how the NCAA selection committee classifies wins based on the new NET Rating.
A breakdown of the four tiers:
· Tier 1: Home vs. teams ranked 1-30 / Neutral vs. teams ranked 1-50 / Road vs. teams ranked 1-75
· Tier 2: Home vs. teams ranked 31-75 / Neutral vs. teams ranked 51-100 / Road vs. teams ranked 76-135
· Tier 3: Home vs. teams ranked 76-160 / Neutral vs. teams ranked 101-200 / Road vs. teams ranked 136-240
· Tier 4: Home vs. teams ranked 161-351 / Neutral vs. teams ranked 201-351 / Road vs. teams ranked 241-351
One Seeds
Let's start with the easy part. Virginia and Gonzaga are locked in on the one line.
Outside of those, there are four main competitors for the remaining two top seeds. Thanks to a sweep of Duke and nine Quad 1 victories, North Carolina has moved to the one line in this week's projections. The Heels are 11-1 on the road and don't have a loss outside of Quad 1, but it's possible that the return of Zion Williamson and a run in the ACC Tournament from Duke could push the Blue Devils to the top line once again. I find it unlikely that three ACC teams would get one seeds, but if things break right, I suppose it's possible.
The SEC has a similar situation with Kentucky, Tennessee, and LSU all on the top two seed lines. For now, Kentucky gets the nod after beating Florida on Saturday. The Wildcats have 10 Quad 1 wins through Sunday's games, while Tennessee has better losses but fewer top-end victories. LSU's situation is obviously in flux for a variety of reasons, but winning the regular season and tournament titles in the SEC could make things interesting.
Michigan State is the other team in the mix, but they will need to make a deep Big Ten Tournament run with Nick Ward back in the lineup while hoping for early exits from teams ahead of them on the seed list.
The Bracket
The projections below are based on all games played through March 11, 2019. Following the bracket, I included a few thoughts on the last four in as well as the other teams I considered.
| | | |
| --- | --- | --- |
| EAST (WASHINGTON, DC) | | SOUTH (LOUISVILLE) |
| Columbia – March 22/24 | | Columbia – March 22/24 |
| 1) Virginia | | 1) North Carolina |
| 16) Norfolk St. / St. Francis (PA) | | 16) Sam Houston St. |
| 8) Central Florida | | 8) Oklahoma |
| 9) Seton Hall | | 9) VCU |
| | | |
| San Jose – March 22/24 | | Salt Lake City – March 21/23 |
| 5) Maryland | | 5) Marquette |
| 12) Clemson / Belmont | | 12) Murray St. |
| 4) Kansas St. | | 4) Kansas |
| 13) UC Irvine | | 13) Old Dominion |
| | | |
| Des Moines – March 21/23 | | Des Moines – March 21/23 |
| 6) Auburn | | 6) Villanova |
| 11) Arizona St. | | 11) Ohio St. |
| 3) Michigan | | 3) Houston |
| 14) Harvard | | 14) Hofstra |
| | | |
| Jacksonville – March 21/23 | | Columbus – March 22/24 |
| 7) Cincinnati | | 7) Wofford |
| 10) TCU | | 10) Utah St. |
| 2) Tennessee | | 2) Michigan St. |
| 15) Bradley | | 15) Colgate |
| | | |
| MIDWEST (KANSAS CITY) | | WEST (ANAHEIM) |
| Columbus – March 22/24 | | Salt Lake City – March 21/23 |
| 1) Kentucky | | 1) Gonzaga |
| 16) Gardner-Webb | | 16) Iona / Prairie View A&M |
| 8) Iowa | | 8) Ole Miss |
| 9) Baylor | | 9) Syracuse |
| | | |
| San Jose – March 22/24 | | Hartford – March 21/23 |
| 5) Virginia Tech | | 5) Mississippi St. |
| 12) Liberty | | 12) Creighton / Indiana |
| 4) Wisconsin | | 4) Florida St. |
| 13) New Mexico St. | | 13) Vermont |
| | | |
| Tulsa – March 22/24 | | Hartford – March 21/23 |
| 6) Nevada | | 6) Buffalo |
| 11) St. John's | | 11) Temple |
| 3) Texas Tech | | 3) Purdue |
| 14) Montana | | 14) Georgia St. |
| | | |
| Jacksonville – March 21/23 | | Tulsa – March 22/24 |
| 7) Iowa St. | | 7) Louisville |
| 10) Minnesota | | 10) Washington |
| 2) Duke | | 2) LSU |
| 15) Wright St. | | 15) Omaha |
Last Four In:
Creighton – The Bluejays took care of business at home against Providence and DePaul to close the regular season on a five-game winning streak. They have no losses to teams outside the Top 75 of the NET as well as three Quad 1 wins. With 13 losses though, the margin for error is slim heading into their Big East tournament opener against Xavier.
Clemson – Saturday's home win over Syracuse gave Clemson's profile a much-needed boost. Still, through Sunday's games, they are only 1-9 in Quad 1 games with their lone bad loss coming at Miami. The Tigers' best wins have come against a Justin Robinson-less Virginia Tech, Syracuse, and Lipscomb, all of which were at home. Their ACC tournament opener against NC State could serve as a de facto elimination game.
Indiana – The Hoosiers won their last four regular season games to play their way back into the bubble picture. A sweep of Michigan State represents two of IU's six Quad 1 wins, and the committee chair's comments about being diligent in researching the impact of injuries could certainly come into play here. Still, the Hoosiers have 14 losses, and no team has ever received an at-large with more than 15 defeats. And while none of those losses fall into Quad 3 or 4, the sheer volume of losses still matters. If they can beat Ohio State and knock off Michigan State for a third time, Hoosier fans can breathe a bit easier. Anything less may not be enough.
Belmont – After losing in the OVC championship game to Murray State, the Bruins find themselves in the at-large pool, and they have the most compelling case of any of the mid-majors who failed to win the auto-bid so far. They own a sweep of fellow bubbler Lipscomb and won the regular season matchup at Murray State. But despite a gaudy 25-5 mark against Division I teams, Belmont's status on the bubble is tenuous given a pair of Quad 3 losses and no victories over potential at-large candidates. They are the last team in for me as of now, but I'm not sure they will be here by the end of the week.
Other Teams Considered:
NC State – Last week's home loss to Georgia Tech was one NC State could ill afford. The Wolfpack's non-conference strength of schedule is the worst in the nation through Sunday's games, and just one of their nine ACC victories came against a team with a winning league record (Syracuse). Additional home wins over Auburn and Clemson are also helpful, but it seems like each year there is a team that winds up getting punished for a poor non-conference schedule, which this year just might be NC State. As mentioned above with Clemson, the ACC tournament opener may well eliminate the loser from contention.
Georgetown – The Hoyas are tough to figure out. They had played their way onto the bubble and proceeded to get hammered by 33 points at DePaul, only to turn around and pull out a win at Marquette. A high NET ranking doesn't help their case, and the same can be said of losses to SMU and Loyola Marymount as well as a poor non-conference strength of schedule. Still, Georgetown owns five Quad 1 wins and has a chance to bolster its profile by beating Seton Hall in the Big East tournament.
Florida – An overtime loss to LSU was a huge missed opportunity for the Gators, who are now just 3-11 against teams in the at-large conversation. All three of their Quad 1 wins have come on the road, but they have two Quad 3 losses among their 14 total defeats. If Florida can take care of Arkansas in their SEC tournament opener, they will get another crack at LSU.
UNC Greensboro – The Spartans gave Wofford a tough test in the SoCon Final and picked up another win over fellow bubbler Furman to get there. All six of UNCG's losses fall in Quad 1, but two wins over Furman are the only ones of note. The predictive metrics don't do them any favors either, so it's likely the Spartans are headed to the NIT despite winning 26 Division I games.
Furman – The aforementioned loss to UNC Greensboro likely spelled the end for the Paladins, who finished 13-5 in the SoCon. They boast a huge non-conference road win at Villanova and have just one bad loss. Still, that home loss to Samford may come back to haunt them, and it's worth noting that three of Furman's 25 victories came against non-Division I opponents. The Paladins were also just 2-5 in games against the other top teams in the SoCon.
Texas – If the Longhorns can't win the Big 12 tournament, they will finish the regular season with 16 losses, which as I mentioned above would be unprecedented for an at-large team. They do have five Quad 1 wins, and the committee will take into account the suspension of Kerwin Roach. Still, basically every historical precedent is stacked against Texas, so I'm leaving them out for now.
Alabama – The Crimson Tide lost their regular season finale by 12 points at Arkansas, which was their sixth loss over the final eight games. Like so many other bubble teams, Alabama already has 14 losses, with two of them falling in Quad 3 and five of them coming against teams not in the at-large discussion. Home wins over Kentucky, Mississippi State, and Ole Miss are Alabama's best, but they will need to knock off the Rebels in the SEC tournament to earn a chance to play Kentucky in the quarterfinals.
Conference Breakdown:
Big Ten (9): Indiana, Iowa, Maryland, Michigan, Michigan State, Minnesota, Ohio State, Purdue, Wisconsin
ACC (8): Clemson, Duke, Florida State, Louisville, North Carolina, Syracuse, Virginia, Virginia Tech
Big 12 (7): Baylor, Iowa State, Kansas, Kansas State, Oklahoma, TCU, Texas Tech
SEC (6): Auburn, Kentucky, LSU, Mississippi, Mississippi State, Tennessee
American (4): Central Florida, Cincinnati, Houston, Temple
Big East (4): Creighton, Marquette, St. John's, Seton Hall, Villanova
Mountain West (2): Nevada, Utah State
Ohio Valley (2): Belmont, Murray State*
Pac-12 (2): Arizona State, Washington
America East: Vermont
Atlantic 10: VCU
Atlantic Sun: Liberty*
Big Sky: Montana
Big South: Gardner-Webb*
Big West: UC Irvine
Colonial: Hofstra
Conference USA: Old Dominion
Horizon: Wright State
Ivy: Harvard
MAAC: Iona*
MAC: Buffalo
MEAC: Norfolk State
Missouri Valley: Bradley*
Northeast: St. Francis (PA)
Patriot: Colgate
Southern: Wofford*
Southland: Sam Houston State
SWAC: Prairie View A&M
Summit: Omaha
Sun Belt: Georgia State
WAC: New Mexico State
West Coast: Gonzaga
* – Earned automatic bid
Follow Andy on Twitter (@andybottoms) for more thoughts on college hoops and to receive an update whenever new brackets are posted.
Filed to: 2018-2019 bracketology