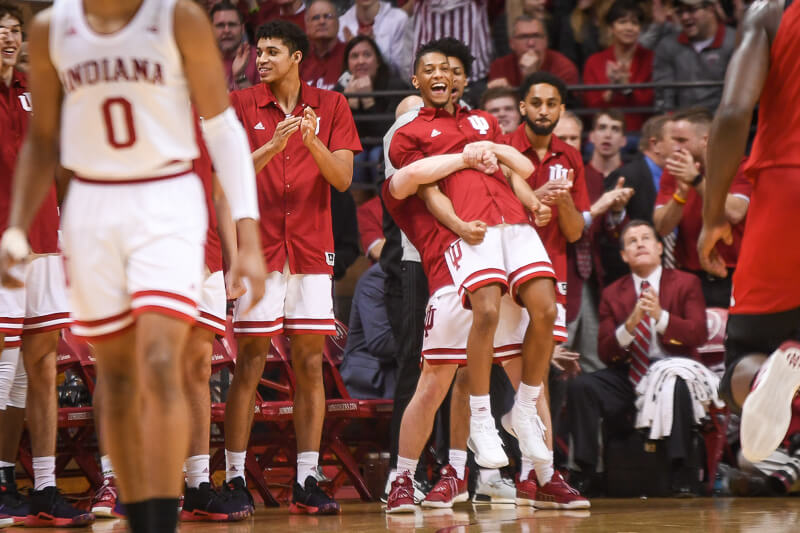 Thoughts on an 89-73 win against Rutgers:
Rutgers quickly tossed up a 5-0 lead on the Hoosiers.
But just as quickly, the Hoosiers took the lead, eventually pushing it out to a 10-point cushion at the 12:40 mark of the first half. It was a double-dight advantage they'd hold for the remainder of the contest, one that eventually ballooned to 23 points in the second half.
This was a dominant victory from the Hoosiers, now winners of four straight.
On senior day, that dominance started with Juwan Morgan. Morgan was an absolute force on offense, as he started the game a perfect 10-of-10 from the floor. Morgan beasted for offensive rebound putbacks, couldn't be stopped in the post and capped off his 10-of-10 performance with a 3-pointer from the right wing. He finished the game 11-of-13 with a game-high 25 points and a team-high seven rebounds. These numbers all came in just 22 minutes of action, as Morgan sat with two fouls for the last several minutes of the first half and quickly picked up his third foul just 1:20 into the second half and had to sit some more.
Both Morgan and Robert Phinisee missed the last 7:21 of the first half due to foul trouble, and this might have provided a lane for Rutgers to find its way back into the contest. But the Hoosiers hung in pretty well with Devonte Green running the show, only ceding three points back to Rutgers before the break. Green scored eight points during that stretch, including a steal and a breakaway lay-up, and recorded zero turnovers. Green scored 16 points for the contest, his best in Big Ten play this season and second only to his 19 against Central Arkansas for the year.
Coming off their best offensive performance of the season against Illinois on Thursday, the Hoosiers didn't lose much steam, as their 1.27 points per possession this afternoon was their second-best in a conference game this season. Indiana is simply playing with a lot more confidence on that side of the ball. There's more movement and decisiveness instead of hesitation and stagnation. Phinisee being back to early season form after his concussion has given Indiana's offense an important new dimension. He can get his own shot and create for others and must be accounted for by the opposition. It's not simply about stopping Romeo Langford and Morgan anymore. Phinisee only had five points today, but did add a team-high four assists.
This was a game the refs called foul after foul after foul, messing with the flow of the game a bit. The teams combined to shoot 59 free throws and posted nearly identical marks. The Hoosiers hit 23-of-29 (79.3 percent). Rutgers made 23-of-30 (76.7 percent). The Hoosiers turned the ball over on just nine percent of their possessions, but shot just 4-of-18 (22.2 percent) from 3-point range.
Indiana won its last four games of the season to get back into the NCAA tournament conversation and is playing some of its best basketball of the season with its season on the brink. Another win to start the Big Ten Tournament on Thursday might be just enough to get them over the hump. Do the Hoosiers have a little more left in them to punch a ticket to the Big Dance?
Filed to: Rutgers Scarlet Knights