Bracketology: NCAA tournament projection as of March 5, 2019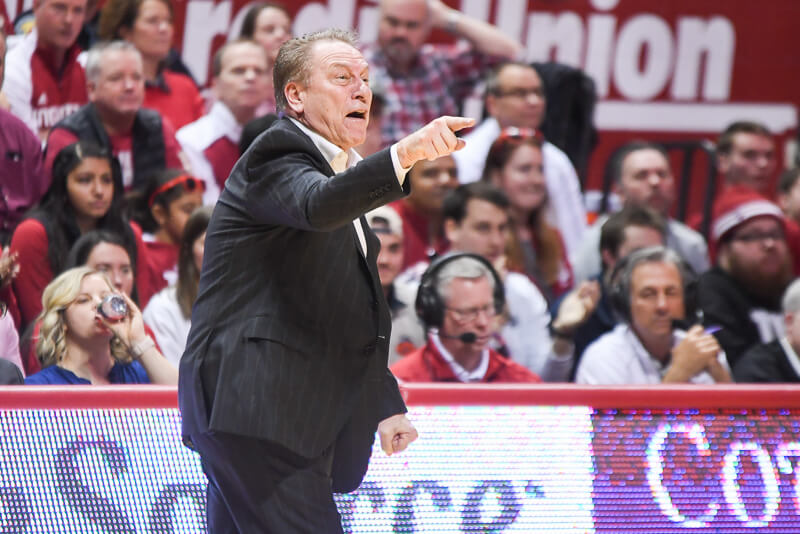 Conference Tournament action officially got underway on Monday with the Atlantic Sun starting things off. There weren't any major upsets on night one, but improbable championship week runs are always fun to watch. That is, of course, unless you root for a bubble team.
With that as backdrop, here are a few of the early tournaments that present the potential for bid thieves to emerge with just under two weeks until Selection Sunday.
Ohio Valley (Championship: Saturday, March 9) – Belmont and Murray State are the top two seeds, and both have byes into the semi-finals. The Bruins have a far better chance at an at-large bid thanks to a sweep of Lipscomb and wins at Murray State and UCLA, although they were also swept by Jacksonville State and lost at Green Bay. The Racers have no Quad 1 wins, and their lone Quad 2 victory came at Austin Peay, who is right on the border and could fall into Quad 3 when it's all said and done. Murray State doesn't have any terrible losses, but the lack of quality wins makes the OVC Tournament a must-win proposition in my eyes.
Atlantic Sun (Championship: Sunday, March 10) – Lipscomb and Liberty dominated the league this season and seem to be on a collision course to meet for the title. With wins at TCU and SMU, Lipscomb has the better at-large case, although a recent loss at Florida Gulf Coast leaves them little to no margin for error. A loss in the tournament would push the Bisons back into the at-large pool where a bid is still possible albeit unlikely.
Southern (Championship: Monday, March 11) – This tournament should be particularly intriguing with three teams (Wofford, Furman, and UNC Greensboro) in the at-large discussion. The Terriers are in no matter what, but Furman and UNCG are likely to meet in the Semi-Finals. I give Furman the better chance to go dancing thanks to non-conference road wins at Villanova and Loyola Chicago, but a home loss to Samford and a 2-4 mark against the other top teams in the league could hold them out. Greensboro has a better record against the league's top teams but didn't pick up any notable non-conference wins. Bubble teams will be rooting hard for Wofford in this one.
West Coast (Championship: Tuesday, March 12) – Gonzaga will be looking to follow up a perfect 16-0 conference record with a tournament title. I've seen Saint Mary's start to get some bubble buzz, but I honestly don't get it. The Gaels have 11 total losses, including three that fall in Quad 3, and their lone Quad 1 win came at New Mexico State. They only have two Quad 2 victories (San Francisco, at San Diego), so the auto-bid seems like their only hope.
Before looking at the one seeds, I wanted to give a quick reminder about how the NCAA selection committee classifies wins based on the new NET Rating.
A breakdown of the four tiers:
· Tier 1: Home vs. teams ranked 1-30 / Neutral vs. teams ranked 1-50 / Road vs. teams ranked 1-75
· Tier 2: Home vs. teams ranked 31-75 / Neutral vs. teams ranked 51-100 / Road vs. teams ranked 76-135
· Tier 3: Home vs. teams ranked 76-160 / Neutral vs. teams ranked 101-200 / Road vs. teams ranked 136-240
· Tier 4: Home vs. teams ranked 161-351 / Neutral vs. teams ranked 201-351 / Road vs. teams ranked 241-351
One Seeds
Three of the four top seeds remain unchanged since last week, although Duke's loss at Virginia Tech did drop them slightly on the seed list. Virginia has now assumed the top overall seed after four straight double-digit wins, including Monday's blowout victory in the Carrier Dome. Gonzaga is close behind with a 29-2 mark with the only losses coming against Tennessee on a neutral floor and at North Carolina.
The final one seed came down to Kentucky and Tennessee, although North Carolina is making a push for consideration as well. The Wildcats and Vols have each blown each other out on their home floor in recent weeks, but Kentucky has two losses worse than any of Tennessee's defeats as well as two more total losses. The quantity of Quad 1 and 2 victories is comparable, so I gave the nod to Tennessee for now. There simply isn't much separation between these two SEC foes right now.
The Bracket
The projections below are based on all games played through March 4, 2019. Following the bracket, I included a few thoughts on the last four in and first five out.
| | | |
| --- | --- | --- |
| EAST (WASHINGTON, DC) | | MIDWEST (KANSAS CITY) |
| Columbia – March 22/24 | | Columbus – March 22/24 |
| 1) Virginia | | 1) Tennessee |
| 16) Norfolk St. / St. Francis (PA) | | 16) Sam Houston St. |
| 8) Ole Miss | | 8) Syracuse |
| 9) St. John's | | 9) Washington |
| | | |
| San Jose – March 22/24 | | Hartford – March 21/23 |
| 5) Maryland | | 5) Florida St. |
| 12) Lipscomb | | 12) Belmont |
| 4) Kansas St. | | 4) Wisconsin |
| 13) New Mexico St. | | 13) Old Dominion |
| | | |
| Jacksonville – March 21/23 | | Tulsa – March 22/24 |
| 6) Cincinnati | | 6) Iowa St. |
| 11) Texas | | 11) North Carolina St. |
| 3) LSU | | 3) Houston |
| 14) Hofstra | | 14) Harvard |
| | | |
| Des Moines – March 21/23 | | Jacksonville – March 21/23 |
| 7) Louisville | | 7) Iowa |
| 10) Florida | | 10) VCU |
| 2) Michigan | | 2) North Carolina |
| 15) Colgate | | 15) Wright St. |
| | | |
| SOUTH (LOUISVILLE) | | WEST (ANAHEIM) |
| Columbia – March 22/24 | | Salt Lake City – March 21/23 |
| 1) Duke | | 1) Gonzaga |
| 16) Campbell | | 16) Iona / Prairie View A&M |
| 8) Baylor | | 8) Auburn |
| 9) Ohio St. | | 9) Oklahoma |
| | | |
| San Jose – March 22/24 | | Hartford – March 21/23 |
| 5) Mississippi St. | | 5) Virginia Tech |
| 12) Seton Hall / Temple | | 12) Minnesota / Arizona St. |
| 4) Kansas | | 4) Marquette |
| 13) UC Irvine | | 13) Vermont |
| | | |
| Tulsa – March 22/24 | | Salt Lake City – March 21/23 |
| 6) Villanova | | 6) Nevada |
| 11) TCU | | 11) Alabama |
| 3) Purdue | | 3) Texas Tech |
| 14) Georgia St. | | 14) South Dakota St. |
| | | |
| Columbus – March 22/24 | | Des Moines – March 21/23 |
| 7) Buffalo | | 7) Wofford |
| 10) Central Florida | | 10) Utah St. |
| 2) Kentucky | | 2) Michigan St. |
| 15) Loyola Chicago | | 15) Montana |
Last Four In:
Minnesota – It was a close call to put the Gophers in this spot instead of Alabama or TCU. They won at Northwestern in their only game last week, but even with that victory, Minnesota is just 2-8 in true road games. The other road win came at Wisconsin and represents the best victory on the Gophers' profile. They also knocked off Washington on a neutral floor and count home wins against Iowa and Indiana among their eight victories in Quads 1 and 2. While they don't have any losses outside of Quad 2, Minnesota has fallen on the road at Illinois, Rutgers, and Boston College. Like many bubble teams, this week is shaping up to be a huge one, as the Gophers host Purdue before closing out the regular season at Maryland.
Arizona State – The Sun Devils got run off the floor at Oregon but managed to salvage their trip to the Pacific Northwest with a three-point win at Oregon State on Sunday. ASU's profile features three Quad 1 wins and a 10-5 mark in Quad 1 and 2 games, but it also features a pair of Quad 4 losses. In all, eight of Arizona State's nine losses have come against teams not in the at-large picture. The Sun Devils close out the regular season with a trip to Tucson this weekend.
Seton Hall – The Pirates lost at Georgetown in double overtime in their only game last week. Non-conferences wins over Kentucky on a neutral floor and at Maryland are fantastic, but at some point the losses have to matter as well. Seton Hall has been swept by DePaul, and home losses to Xavier and Saint Louis both fall into Quad 3. With home games against Marquette and Villanova on the docket this week, Seton Hall has a chance to either get some breathing room or push themselves onto the wrong side of the cut line.
Temple – A road loss at Memphis isn't necessarily anything to be ashamed of, but it hurts the Owls a bit more given their relative lack of quality wins. They own a terrific home victory over Houston to go with five Quad 2 victories that are all good but not great, while they have just one bad loss. A 7-5 road mark certainly helps, but Temple likely needs to sweep games at Connecticut and home against Central Florida this week if they want to remain in the field.
First Four Out:
Georgetown – The Hoyas took care of business in home games against DePaul and Seton Hall last week, although they needed double overtime to outlast the latter. Their NET ranking is still outside of the Top 70, and a home win over Villanova is Georgetown's lone victory against a team ranked in the Top 50. Losses to SMU and Loyola Marymount both fall in Quad 3, but like just about half of the Big East, the Hoyas have a lot to play for with road trips to DePaul and Marquette this week.
Clemson – Saturday delivered yet another close loss for the Tigers, who fell by just two points against North Carolina. Through Sunday's games, they are only 1-9 in Quad 1 games with their lone bad loss coming at Miami. However, the only two notable wins came at home against Virginia Tech (without point guard Justin Robinson) and Lipscomb. This week features a road trip to Notre Dame and a home date with Syracuse.
Furman – After winning two road games last week, the Paladins finished 13-5 in the SoCon, which I touched on earlier. They boast a huge non-conference road win at Villanova and have just one loss outside of Quad 1. Still, that home loss to Samford may come back to haunt them, and it's worth noting that three of Furman's 24 victories came against non-Division I opponents. The Paladins were also just 2-4 in games against the other top teams in the SoCon, which means they will need to get to the finals by beating UNC Greensboro to really make things interesting.
Everyone else in the Big East not named DePaul – Maybe this is a cop-out, but Creighton, Xavier, Providence, and Butler (I guess) are all in the mix as we come down the stretch. The Bluejays picked up a huge road win at Marquette on Sunday and have fared well against fellow bubblers with a win over Clemson, a sweep of Georgetown, and a road win at Providence. Still, they are just 15-13 in D-I games, but all of those losses came to teams in the Top 70 of the NET through Sunday's games.
Xavier has reeled off five straight wins and has three victories in Quad 1 and six more in Quad 2. However, three Quad 3 losses may be too much to overcome, but the Musketeers have two more chances to build their profile with a trip to Butler followed by a home date with St. John's.
Providence owns a sweep of St. John's and road victories at Texas, Butler, and Xavier, but the Friars have also been swept by DePaul and Georgetown and have a Quad 4 loss to Massachusetts. Opportunities await this week with games at Creighton and home against Butler.
The Bulldogs have dropped three straight to fall to 15-14 overall. They've done most of their damage at home, which has netted them wins against Ole Miss, Creighton, St. John's, and Seton Hall. Just one of Butler's losses falls outside of Quads 1 and 2 through Sunday's games, but the Bulldogs need to sweep this week's games against Xavier at home and on the road against Providence if they truly want to get back in the mix.
Conference Breakdown:
ACC (8): Duke, Florida State, Louisville, North Carolina, North Carolina State, Syracuse, Virginia, Virginia Tech
Big Ten (8): Iowa, Maryland, Michigan, Michigan State, Minnesota, Ohio State, Purdue, Wisconsin
Big 12 (8): Baylor, Iowa State, Kansas, Kansas State, Oklahoma, TCU, Texas, Texas Tech
SEC (8): Alabama, Auburn, Florida, Kentucky, LSU, Mississippi, Mississippi State, Tennessee
American (4): Central Florida, Cincinnati, Houston, Temple
Big East (4): Marquette, St. John's, Seton Hall, Villanova
Mountain West (2): Nevada, Utah State
Pac-12 (2): Arizona State, Washington
America East: Vermont
Atlantic 10: VCU
Atlantic Sun: Lipscomb
Big Sky: Montana
Big South: Campbell
Big West: UC Irvine
Colonial: Hofstra
Conference USA: Old Dominion
Horizon: Wright State
Ivy: Harvard
MAAC: Iona
MAC: Buffalo
MEAC: Norfolk State
Missouri Valley: Loyola Chicago
Northeast: St. Francis (PA)
Ohio Valley: Belmont
Patriot: Colgate
Southern: Wofford
Southland: Sam Houston State
SWAC: Prairie View A&M
Summit: South Dakota State
Sun Belt: Georgia State
WAC: New Mexico State
West Coast: Gonzaga
Follow Andy on Twitter (@andybottoms) for more thoughts on college hoops and to receive an update whenever new brackets are posted.
Filed to: 2018-2019 bracketology