The Minute After: Wisconsin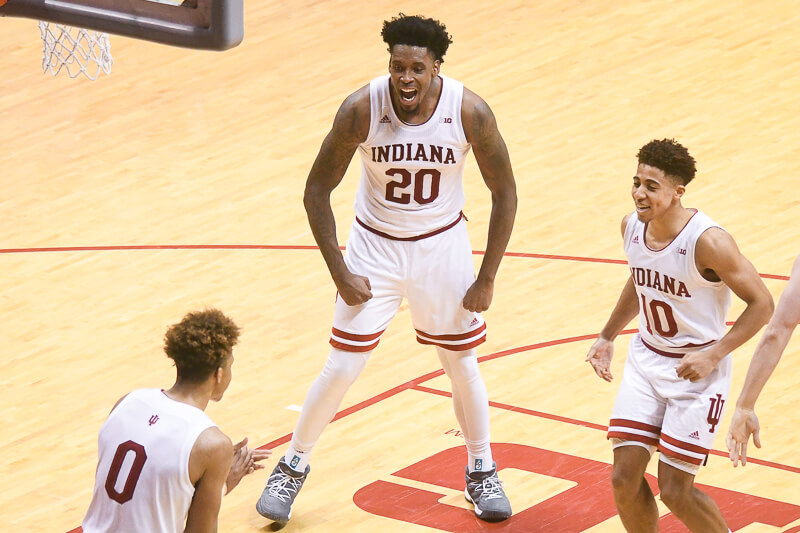 Thoughts on a 75-73 win against the Badgers:
It took nearly three hours, but Indiana finally, mercifully, has its first win in three and a half weeks.
The Hoosiers hit a rare 6-of-14 from 3-point range in the first half and its defense — particularly against Ethan Happ over the closing minutes of the first 20 — was stout. As the second half began, Indiana didn't fall in love with its 3-point shooting, instead poking and prodding in the half court to get looks inside. Wisconsin continued to miss shots as the Hoosiers haggled them, and all of a sudden Indiana was up 13 points with 12:40 to go after a De'Ron Davis free throw.
Was this the night Indiana was not only going to break its losing streak, but win going away against a good Wisconsin team?
Of course not. It's never that easy this year.
Wisconsin added a new wrinkle to its offense with some pindown screen action to free shooters and the 3- pointers started falling as Indiana's lead started shrinking. And as Archie Miller gave Romeo Langford, Robert Phinisee, Justin Smith and Juwan Morgan a breather during that stretch before a TV timeout, it allowed the Badgers to rip off an 8-2 run. All of a sudden, a Happ bucket at the 7:45 mark gave Wisconsin a one-point lead at 51-50, a 14-point swing in just under five minutes of game action.
But Indiana didn't fold. It hung tough. Wisconsin's lead only ever got up to four points in the second half. And then we went to overtime. And then to double overtime. And then finally to an Indiana game-winner from Langford to seal the victory with less than a second remaining in this marathon, as both teams looked absolutely gassed over the final five minutes of the contest.
"Finally, I hit one," Langford said after the contest.
This was a game Langford got some space to operate. Indiana put him in position to get the ball with a head of steam and go to work. He finished with a team-high 22 points on 8-of-17 shooting, including 5-of-8 from the line. He added seven rebounds in his 45 minutes of action. He played like a star because he is one.
Race Thompson arrived tonight. He appears to still be a work in progress on offense, but his defense on Happ was stellar. Overall, Thompson looked like he belonged and you wonder how he may have fit in this season without having to miss so much time due to his concussion.
For the second straight contest, Phinisee looks to have returned to early season form, as he scored 11 points, dished out four assists and picked up three steals. Justin Smith had one of his better games of the season, as he played with more control around the basket than usual on his way to 12 points (5-of-9) and six rebounds before fouling out.
Wisconsin didn't turn it over much per usual (10 TO%), but Indiana took the opportunities where it could, scoring 10 fast break points and eight points off of turnovers.
Save for the second half against Minnesota, Indiana is still giving plenty of effort in its games and it was finally rewarded with a victory tonight. The Hoosiers still have work to do to get firmly back into the NCAA Tournament conversation. The good news, one supposes? Michigan State is up next, providing an opportunity for another quality win.
Filed to: Wisconsin Badgers