Big Ten Power Rankings: Michigan State makes a statement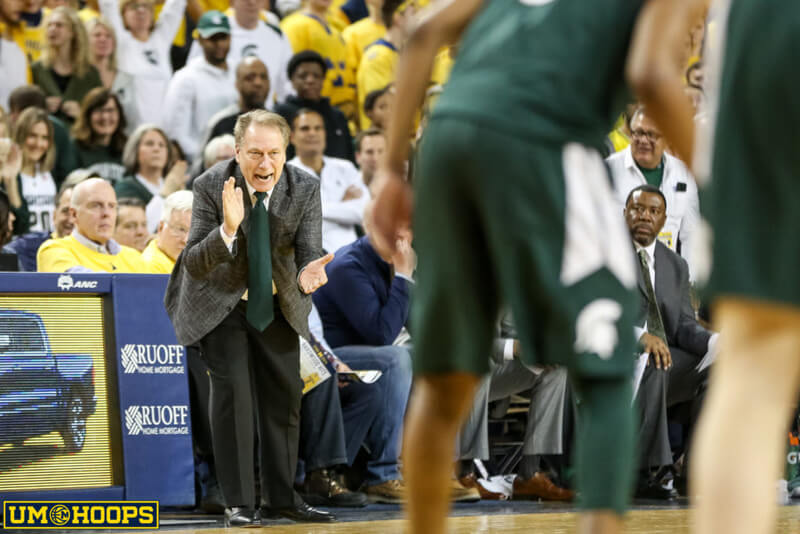 With just a few games left on the schedule, the standings are starting to sort themselves out. The tiers in the standings are quite clear at this point. There continues to be movement within those tiers, however, and the movement at the top could be the most significant of that movement.
Here's how the Big Ten stacks up with two weeks to go until the Big Ten Tournament:
14. Northwestern (3-13, .908 PPP, 1.018 PPP allowed)
The Wildcats have lost eight in a row and find themselves in the Big Ten's cellar. The worst offensive efficiency and effective field goal percentage and the second-worst 3-point percentage in the Big Ten have been too crippling for a middle-of-the-pack defense to overcome. Northwestern had a chance at an upset at home against Wisconsin last week but couldn't take advantage of opportunities late in the game. The Wildcats host Minnesota on Thursday and visit Illinois on Sunday this week.
13. Indiana (4-12, .941 PPP, 1.038 PPP allowed)
This season can't be described as anything other than a disaster for Indiana. With one of the top players in the conference, the Hoosiers had big expectations this year. But after a solid non-conference performance, the wheels completely fell off in conference play. Any slimmest of slim chances IU had at an at-large berth to the NCAA tournament are now officially gone after the overtime loss to Iowa. Indiana will need to win a few more games to even make the NIT, and there's no reason to be confident that will happen. IU hosts Wisconsin and Michigan State this week.
12. Nebraska (5-12, 1.006 PPP, 1.072 PPP allowed)
Things have been bad for Nebraska since Isaac Copeland went down, but getting blown out at Penn State had to be a new low for the Cornhuskers this season. They did play tough against Purdue over the weekend but were unable to close it out. They have the second-worst defense in the Big Ten, and with their offensive regression, this stretch of play from Nebraska was a disaster waiting to happen. James Palmer Jr. has been good all season, but Nebraska could use more consistency from guys like Glynn Watson Jr. and Isaiah Roby. The Huskers visit Michigan on Thursday this week.
11. Penn State (4-12, .993 PPP, 1.043 PPP allowed)
Penn State got off to a rough start in Big Ten play, but the Nittany Lions finally had a solid week. They enjoyed a blowout win over Nebraska and a road win over Illinois. Lamar Stevens has been playing really well for Pat Chambers. He put up 29 in the Nebraska game and 25 in the Illinois game, and he's averaging 24.5 points per game in the last two weeks. Penn State plays Maryland and Wisconsin this week.
10. Rutgers (6-11, .973 PPP, 1.065 PPP allowed)
The Scarlet Knights picked up a solid win over Minnesota on Sunday. They have a realistic chance at earning a bye in the Big Ten Tournament for the first time since they joined the league. They're one game ahead of the teams playing on Wednesday, but two of their last three games are against Penn State and Indiana. So as long as Rutgers takes care of business, it'll get that bye. Geo Baker hit some big shots down the stretch of the Minnesota game. The Scarlet Knights have some time to rest this week before taking on Iowa on Saturday.
9. Illinois (6-10, 1.008 PPP, 1.046 PPP allowed)
Illinois hung in with Wisconsin for most of last Monday's game, but it wound up being its worst week in February with losses to the Badgers and Penn State. The Illini sit a game and a half ahead of playing on Wednesday in the Big Ten Tournament, so much like Rutgers, as long as they take care of business down the stretch they'll earn a bye. Giorgi Bezhanishvili is averaging 18 points per game over Illinois' last five games. Illinois visits Purdue on Wednesday and hosts Northwestern on Sunday this week.
8. Minnesota (7-10, 1.026 PPP, 1.068 PPP allowed)
Losing at Rutgers isn't nearly as bad a loss as it was the past few years, but it certainly wasn't the type of momentum Minnesota wanted to carry into its final three games. The Golden Gophers remain a bubble team for the NCAA tournament. A win over Purdue or Maryland in their last two games would make them feel a lot better about their chances. Amir Coffey was awfully quiet in Minnesota's two losses last week. He'll need to have a much bigger impact the rest of the way. Surprisingly, Jordan Murphy was held to just five points against Rutgers. Minnesota has little to no chance of winning without something more from Murphy. The Gophers face Northwestern on Thursday.
7. Ohio State (7-9, .982 PPP, 1.005 PPP allowed)
Falling at Maryland has to feel like a missed opportunity for Chris Holtmann's team. The Buckeyes have now dropped three of their last four games. While they probably should be in the NCAA tournament right now, a few wins down the stretch would go a long way toward securing an at-large berth. Kaleb Wesson has had a really nice season in Columbus, and should garner some all-Big Ten recognition. Ohio State has two big games this week, hosting Iowa on Tuesday and visiting Purdue on Saturday.
6. Iowa (10-6, 1.101 PPP, 1.079 PPP allowed)
The Hawkeyes dropped an important game against Maryland earlier this week. But Jordan Bohannon's heroics against Indiana (again) made it easy to put that loss behind them. Bohannon has simply been on another level in crunch time for Iowa this season. If he can turn it up like that in the NCAA tournament and if Iowa can get strong performances from Tyler Cook, there's no reason to think the Hawkeyes couldn't reach the Sweet 16 — unless their league-worst defense comes back to bite them. Iowa faces Ohio State and Rutgers this week.
5. Wisconsin (11-5, 1.013 PPP, .943 PPP allowed)
Wisconsin is in good shape. It sits half a game behind Maryland in the race for a double-bye in the Big Ten Tournament, but has two games this week against bottom-tier teams in Indiana and Penn State. Ethan Happ's big season has been well-documented, and he continues to be a strong candidate for Big Ten player of the year. But in wins over Illinois and Northwestern last week, it was Brad Davison who shined the brightest. He scored 18 against the Illini and 16 against the Wildcats. The Badgers' home game against Iowa on March 7 will go a long way toward determining their conference tournament seeding.
4. Maryland (12-5, 1.042 PPP, .979 PPP allowed)
Maryland ended a very long streak this week: its win at Iowa snapped a 19-game road losing streak against ranked opponents. That streak spanned Mark Turgeon's entire Maryland tenure. Anthony Cowan had a huge week for the Terps, putting up 17 points and eight assists in the Iowa win and 19 points in Maryland's win over Ohio State. Bruno Fernando had double-doubles in both games, and he's posted double-doubles in nine of his last 10 games. If Fernando and Cowan are playing at a high level in March, the Terps will have a very realistic shot at getting to the second weekend of the NCAA tournament. Maryland plays Penn State and Michigan this week.
3. Michigan (13-4, 1.043 PPP, .934 PPP allowed)
Michigan's home loss to Michigan State was damaging to its chances at the Big Ten title. The Wolverines are certainly not out of it, but they have a tougher schedule than MSU and Purdue down the stretch and are now a game behind in the standings. The Wolverines face Nebraska and Maryland this week.
2. Purdue (13-3, 1.107 PPP, 1.014 PPP allowed)
The Boilermakers were able to grind out two road wins this week, a 48-46 rock fight at Indiana and a 75-72 contest at Nebraska. Matt Haarms was the hero against Indiana, tipping in a missed Carsen Edwards jumper for the winning points with three seconds remaining. While there wasn't a late game-winner in the Nebraska game, Grady Eifert was huge in Purdue icing the game away with two important buckets down the stretch. Purdue's schedule is the most favorable among the teams in contention for the Big Ten title. Michigan and Michigan State have to play each other again, while Purdue's toughest remaining opponents are Ohio State and Minnesota. That Ohio State game is this Saturday at Mackey Arena, after the Boilers host Illinois on Wednesday.
1. Michigan State (14-3, 1.122 PPP, .958 PPP allowed)
No Josh Langford or Nick Ward, no problem. Tom Izzo's squad put on an impressive performance Sunday in its 77-70 win over Michigan in Ann Arbor. The Spartans handed the Wolverines their first home loss since Jan. 9, 2018 behind a brilliant performance by Big Ten Player of the Year contender (arguably frontrunner) Cassius Winston. With three games left in the regular season, Michigan State is in great shape to earn at least a share of the Big Ten title as long as it doesn't slip up at Indiana this week or at home against Nebraska next week.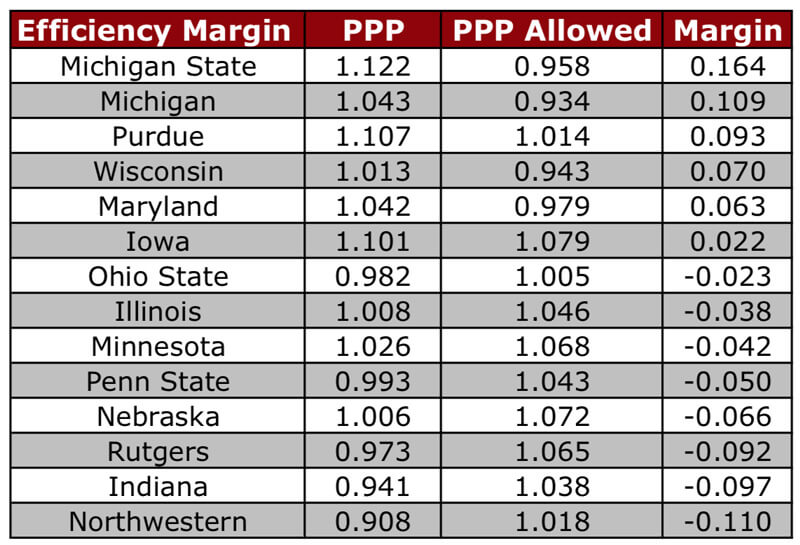 Filed to: Big Ten Power Rankings