Five takeaways from Indiana's loss to Purdue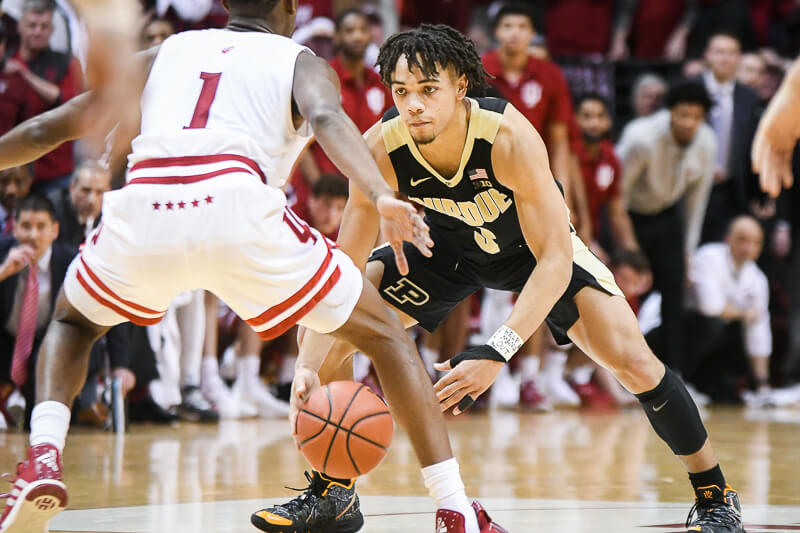 Indiana lost for the 11th time in 12 tries on Tuesday as the Hoosiers fell 48-46 to Purdue at Simon Skjodt Assembly Hall.
Here's a look at five takeaways from the loss to the Boilermakers:
• Home slide continues: Indiana hasn't won a home game since January 3.
Tuesday's loss to Purdue was IU's fifth straight on Branch McCracken Court and here's the reality: Big Ten foes are no longer intimidated by the atmosphere of Assembly Hall.
Indiana lost six home games last season and is likely to surpass that number this season with Wisconsin, Michigan State and Rutgers still to come at home.
It's not that the crowd wasn't a positive factor, for the most part, on Tuesday. Fans were engaged for nearly 40 minutes, but Indiana's performance on the floor never worked them into a big enough frenzy to change the momentum of the game in any meaningful way.
That has been a theme all of this calendar year as IU's inability to sustain momentum for more than a few possessions has left the fanbase mostly deflated.
• Hoosiers fail to capitalize on woeful performance from Carsen Edwards: Edwards is a lock for All-Big Ten first team and might be an All-American, too. He's constantly in movement and is a joy to watch as a college basketball player.
But his performance on Tuesday was one that IU could have capitalized on in a major way.
The Hoosiers held Edwards to just 4-for-24 shooting from the field and nine points. Edwards missed shots early and often, but kept firing. And Indiana still couldn't beat the Boilermakers.
Despite holding the Big Ten's best offense well below its season average, Indiana's inept offensive performance kept the Hoosiers from taking advantage of a really poor game from Edwards.
• Offense struggles once again: The Hoosiers have had many poor offensive performances this season.
But Tuesday night was nearly its worst performance of the season.
The loss marked the second time this season Indiana scored just 46 points. In its January loss to Michigan, the Hoosiers managed just .696 points per possession. They barely surpassed that figure on Tuesday with .725 points per possession against Purdue.
IU was stagnant often throughout the game and had several possessions end in contested shots with little chance to go in. The Hoosiers also missed some point blank shots in the paint and shot a season-low 33.3 percent on 2s.
"I would say that we missed, especially in the first half, a lot of point-blank shots, had some open ones that didn't go in," Archie Miller said. "But we fought through it, and that was a good thing to see.
"Second half, you know, they do a really good job of obviously clogging the paint. There's not a whole lot of room down there, plus trapping the post was something we didn't handle as well as we probably needed to in the game. We weren't able to get it inside as much as we wanted to."
• Langford fights through in-game adversity: It was a tough night for Romeo Langford for several reasons, but he still delivered another strong performance.
The future lottery pick was the only IU player to finish in double figures (14 points) and also took several shots during a very physical game. And at the start of the second half, Langford vomited near the IU bench and had to miss the first few minutes before reentering the contest.
"He's a gamer, man," Miller explained. "He had a great couple days leading into it. I think no one understands more than him how important he is to the team."
• Haarms gets the last laugh: Purdue sophomore Matt Haarms got under the skin of Indiana fans early and often on Tuesday.
He was even in the middle of a dustup of a scrum that led to a technical foul. The IU student section let Haarms hear it throughout the game with profanity laced chants.
But Haarms, who returned to the game with four fouls with 6:03 to play, got the last laugh. His tip-in with 3.2 seconds to go lifted the Boilermakers to the two-point win. Credit Haarms for being in the right place at the right time and making a winning play in a very hostile environment.
Filed to: Purdue Boilermakers