The Minute After: Purdue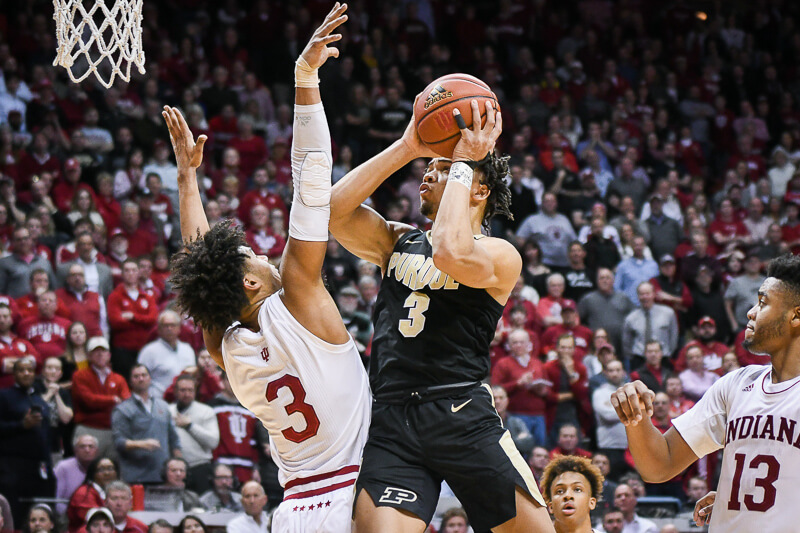 Thoughts on a 48-46 loss to Purdue:
The Hall was rocking. The Hoosiers appeared to have put the Minnesota debacle behind them. They fought, playing with a collective spirit that was downright hyperactive. Indiana was a team on a mission. De'Ron Davis mixed it up Matt Haarms. Romeo Langford threw up. He later drew blood. Zach McRoberts returned to the lineup and made his presence felt doing those Zach McRoberts things.
It was a fantastic scene, these bitter rivals going blow for blow over 40 minutes of action. But once again, it ends in a loss, Indiana not able to do enough down the stretch to pull out a game that was within reach. What a sweet victory it would have been for these Hoosiers. The NCAA tournament might not be in the cards, but at least a late season win over Purdue could have brought some temporary joy.
But no.
Instead, it ends in heartbreak and this season is now downright pathetic. Indiana has lost four straight and 11 of 12. Similar ills crushed the Hoosiers tonight. They shot poorly from distance (5-of-25, 20 percent). They struggled mightily on offense, possessions going nowhere time and again, as any semblance of a plan seemed foreign. They scored just .73 points per possession and posted only 46 points. They struggled to get Langford involved. He had just six shot attempts. And while Langford hit 9-of-10 from the line, the Hoosiers overall only hit 11-of-18 (61.1 percent). Indiana also was terrible with the ball tonight, turning it over on 27 percent of their possessions.
And yet, this game was right there for the taking because Purdue couldn't hit the broad side of the barn either. They only mustered .03 points per possession (.76) better than the Hoosiers. Credit Indiana some here. Its defense effort was outstanding. Carsen Edwards was just 4-of-24 from the field. He missed all 10 of his 3-point attempts. Purdue was equally as bad from 3-point range (6-of-30, 20 percent), though Ryan Cline hit a couple timely, backbreaking ones. Indiana also blocked out well and snagged 38 percent of its misses.
It came down to late-game execution. Indiana had a four-point lead with 2:32 to go. A Cline 3-pointer — which clanged off the front of the rim and somehow went up and in — brought the game within a point. Juwan Morgan, who was just 3-of-14 for the contest, missed a 3-pointer. After Cline missed a 3-pointer, Morgan turned the ball over on Indiana's next possession. That allowed Purdue to set up a play for Edwards where he had space up top to operate, drive and score at the bucket to put Purdue up a point.
Langford made one of two at the line on IU's next possession to tie up the game, but Haarms' tip-in over Morgan on an Edwards miss gave Purdue the lead for good, as Morgan's 3-pointer at the buzzer missed.
Over the final two and a half minutes of the contest, the Hoosiers mustered just one point. Even in a game where scoring seemed optional at times, they needed more to emerge with the win.
"The team that took the floor had a different disposition, and that's what needs to stay," Archie Miller said after the contest.
It's true, Indiana played with a lot more heart and effort in this one. But it's still a loss. And at this point, everyone just wants a win, disposition be damned.
Filed to: Purdue Boilermakers