Bracketology: NCAA tournament projection as of February 19, 2019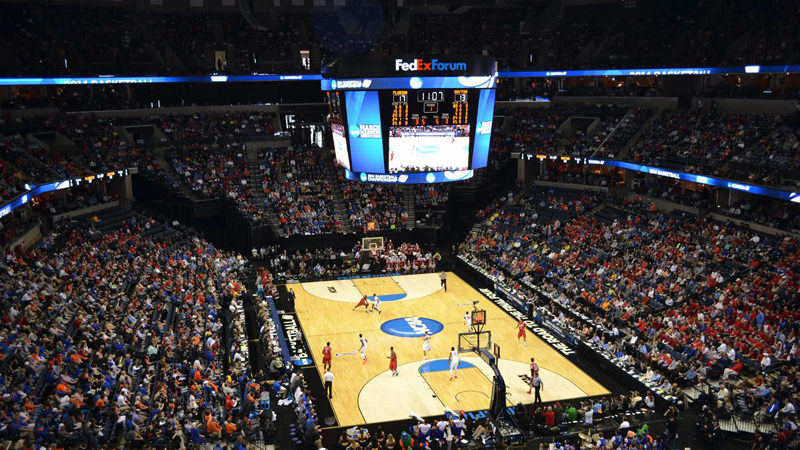 With just under four weeks remaining until Selection Sunday, this week's projections presented a couple scenarios that may occur during Championship Week. Different bracketologists will use different methods to select the recipients of the automatic bids from smaller conferences, but I try to factor in head-to-head matchups when breaking ties, particularly at this stage of the season.
This week, there were two conferences where that comparison ended up creating "bid thieves." In the MAC for instance, Buffalo is the only team currently worthy of an at-large bid, but they are tied atop the standings with Bowling Green, who won the only head-to-head matchup between the two teams so far. As a result, the Falcons got the automatic bid, which pushed Buffalo back into the at-large pool, thus stealing a bid from other bubble teams.
The other conference impacted was the Atlantic 10, where VCU and Davidson are tied at 10-2 in league play. In their only matchup of the season, the Wildcats won by seven points, so I slotted them in as the automatic bid. VCU has the far more compelling at-large case of the two teams and wound up earning a spot in the field.
The net result was two fewer bubble teams making this week's projections, but since Championship Week always seems to produce at least one bid thief, the situation is more rooted in reality than you might suspect.
Before looking at the one seeds, I wanted to give a quick reminder about how the NCAA selection committee classifies wins based on the new NET Rating.
A breakdown of the four tiers:
· Tier 1: Home vs. teams ranked 1-30 / Neutral vs. teams ranked 1-50 / Road vs. teams ranked 1-75
· Tier 2: Home vs. teams ranked 31-75 / Neutral vs. teams ranked 51-100 / Road vs. teams ranked 76-135
· Tier 3: Home vs. teams ranked 76-160 / Neutral vs. teams ranked 101-200 / Road vs. teams ranked 136-240
· Tier 4: Home vs. teams ranked 161-351 / Neutral vs. teams ranked 201-351 / Road vs. teams ranked 241-351
One Seeds
The one seeds remain unchanged, but Tennessee's loss at Kentucky did drop them behind Virginia on the overall seed list. And while Kentucky didn't ascend to the one line, that slight shift moves Virginia into the Louisville regional, which also means Kentucky can now be slotted there since there's no longer another SEC team among the protected seeds in that region.
I still have the Vols ahead of Gonzaga on the seed list, but Tennessee's late season schedule provides a number of chances to enhance its profile but also the potential to push Rick Barnes' team off the one line completely. Following this week's home game against Vanderbilt, Tennessee travels to LSU and Ole Miss, returns home to face Kentucky and Mississippi State, and then finishes the regular season at Auburn.
Should the Volunteers falter, Kentucky is waiting in the wings at fifth on the seed list. Michigan and Michigan State are close behind, although this weekend's injury to Nick Ward will make it an uphill climb for the Spartans.
The Bracket
The projections below are based on all games played through February 18, 2019. Following the bracket, I included a few thoughts on the last four in and first five out.
| | | |
| --- | --- | --- |
| EAST (WASHINGTON, DC) | | WEST (ANAHEIM) |
| Columbia – March 22/24 | | Salt Lake City – March 21/23 |
| 1) Duke | | 1) Gonzaga |
| 16) Norfolk St. / St. Francis (PA) | | 16) Sam Houston St. |
| 8) Washington | | 8) Auburn |
| 9) Wofford | | 9) Syracuse |
| | | |
| San Jose – March 22/24 | | San Jose – March 22/24 |
| 5) Villanova | | 5) Kansas St. |
| 12) Lipscomb | | 12) New Mexico St. |
| 4) Texas Tech | | 4) Nevada |
| 13) Old Dominion | | 13) Yale |
| | | |
| Hartford – March 21/23 | | Tulsa – March 22/24 |
| 6) Florida St. | | 6) Iowa |
| 11) Oklahoma | | 11) Arizona St. / Central Florida |
| 3) LSU | | 3) Kansas |
| 14) Radford | | 14) UC Irvine |
| | | |
| Columbus – March 22/24 | | Des Moines – March 21/23 |
| 7) St. John's | | 7) Virginia Tech |
| 10) North Carolina State | | 10) VCU |
| 2) Michigan | | 2) Michigan St. |
| 15) South Dakota St. | | 15) Montana |
| | | |
| SOUTH (LOUISVILLE) | | MIDWEST (KANSAS CITY) |
| Columbia – March 22/24 | | Jacksonville – March 21/23 |
| 1) Virginia | | 1) Tennessee |
| 16) Bucknell | | 16) Canisius / Prairie View A&M |
| 8) Baylor | | 8) Buffalo |
| 9) Seton Hall | | 9) Ohio St. |
| | | |
| Salt Lake City – March 21/23 | | Hartford – March 21/23 |
| 5) Wisconsin | | 5) Louisville |
| 12) Belmont | | 12) Davidson |
| 4) Iowa St. | | 4) Purdue |
| 13) Vermont | | 13) Hofstra |
| | | |
| Des Moines – March 21/23 | | Tulsa – March 22/24 |
| 6) Maryland | | 6) Mississippi St. |
| 11) Alabama / Temple | | 11) TCU |
| 3) Marquette | | 3) Houston |
| 14) Bowling Green | | 14) Texas St. |
| | | |
| Columbus – March 22/24 | | Jacksonville – March 21/23 |
| 7) Cincinnati | | 7) Ole Miss |
| 10) Minnesota | | 10) Texas |
| 2) Kentucky | | 2) North Carolina |
| 15) Missouri St. | | 15) Northern Kentucky |
Last Four In:
Alabama – The Crimson Tide went 0-2 last week with the losses coming by a combined 37 points. They have Quad 1 wins over Kentucky, Mississippi State, and Ole Miss, all of which came at home. The problem is that Alabama has no other victories over at-large caliber teams to go with three losses against teams not in the at-large picture at all. Avery Johnson's club needs to take care of business over the next three games (at Texas A&M, Vanderbilt at home, at South Carolina) before a difficult close to the regular season.
Temple – Following a blowout road loss at Tulsa, the Owls bounced back with wins at home against SMU and on the road at South Florida. Temple boasts a home win over Houston, but they have no other victories against teams in the Top 60 of the NET through Sunday's action. A 7-4 road mark helps, as does the fact the Owls are 5-0 in Quad 2 games. The remaining schedule looks to be manageable, and solid play down the stretch can allow the Owls to stay inside the cut line.
Arizona State – Once again, the Sun Devils are compiling one of the more head-scratching at-large profiles in the nation. The last two weeks have been a microcosm of what we've seen from them all season. Arizona State has gone 2-2 with a solid win over Washington and a nice road victory at Utah mixed with a tough road loss at Colorado and an inexplicable 21-point home defeat at the hands of Washington State. Overall, ASU has three Quad 1 wins and six more against Quad 2 through Sunday's games, but seven of their eight losses have come against teams nowhere near the at-large picture, including a pair that fall into Quad 4. The Sun Devils host Stanford and Cal this week before finishing with road games at the Oregon schools as well as reeling Arizona.
Central Florida – The Knights remain in the field for a second straight week after holding serve at home against South Florida and Memphis. They still don't have a Quad 1 win, but they do have victories over Alabama and Temple among their six Quad 2 wins. However, four of their five losses have come against teams outside of the at-large picture. UCF's final six AAC games include trips to Cincinnati, Houston, and Temple.
First Five Out:
Butler – The Bulldogs were bumped when the MAC auto-bid was given to Bowling Green. Most of Butler's best wins have come at home (Ole Miss, St. John's, Seton Hall), while a neutral court victory over Florida represents the only other win against an at-large caliber team on their profile. The remaining schedule is challenging for the Bulldogs, who visit Marquette and Villanova over their next three contests.
Clemson – After making their way into last week's field, the Tigers lost two road games by one point each, falling at Miami and at Louisville. All but two of Clemson's 10 losses have come against teams ranked in the Top 50 of the NET, and the Miami defeat is the only one I'd classify as bad. However, the only two notable wins came at home against Virginia Tech (without point guard Justin Robinson) and Lipscomb. This week features home dates with Florida State and Boston College.
Utah State – The Aggies rank 34th in the NET through the weekend's games. Both Quad 1 wins (Saint Mary's on a neutral court and at Fresno State) are barely inside the cutoff though, and Utah State is just 3-5 combined against Quads 1 and 2, which may prove too much to overcome. A road loss at San Diego State is Utah State's lone defeat over its last 10 games, but it also represents the biggest blemish on its profile. The Aggies need to take care of business in their next three games before Nevada comes to town on March 2nd.
Furman – Last week, UNC Greensboro occupied a spot in the first five out, but they proceeded to go 0-2 and lost by a combined 40 points. One of those losses came to Furman, who is back in the mix at 22-5. The Paladins boast a huge non-conference road win at Villanova and have just one loss outside of Quad 1. Still, that home loss to Samford may come back to haunt them, and it's worth noting that three of those 22 victories came against non-Division I opponents. Saturday's home game against Wofford gives Furman another chance at a quality win and is shaping up to be a huge one for both teams.
Florida – The Gators blew out Alabama on the road on Saturday to work their way back into that at-large picture. Florida is just 3-10 in Quad 1 games with wins over Ole Miss at home as well as on the road against Alabama and Arkansas. A home victory over Butler also helps matters, while a home loss to South Carolina represents the Gators' only truly bad loss. Florida heads to LSU on Wednesday before returning home to face Vanderbilt over the weekend.
Conference Breakdown:
ACC (8): Duke, Florida State, Louisville, North Carolina, North Carolina State, Syracuse, Virginia, Virginia Tech
Big Ten (8): Iowa, Maryland, Michigan, Michigan State, Minnesota, Ohio State, Purdue, Wisconsin
Big 12 (8): Baylor, Iowa State, Kansas, Kansas State, Oklahoma, TCU, Texas, Texas Tech
SEC (7): Alabama, Auburn, Kentucky, LSU, Mississippi, Mississippi State, Tennessee
American (4): Central Florida, Cincinnati, Houston, Temple
Big East (4): Marquette, St. John's, Seton Hall, Villanova
Atlantic 10 (2): Davidson, VCU
MAC (2): Bowling Green, Buffalo
Pac-12 (2): Arizona State, Washington
America East: Vermont
Atlantic Sun: Lipscomb
Big Sky: Montana
Big South: Radford
Big West: UC Irvine
Colonial: Hofstra
Conference USA: Old Dominion
Horizon: Northern Kentucky
Ivy: Yale
MAAC: Canisius
MEAC: Norfolk State
Missouri Valley: Missouri State
Mountain West: Nevada
Northeast: St. Francis (PA)
Ohio Valley: Belmont
Patriot: Bucknell
Southern: Wofford
Southland: Sam Houston State
SWAC: Prairie View A&M
Summit: South Dakota State
Sun Belt: Texas State
WAC: New Mexico State
West Coast: Gonzaga
Follow Andy on Twitter (@andybottoms) for more thoughts on college hoops and to receive an update whenever new brackets are posted.
Filed to: 2018-2019 bracketology