The Minute After: Ohio State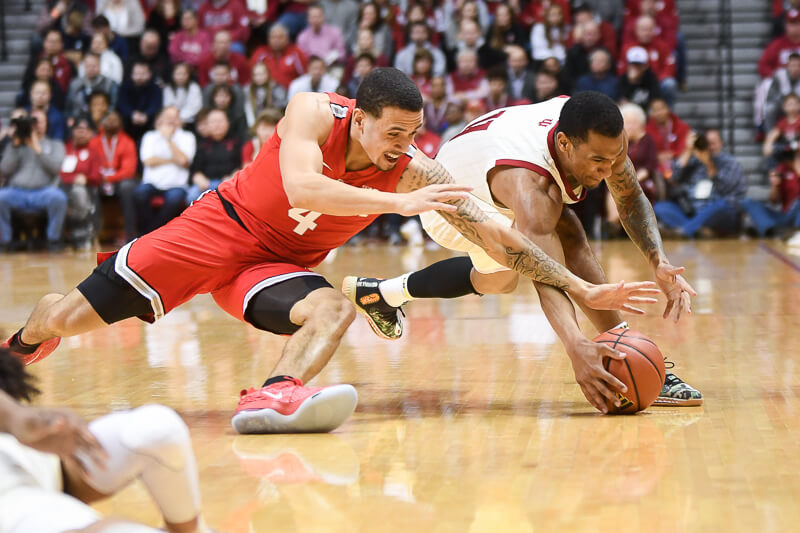 Thoughts on a 55-52 loss to the Buckeyes:
In a Big Ten season full of frustration, anguish and pain, today's loss to Ohio State might just take the cake.
This was a game Indiana was downright putrid on the offensive end, a performance defined by its inability to find much comfort, flow or assertiveness (0.88 points per possession). It was so often a struggle in the half court, Indiana playing tight with poor spacing, happy to find minor reprieves here and there as defense turned into offense in transition (21 points off turnovers).
As it so often has this season, Indiana dug itself a hole from the onset and got off to a woeful start as ball movement and really any sort of cohesiveness on offensive was non-existent, and Ohio State jumped out to an 11-2 lead. It sucked the life out of Simon Skjodt Assembly Hall. Indiana did give proper effort and worked hard to find its way out of the hole. But every time they poked their head out into the light, Ohio State sent them back into the darkness with timely execution leading to buckets.
This was no more soulcrushing than after Devonte Green's 3-pointer gave Indiana its only lead of the contest with 1:46 to go on a deep 3-pointer than somehow found its way to the bottom of the net. It capped off a 15-2 run for Indiana during a stretch it made a number of 3-pointers and it maybe meant the Hoosiers were going to avoid a fourth straight home loss. But it was not so.
Because Ohio State answered right back as C.J. Jackson hit a similarly high-degree-of-difficulty deep 3-pointer to tie it up and from there it went like this: turnover Indiana, Justin Smith defensive miscue leading to an Andre Wesson dunk, missed 3-pointer by Romeo Langford, one of two at the line from Luther Muhammed, missed 3-pointer from Green.
Ballgame.
Juwan Morgan had his worst offensive game of the season, as — shocker — Ohio State's defense clogged up the middle and paid him a ton of attention. At times he was triple-teamed. Morgan was just 1-of-7 from the floor and had just three points, though he did collect a career-high 14 rebounds. When Indiana was able to get it into De'Ron Davis, good things usually happened. A double-team meant Davis found an open Hoosier and Indiana was able to get a shot in rhythm. And when Davis took it himself, he hit at a high percentage (3-of-4, six points). But still working back into shape after injury, he played just 17 minutes.
Smith's only 3-point attempt of the contest came early on at the 18:27 mark of the first half. From there, Ohio State seriously sagged off him and when he got the ball on the perimeter he didn't look to fire. It helped the Buckeyes clog the paint and made things difficult for Morgan to get entry passes or Langford to find driving space. Smith did finish the contest 4-of-8 from the field and had a nice back down of Andre Wesson for a score in the second half. But he also took an odd fadeaway from the left short corner that airballed and dribbled the ball off himself another time when he put the ball on the deck trying to get a shot up at the rim. Smith's defense has improved and has been excellent at times. But his offensive profile, seemingly only comfortable when he's cutting to the hoop and receiving a pass for a quick attempt at the rim, is a serious work in progress, and it's one of many reasons Big Ten teams are empowered to throw extra attention at Morgan and Langford.
Indiana defended well enough to win this game as it held the Buckeyes to .93 points per possession. But if you can only muster 52 points yourself, it often ain't gonna cut it.
The time has just about run out for the Hoosiers on this season. It's getting to the win or bust out of the NCAA tournament portion of the schedule, and maybe the reality of this season is this: This team just can't get over the dang hump.
Filed to: Ohio State Buckeyes