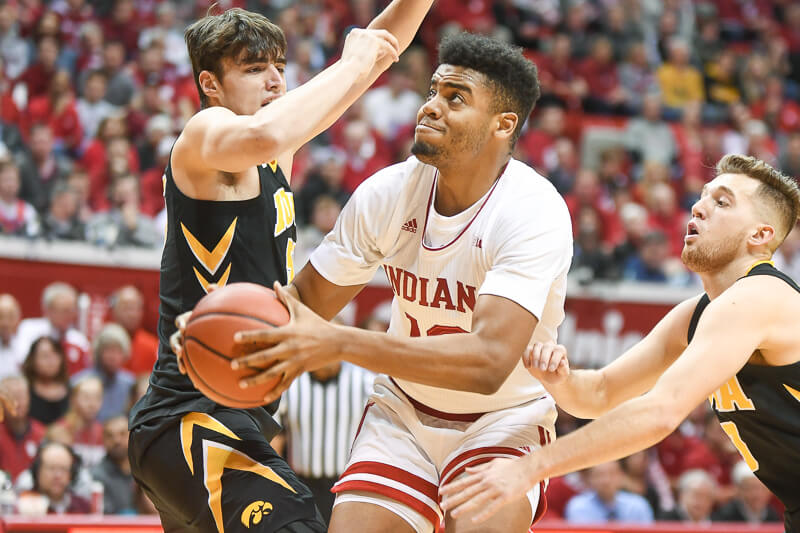 Thoughts on 77-72 loss to Iowa:  
Here the Hoosiers stood, knocking on breakthrough's door in a second half they kept hanging around, down just three points with 1:45 to go after a Juwan Morgan putback.
This felt like it might be one of those non-conference games from November or December, Indiana buckling down with just enough time left to pull out the victory against a strong team. But a transcendent performance from Jordan Bohannon down the stretch locked the door for good, and the Hoosiers are now losers of eight of their last nine. Bohannon was absolutely masterful in this one (game-high 25 points), seemingly operating on a different plane. The junior guard hit back-to-back dagger 3-pointers — one from the left corner, the other an impossible fallaway near the top of the key he made look easy — on Iowa's next two possessions after the Morgan putback to push the Hawkeye lead to seven with 43 ticks to go.
And while Indiana didn't give up and made things somewhat interesting, the Hawkeyes continued to ride Bohannon, an 87 percent free throw shooter, until the end. With Iowa knowing Indiana needed to continue to foul to extend the contest, it got the ball into Bohannon's hands three times. He made five of his six free throws to seal the contest, scoring Iowa's final 11 points over the last 91 seconds of the contest.
Bohannon had a similarly sublime back-to-back 3-pointer run in the closing minutes of the first half to help push Iowa's lead to 10 at the break. He hit 5-of-8 from deep for the contest. Though not quite on the level of Bohannon, Tyler Cook (21 points) also gave the Hoosiers fits. Cook hit a tough turnaround look with the shot clock expiring before Bohannon's back-to-back 3-pointers near the end of the game to help keep the Hoosiers just far enough away as well.
While Indiana's turnover percentage wasn't catastrophic (18 percent), the Hawkeyes really made the Hoosiers pay for their miscues with 19 points off them.
Iowa was, in part, able to amass its double-digit lead thanks to a zone defense that stymied the Hoosiers for a good chunk of the first half. Indiana did find success against it as the game went along as it finished the contest with a solid 1.09 points per possession. De'Ron Davis had a rare game-high seven assists thanks to his work in the middle of the zone as he found cutting Hoosiers on the backline. Archie Miller also drew up a nice look for Romeo Langford after the break as he worked behind the zone for an alley-oop finish. But it also tripped the Hoosiers up at times, as they struggled with ball movement or getting much of anything going, especially, it seemed, when the game was close to tipping in their favor.
While it wasn't the 50 percent it shot up in East Lansing over the weekend, Indiana was able to shoot a decent 33 percent from distance tonight (7-of-21) with its star Langford sitting at a strong 3-of-6 before missing a desperation shot at the buzzer to finish 3-of-7.
In the end, Iowa's high-powered offense was just a little much (1.16 PPP) for Indiana to contain at times, and its scoring streaks at key moments kept Indiana just far enough away to pick up the W in Bloomington. Juwan Morgan's foul trouble didn't help matters either.
Indiana gets another crack at a solid Big Ten foe at home on Sunday against Ohio State, and one would hope the Hoosiers can avoid a fourth straight conference loss inside Simon Skjodt Assembly Hall.
Filed to: Iowa Hawkeyes