Bracketology: NCAA tournament projection as of February 5, 2019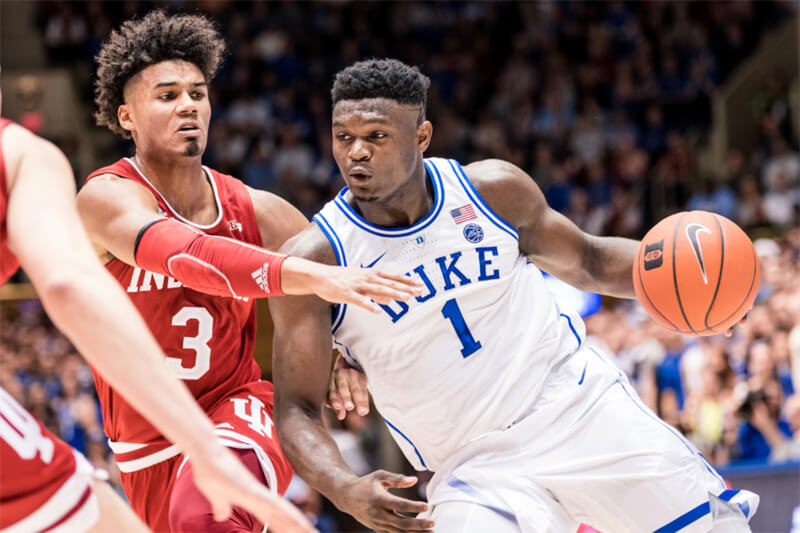 With less than six weeks until Selection Sunday, it's a good time to take stock of the teams from outside of the major conferences who have a chance to find themselves in the at-large discussion should they come up short in their conference tournaments. While there aren't many teams that fit this description, a few interesting cases are starting to take shape.
For the purposes of this discussion, I'm not including the Atlantic 10 or the Mountain West.
Buffalo – The Bulls aren't quite a lock, but they should be safely in the field barring a late-season collapse in the MAC. They picked up non-conference road wins at Syracuse and West Virginia, and a neutral court win over San Francisco helps for bubble purposes as well. Buffalo's three losses have come at Marquette and by a combined six points to conference foes Northern Illinois and Bowling Green.
Wofford – Like Buffalo, Wofford sits inside the Top 30 of the NET through Sunday's games. The Terriers are unbeaten in a tough Southern Conference, and all four of their losses have come to at-large caliber teams. The biggest potential issue, despite their gaudy record, is that there isn't really a signature win on their profile. Wofford's lone Quad 1 victory came on the road at UNC Greensboro (more on them in a minute) with the other two Top 100 wins coming in league play against East Tennessee State and Furman at home. If they can run the table in the league though, I like their chances.
Lipscomb – The Bisons have won nine straight to run their record to 18-4. They have a pair of Quad 1 wins (at TCU and at Liberty) as well Quad 2 wins over Vermont at home and at SMU. None of Lipscomb's four losses would be classified as "bad," but being swept by Belmont won't help them from a bubble perspective. The lone remaining game of note on the schedule comes when Liberty visits Nashville in just over a week, so Lipscomb just needs to keep stacking wins.
UNC Greensboro – The Spartans boast a 20-3 record and rank 52nd in the NET through Sunday's games. The three losses have come at Kentucky, at LSU, and home against Wofford, all of which fall in Quad 1. UNC Greensboro's best wins have come on the road at East Tennessee State and at home against Furman. Their fate will likely be determined based on how they play in remaining games at Furman and Wofford and home against ETSU. Like league mate Wofford, the biggest concern right now is the lack of a signature win.
Belmont – Both of Belmont's conference losses have come to Jacksonville State, who claimed the OVC auto-bid in this week's projections. The aforementioned sweep of Lipscomb accounts for two of Belmont's five victories in Quad 1 and 2. The others all came on the road against Murray State, UCLA, and Austin Peay. The Bruins rank 62nd in the NET through Sunday's games, and a pair of Quad 3 losses could hurt them in the eyes of the committee. One of them came at home against Jacksonville State, while the other came on the road against sub-200 Green Bay. All eight of their remaining games are against sub-200 KenPom teams, although it's worth noting that six of them, including the next four, will be played on the road.
Before looking at the one seeds, I wanted to give a quick reminder about how the NCAA selection committee classifies wins based on the new NET Rating.
A breakdown of the four tiers:
· Tier 1: Home vs. teams ranked 1-30 / Neutral vs. teams ranked 1-50 / Road vs. teams ranked 1-75
· Tier 2: Home vs. teams ranked 31-75 / Neutral vs. teams ranked 51-100 / Road vs. teams ranked 76-135
· Tier 3: Home vs. teams ranked 76-160 / Neutral vs. teams ranked 101-200 / Road vs. teams ranked 136-240
· Tier 4: Home vs. teams ranked 161-351 / Neutral vs. teams ranked 201-351 / Road vs. teams ranked 241-351
One Seeds
Three of the four spots on the one line remain unchanged, as Duke, Virginia, and Tennessee all held serve last week. The other spot, however, has been a revolving door over the last couple weeks.
Michigan won handily at home against Ohio State but got thumped at Iowa on Friday night, leaving the door open for Michigan State to ascend to the one line. But the Spartans lost their lone game of the week, falling at home in overtime against an Indiana team that came in losers of seven straight.
Enter Gonzaga, who has reeled off 12 straight victories, all by at least 13 points. The Bulldogs' only losses came in back-to-back games against Tennessee on a neutral floor and at North Carolina. They have four Quad 1 wins through Sunday's games, headlined by the win over Duke in Maui and a home victory over a surging Washington squad. With a number of other good but not great teams in the West Coast Conference, Gonzaga needs to keep stacking wins if they want to hang on to the one seed out West.
The Bracket
The projections below are based on all games played through February 4, 2019. Following the bracket, I included a few thoughts on the last four in and first five out.
| | | |
| --- | --- | --- |
| EAST (WASHINGTON, DC) | | WEST (ANAHEIM) |
| Columbia – March 22/24 | | Salt Lake City – March 21/23 |
| 1) Duke | | 1) Gonzaga |
| 16) Norfolk St. / Robert Morris | | 16) Sam Houston St. |
| 8) Ole Miss | | 8) Minnesota |
| 9) Ohio St. | | 9) Syracuse |
| | | |
| San Jose – March 22/24 | | San Jose – March 22/24 |
| 5) Iowa St. | | 5) Virginia Tech |
| 12) Old Dominion | | 12) Lipscomb |
| 4) Wisconsin | | 4) Nevada |
| 13) Grand Canyon | | 13) UC Irvine |
| | | |
| Des Moines – March 21/23 | | Hartford – March 21/23 |
| 6) Maryland | | 6) Kansas St. |
| 11) TCU | | 11) Seton Hall / Temple |
| 3) Marquette | | 3) Louisville |
| 14) Northern Kentucky | | 14) Radford |
| | | |
| Des Moines – March 21/23 | | Columbus – March 22/24 |
| 7) Washington | | 7) Cincinnati |
| 10) North Carolina St. | | 10) St. John's |
| 2) Kentucky | | 2) Michigan St. |
| 15) Montana | | 15) Illinois St. |
| | | |
| SOUTH (LOUISVILLE) | | MIDWEST (KANSAS CITY) |
| Columbia – March 22/24 | | Jacksonville – March 21/23 |
| 1) Virginia | | 1) Tennessee |
| 16) Bucknell | | 16) Prairie View A&M / Rider |
| 8) Auburn | | 8) Buffalo |
| 9) Arizona St. | | 9) Oklahoma |
| | | |
| Hartford – March 21/23 | | Salt Lake City – March 21/23 |
| 5) Iowa | | 5) Texas Tech |
| 12) Davidson | | 12) Hofstra |
| 4) Villanova | | 4) Houston |
| 13) Vermont | | 13) Bowling Green |
| | | |
| Tulsa – March 22/24 | | Tulsa – March 22/24 |
| 6) Florida St. | | 6) LSU |
| 11) Alabama / VCU | | 11) Wofford |
| 3) Kansas | | 3) Purdue |
| 14) Georgia St. | | 14) Jacksonville St. |
| | | |
| Columbus – March 22/24 | | Jacksonville – March 21/23 |
| 7) Mississippi St. | | 7) Baylor |
| 10) Texas | | 10) Indiana |
| 2) Michigan | | 2) North Carolina |
| 15) South Dakota St. | | 15) Princeton |
Last Four In:
Alabama– The Crimson Tide had an up and down week, knocking off Mississippi State at home before getting blown out at Auburn. Alabama's three best wins have all come at home (Kentucky, Mississippi St., Ole Miss), while they have three questionable losses, which came on a neutral court against Northeastern and at home against Texas A&M and Georgia State. The Tide need to avoid another slip-up with games up next against Georgia at home and on the road at Vanderbilt.
VCU – Once again the Rams are slotted for a trip to Dayton for the First Four. They rank second in non-conference strength of schedule through Sunday's games, which should at least get the committee's attention. VCU has a Quad 1 win at Texas plus a neutral court victory over Temple and a home win over surging Hofstra, but a home loss to Charleston is a notable blemish. A mid-February date with Dayton is the only remaining game against a team in the KenPom Top 100, so the Rams desperately need to avoid further missteps.
Seton Hall – Big East play has been unkind to the Pirates, who have dropped six of their last eight games after a late-game comeback fell short at Butler on Saturday. Seton Hall owns a pair of Quad 1 victories, which came on a neutral court against Kentucky and on the road against Maryland, as well as home wins against St. John's and Butler. However, being swept by DePaul is a bad look for any at-large hopeful. The Pirates play their next two games at home against Creighton and Georgetown.
Temple – The Owls are the last team in the field once again following a seven-point loss at Houston and a road win at Tulane. A home victory over Houston headlines their profile, and a 5-0 mark in Quad 2 games along with six road wins certainly help Temple's case. However, a home loss to Penn doesn't help matters. The Owls host Connecticut this week before heading to Tulsa over the weekend.
First Five Out:
Nebraska – The Huskers have now lost five straight games and sit at 3-8 in the Big Ten following losses to Wisconsin and Illinois. They do have Quad 1 victories at Indiana and Clemson as well as home wins over Creighton and Seton Hall, but losses at Illinois and Rutgers don't help matters. The other key factor here is the season-ending injury to Isaac Copeland, who was lost in the middle of the current losing streak. The schedule does Nebraska no favors this week, as Maryland visits Lincoln before a road trip to Purdue.
Central Florida – Once again, the Knights find themselves just outside of this week's field. They won their lone game last week against UConn, but through Sunday's games, their only Quad 1 victory came on the road against the Huskies earlier in the season. Home wins over fellow bubblers Temple and Alabama are helpful, but all four losses have come against teams nowhere near the at-large conversation. Throw in a home loss to Florida Atlantic, and there is still work to do. Thursday's home game against Houston is a critical one.
Florida – The Gators picked up a solid win by knocking off Ole Miss in overtime, but they faded down the stretch and lost at home against Kentucky on Saturday, which dropped them to 1-7 in Quad 1 games. Their only other notable wins have come at home against Butler and on the road at Arkansas and Georgia, so the top-end victories simply aren't there. A home loss to South Carolina doesn't help matters either with Florida heading into this week's road trips to Auburn and Tennessee.
Belmont – I outlined the Bruins' case above, and a four-game road swing starts this week with games at Eastern Kentucky and Morehead State.
Butler – With just one Quad 1 win and a 1-5 road mark, the Bulldogs are still on the outside looking in. They do have a handful of decent wins (Florida on a neutral floor and Ole Miss, St. John's, and Seton Hall at home), but they also already have 10 losses, with four of those coming against teams ranked outside the Top 80 of the NET. Butler hits the road for three of its next four, starting with Saturday's trip to Georgetown.
Conference Breakdown:
Big Ten (9): Indiana, Iowa, Maryland, Michigan, Michigan State, Minnesota, Ohio State, Purdue, Wisconsin
ACC (8): Duke, Florida State, Louisville, North Carolina, North Carolina State, Syracuse, Virginia, Virginia Tech
Big 12 (8): Baylor, Iowa State, Kansas, Kansas State, Oklahoma, TCU, Texas, Texas Tech
SEC (7): Alabama, Auburn, Kentucky, LSU, Mississippi, Mississippi State, Tennessee
Big East (4): Marquette, St. John's, Seton Hall, Villanova
American (3): Cincinnati, Houston, Temple
Atlantic 10 (2): Davidson, VCU
MAC (2): Bowling Green, Buffalo
Pac-12 (2): Arizona State, Washington
America East: Vermont
Atlantic Sun: Lipscomb
Big Sky: Montana
Big South: Radford
Big West: UC Irvine
Colonial: Hofstra
Conference USA: Old Dominion
Horizon: Northern Kentucky
Ivy: Princeton
MAAC: Rider
MEAC: Norfolk State
Missouri Valley: Illinois State
Mountain West: Nevada
Northeast: Robert Morris
Ohio Valley: Jacksonville State
Patriot: Bucknell
Southern: Wofford
Southland: Sam Houston State
SWAC: Prairie View A&M
Summit: South Dakota State
Sun Belt: Georgia State
WAC: Grand Canyon
West Coast: Gonzaga
Follow Andy on Twitter (@andybottoms) for more thoughts on college hoops and to receive an update whenever new brackets are posted.
Filed to: 2018-2019 bracketology