The Minute After: Rutgers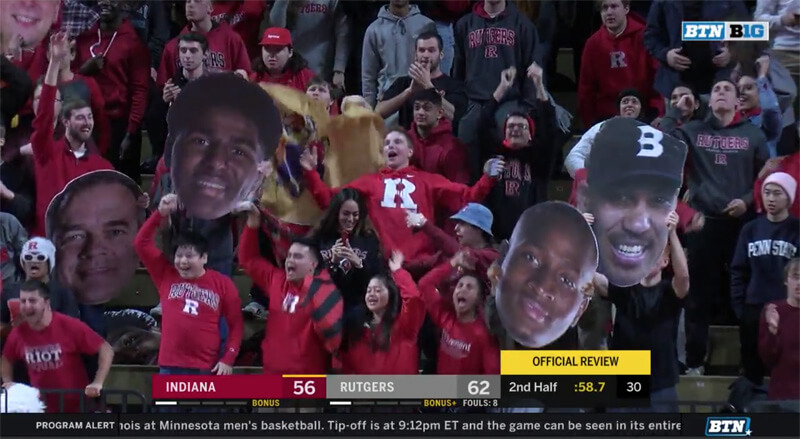 Thoughts on a 66-58 loss to Rutgers:
Indiana set the table for a long overdue victory tonight. There was a different energy at the start of this contest, the Hoosiers' defense stymying the Scarlet Knights early on, leading to transition scores. They were moving the ball well in the half court and hitting outside shots.
But Indiana couldn't sustain it for a full 40, barely sustaining it for the first 15 minutes. The wheels came off fast, as Rutgers threw a 22-0 run on the Hoosiers to close out the first half and to begin the second half. Indiana's 10-point lead at the 3:58 mark in the first half became as much as 14-point deficit in the second, as the Scarlet Knights took control for good. (Though Indiana made it somewhat close at the end, I guess?)
This loss, IU's seventh straight, had all the familiar problems.
While it started well from distance, the 3-point shooting was again a low point, as the Hoosiers hit just 6-of-23 (26.1 percent) from deep. Evan Fitzner missed two in the first half. The next chance he got after those, Fitzner chose against rising quick with assurance and passed up a look. After halftime, Juwan Morgan hesitated for a bit before finally deciding to let go on an attempt. He missed. These are the actions of a group not playing with any sort of confidence in their outside shooting and it again allowed Rutgers to pack it in against the Hoosiers on defense, like so many before them.
As Indiana missed its 3-pointers and any sort of rhythm or fluidity on offense vanished, its overall offensive profile by the end of this one was not pretty. It scored just .84 points per possession against a Rutgers squad that had been giving up 1.08 PPP against conference opponents, which ranked 12th in the league coming into the contest. Romeo Langford needed 20 shots to get to 20 points. Rob Phinisee shot 1-of-5 (three points) from the floor in 28 minutes of action. In a game it was missing a number of players, the Hoosiers got just two bench points. They came on a pair of free throws from Clifton Moore.
With Zach McRoberts seeming limited playing time due to a foot injury, Al Durham Jr. had the starting role this evening and played well. If Indiana is looking for a consistent third scorer to emerge after Juwan Morgan and Langford, Durham is making a bit of a case. The sophomore scored 11 against Northwestern last week and had 11 again tonight on 5-of-1o shooting. Durham plays hard, is strong in transition and can handle the ball. In a half court offense that's been stagnant, he's finding his way into whatever space is available for scores.
Each game is starting to feel like a broken record — Indiana's offense sputters, its defense struggles to contain as the opponent throws up a run that puts the Hoosiers out of the game for good — this Big Ten season. It's no secret an eighth loss is the likely outcome this weekend as Indiana travels to East Lansing to take on the Spartans on Saturday.
So when – oh when – will it end?
Filed to: Rutgers Scarlet Knights