What to expect: Rutgers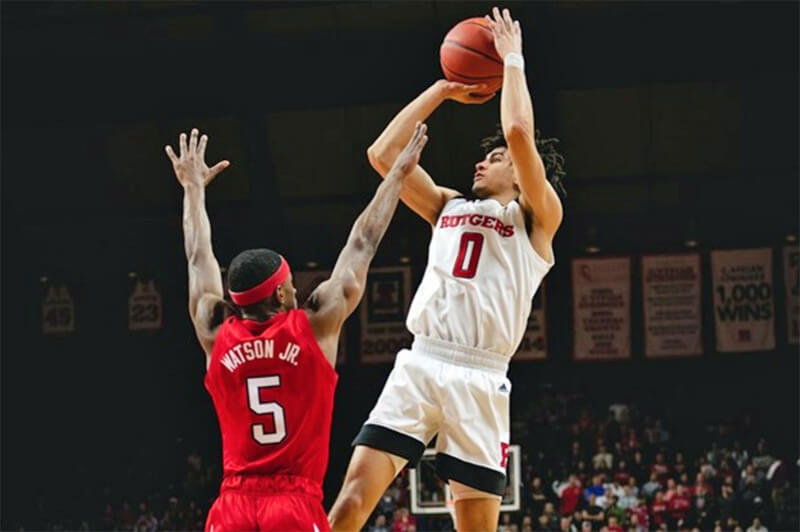 Indiana will look to avoid a seven-game losing streak on Wednesday as it travels to Piscataway to take on Rutgers. The Scarlet Knights are 10-9 overall and 3-6 in Big Ten play.
The game will be broadcast at 7 p.m. ET on BTN with Kevin Kugler and Jon Crispin on the call:
Indiana's six-game losing streak is the program's longest since the 2010-11 season. That season was the final of three consecutive campaigns that saw the Hoosiers win just 28 games overall and eight in league play.
This current skid isn't as dire as those times were, but Indiana's poor play in recent weeks has been alarming. Four of Indiana's last six losses have come by 11 points or more and its average margin of defeat during this streak is 12.3 points. A team that was winning close games early in the season has lost five of its last six contests by three or more possessions.
The Hoosiers will try to avoid going 1-7 this month and falling behind Rutgers in the Big Ten standings. Fortunately for Indiana, the RAC is a building where it has had plenty of success in recent years. Indiana is 3-0 against Rutgers in Piscataway since the Scarlet Knights joined the Big Ten.
MEET THE SCARLET KNIGHTS
Rutgers enters Wednesday's game with momentum and a two-game winning streak. The Scarlet Knights beat Nebraska at home last week before winning at Penn State over the weekend.
Junior Eugene Omoruyi is the team's leading scorer at 13.9 points per game and also its leading rebounder at 7.2 per game. Omoruyi has been coming off the bench since returning from a knee injury, but has started 14 of the 16 games he's appeared in this season.
He's a 33.3 percent 3-point shooter this season, but is just 1-for-12 from distance in league play. Like most of the Rutgers roster, he's not an efficient scoring threat. The Canada native is shooting just 44.3 percent from the field.
Geo Baker is the primary catalyst in the Rutgers backcourt following the departure of Corey Sanders. The 6-foot-4 sophomore is shooting 36.2 percent on 3s in league play, but just 32.9 percent on 2s. Still, Baker is a player capable of getting into a rhythm offensively if he gets confidence early. He's coming off a 20-point effort at Penn State on 7-for-15 shooting.
Baker has been joined in the starting lineup in recent weeks by freshmen Martez Mathis and Ron Harper Jr.. Mathis, a native of Baltimore, is effective as a guy who can get into the lane and draw fouls. In Big Ten play, he has the league's 14th highest free throw rate (FTA/FGA) at 48.2 percent. He's shooting 68.3 percent from the line in conference play.
Harper, the son of former NBA guard Ron Harper, is 6-foot-6 and 230 pounds and looks like a player who should, in time, develop into a major contributor in Piscataway. He came up big earlier this month in Rutgers' win over Ohio State with 12 points.
Sophomore Peter Kiss, who sat out last season after transferring from Quinnipiac, has seen his role diminished in recent weeks. He started 12 of the team's first 13 games, but has struggled to make shots. Kiss is shooting just 33.3 percent on 3s on 69 attempts.
The Rutgers frontcourt doesn't contribute much offensively, but it is imposing from a size perspective.
7-foot senior Shaquille Doorson has started all 19 games and is making 62.8 percent of his 2s. Doorson is 12th in Big Ten play in block percentage. Myles Johnson, a 6-foot-10 freshman, ranks ninth nationally in offensive rebounding percentage and shoots 52.5 percent on 2s. If Indiana doesn't get a body on Johnson, he could change the game with second-chance opportunities. Junior college transfer Shaq Carter is 6-foot-9, 245 pounds and ranks in the top 20 in both offensive and defensive rebounding percentage in Big Ten play. Issa Thiam, a 6-foot-10 junior, has lost minutes this season after a very solid sophomore campaign. He's shooting just 31 percent overall form the field.
TEMPO-FREE PREVIEW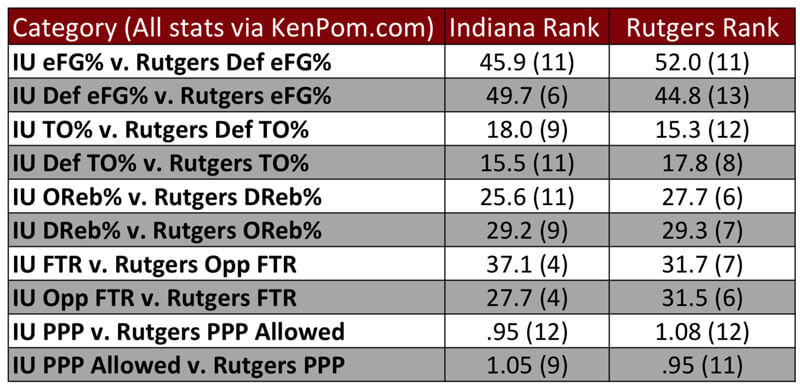 Rutgers is just one of two Big Ten teams with a worse efficiency margin than Indiana in conference play and Wednesday is, on paper, an opportunity for the Hoosiers to get back on track.
The Scarlet Knights are actually shooting it better than Indiana from 3 in conference play, but are a dreadful 43.9 percent on 2s, which is 13th in the conference. Despite its size on the frontline, Rutgers isn't blocking many shots and is allowing conference opponents to shoot nearly 50 percent on 2s. (Indiana's 2-point field goal percentage in Big Ten play is actually worse than Rutgers.)
Neither team forces many turnovers and ultimately this game could come down to rebounding. Rutgers is better on the glass right now than Indiana and if the Hoosiers can't limit second-chance opportunities, a seventh consecutive loss is a strong possibility.
WHAT IT COMES DOWN TO
The Pomeroy line favors Indiana by two and Sagarin likes the Hoosiers by five. Those numbers, of course, take into account the full body of work and not what has happened in recent weeks. The Vegas line, which will be out later on Tuesday afternoon, will likely be a better reflection of that.
As this morning's bracketology showed, Indiana's season isn't completely sunk if the Hoosiers can snap out of this funk now. Indiana hasn't taken a "bad" loss during this current skid from a quadrant perspective, but a loss to Rutgers would change that. To stay in the NCAA tournament conversation, Indiana is going to need a couple more Big Ten road wins and this is the most winnable contest away from Bloomington remaining on paper.
This contest will likely come down to how hard Indiana plays and competes for 40 minutes. Indiana has more talent, but Rutgers is aggressive and has proved that it is capable of winning in the league on its home court. If the Hoosiers can't get up for an opportunity to snap a six-game slide after four days off to prep, it could be a bad sign of what is to come the rest of the season.
(Photo credit: ScarletKnights.com)
Filed to: Rutgers Scarlet Knights