Bracketology: NCAA tournament projection as of January 29, 2019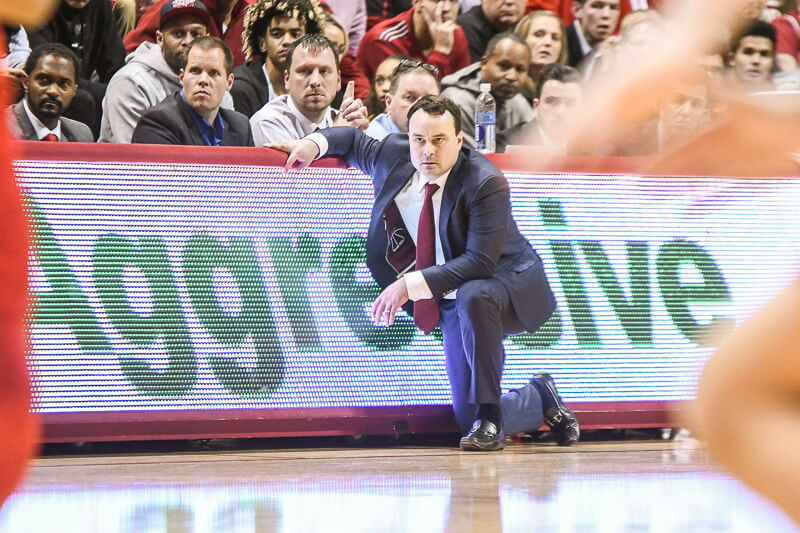 Each year there is a team or two that gets off to a strong start only to take on a number of losses once conference play begins, subsequently forcing everyone to question whether they will still make the NCAA tournament. Look no further than last season, when Oklahoma won 12 of its first 13 games and sat at 14-2 in mid-January before going 4-10 over the rest of the regular season and losing its first game of the Big 12 Tournament. Still, when Selection Sunday rolled around, the Sooners found themselves in the field thanks to the quality wins they amassed earlier in the season.
Last year's Arizona State squad was another example. The Sun Devils finished non-conference play 12-0 but went just 8-10 in the Pac-12, including losses in four of their last five regular season games. Like Oklahoma, ASU lost its first conference tournament game, but also like Oklahoma, the early season wins carried the day.
Frequent readers of this site can probably see where I'm going with this. Indiana was 12-2 following an early January win over Illinois, and the Hoosiers' profile featured wins over Marquette and Louisville at home to go with a neutral court victory against Butler. Things have gone off the rails since then, as the Hoosiers have dropped six straight games, which has pushed them firmly onto the bubble.
The Oklahoma and Arizona State examples highlight a couple things that IU fans should keep in mind. First, quality wins still carry the day with the Selection Committee. When people suggest the deck is stacked against mid-major teams, the committee's continued emphasis on the sheer number of quality wins would certainly support that notion. Through Sunday's games, the Hoosiers owned three Quad 1 victories with a couple others falling in Quad 2. Those wins, coupled with the fact that Indiana doesn't have a loss outside of Quad 1, will certainly help their case.
The other reminder here is that the committee no longer gives extra emphasis to the last 10 games, which means a game back in November counts the same as a game that took place yesterday. It's hard to think that some subjectivity doesn't creep into play here, and it's even a fair argument that perhaps recent games should be emphasized as a better reflection of how the team is playing right now. Either way, what's important here is that the committee at least says they don't care about that.
All that being said, losses still matter, and the defeats are mounting quickly for the Hoosiers. As a result, IU has pushed itself dangerously close to the cut line heading into Wednesday's game at Rutgers. If the Hoosiers can't start winning some games, those early season wins won't be enough to save them, but if they can pick up around nine wins in the nation's toughest conference, the overall resume will likely be solid enough to earn a spot in the field.
Before looking at the one seeds, I wanted to give a quick reminder about how the NCAA selection committee classifies wins based on the new NET Rating.
A breakdown of the four tiers:
· Tier 1: Home vs. teams ranked 1-30 / Neutral vs. teams ranked 1-50 / Road vs. teams ranked 1-75
· Tier 2: Home vs. teams ranked 31-75 / Neutral vs. teams ranked 51-100 / Road vs. teams ranked 76-135
· Tier 3: Home vs. teams ranked 76-160 / Neutral vs. teams ranked 101-200 / Road vs. teams ranked 136-240
· Tier 4: Home vs. teams ranked 161-351 / Neutral vs. teams ranked 201-351 / Road vs. teams ranked 241-351
One Seeds
Since last week's projections, Virginia won its two games by a combined 50 points, while Tennessee survived a mid-week scare at Vanderbilt and Duke shook off a sluggish start to beat Georgia Tech.
The only change came as Michigan and Michigan State swapped seed lines following the Spartans' loss at Purdue on Sunday. An argument could be made to keep MSU on the one line, and the separation between these five teams is still minimal. As of now, it feels like the only other team who could work its way into the one seed equation is Gonzaga, who just needs to keep winning in the WCC.
The Bracket
The projections below are based on all games played through January 28, 2019. Following the bracket, I included a few thoughts on the last four in and first five out.
| | | |
| --- | --- | --- |
| EAST (WASHINGTON, DC) | | WEST (ANAHEIM) |
| Columbia – March 22/24 | | Columbus – March 22/24 |
| 1) Duke | | 1) Michigan |
| 16) Sam Houston St. / Robert Morris | | 16) Rider |
| 8) Ohio St. | | 8) Cincinnati |
| 9) Auburn | | 9) Syracuse |
| | | |
| San Jose – March 22/24 | | San Jose – March 22/24 |
| 5) Iowa St. | | 5) Virginia Tech |
| 12) Davidson | | 12) Hofstra |
| 4) Maryland | | 4) Nevada |
| 13) North Texas | | 13) Vermont |
| | | |
| Des Moines – March 21/23 | | Hartford – March 21/23 |
| 6) Florida St. | | 6) Wisconsin |
| 11) Wofford | | 11) Alabama |
| 3) Marquette | | 3) Louisville |
| 14) UC Irvine | | 14) Northern Kentucky |
| | | |
| Des Moines – March 21/23 | | Salt Lake City – March 21/23 |
| 7) Oklahoma | | 7) Mississippi St. |
| 10) St. John's | | 10) Texas |
| 2) Kentucky | | 2) Gonzaga |
| 15) South Dakota St. | | 15) Montana |
| | | |
| SOUTH (LOUISVILLE) | | MIDWEST (KANSAS CITY) |
| Columbia – March 22/24 | | Jacksonville – March 21/23 |
| 1) Virginia | | 1) Tennessee |
| 16) Bucknell | | 16) Prairie View A&M / Norfolk St. |
| 8) Minnesota | | 8) NC State |
| 9) Baylor | | 9) Washington |
| | | |
| Hartford – March 21/23 | | Salt Lake City – March 21/23 |
| 5) Villanova | | 5) LSU |
| 12) Lipscomb | | 12) Seton Hall / Temple |
| 4) Purdue | | 4) Texas Tech |
| 13) Yale | | 13) Murray St. |
| | | |
| Tulsa – March 22/24 | | Jacksonville – March 21/23 |
| 6) Iowa | | 6) Kansas St. |
| 11) Arizona St. / VCU | | 11) Indiana |
| 3) Houston | | 3) North Carolina |
| 14) Grand Canyon | | 14) Radford |
| | | |
| Tulsa – March 22/24 | | Columbus – March 22/24 |
| 7) Ole Miss | | 7) Buffalo |
| 10) Nebraska | | 10) TCU |
| 2) Kansas | | 2) Michigan St. |
| 15) Texas St. | | 15) Loyola Chicago |
Last Four In:
Arizona State – The Sun Devils split their games in Los Angeles last week, winning at UCLA before falling by two points against USC. They boast three Quad 1 victories over the likes of Kansas, Mississippi State, and Utah State, but five of their six losses have come to teams outside of the at-large conversation with two of those defeats coming at home. ASU is home for its next three games, which feature matchups with Arizona and Washington.
Seton Hall – Big East play has been unkind to the Pirates, who have dropped four straight and five of their last six. Seton Hall owns a pair of Quad 1 victories, which came on a neutral court against Kentucky and on the road against Maryland, as well as home wins against St. John's and Butler. However, being swept by DePaul is a bad look for any at-large hopeful. The Pirates host Providence on Wednesday before traveling to Butler on Saturday.
Temple – The Owls took care of business at home against Memphis during the week, but they fell at home to Cincinnati on Sunday. A home victory over Houston headlines their profile, and a 4-1 mark in Quad 2 games and a 5-2 mark in true road games certainly help Temple's case. However, a home loss to Penn doesn't help matters. The Owls hit the road this week to take on Houston and Tulane.
VCU – I was sure the Rams would be on the wrong side of the cut line following a loss at Rhode Island this week, but their inclusion speaks to the lack of quality on the bubble. They rank third in non-conference strength of schedule through Sunday's games, which should at least get the committee's attention. VCU has a quad 1 win at Texas plus a neutral court victory over Temple and a home win over surging Hofstra, but a home loss to Charleston is a notable blemish. A mid-February date with Dayton is the only remaining game against a team in the KenPom Top 100, so the Rams desperately need to avoid further slip-ups.
First Five Out:
Central Florida – The Knights got drilled on the road at Memphis on Sunday to find themselves back as the first team out for the second straight week. Through Sunday's games, zero of their 15 victories have come in Quad 1 games. Home wins over fellow bubblers Temple and Alabama are helpful, but all four losses have come against teams nowhere near the at-large conversation. Throw in a home loss to Florida Atlantic, and there is still work to do.
Butler – With just one Quad 1 win and a 1-5 road mark, the Bulldogs are on the outside looking in. They do have a handful of decent wins (Florida on a neutral floor and Ole Miss and St. John's at home), but they also already have nine losses, with four of those coming against teams ranked outside the Top 80 of the NET. This week features a pair of key home games against Marquette and Seton Hall.
Creighton – Through Sunday's games, the Bluejays have not lost a game to a team ranked outside the Top 50 of the NET, but they also don't have a win over an at-large team in my projected field. Creighton does boast wins over Butler at home, Clemson on a neutral floor, and Providence on the road, but that simply isn't enough right now. The Bluejays are home for games against St. John's and Xavier this week before a three-game road swing.
Florida – Saturday's loss at TCU dropped the Gators to 1-7 in Quad 1 games. Their only notable wins came at home against Butler and on the road at Arkansas and Georgia, so the top-end victories simply aren't there. A home loss to South Carolina doesn't help matters either with Florida heading into a four-game stretch that features home games against Ole Miss and Kentucky followed by road dates at Auburn and Tennessee.
Pittsburgh – The Panthers have still yet to win a true road game, but they do have home wins over Louisville and Florida State to go with a neutral court victory over Saint Louis. A road loss at West Virginia isn't aging well, and an early season slip-up against Niagara is locked in as a quad 4 loss. The Panthers travel to Clemson on Tuesday before returning home to host Syracuse over the weekend.
Conference Breakdown:
Big Ten (10): Indiana, Iowa, Maryland, Michigan, Michigan State, Minnesota, Nebraska, Ohio State, Purdue, Wisconsin
ACC (8): Duke, Florida State, Louisville, North Carolina, North Carolina State, Syracuse, Virginia, Virginia Tech
Big 12 (8): Baylor, Iowa State, Kansas, Kansas State, Oklahoma, TCU, Texas, Texas Tech
SEC (7): Alabama, Auburn, Kentucky, LSU, Mississippi, Mississippi State, Tennessee
Big East (5): Marquette, St. John's, Seton Hall, Villanova
American (3): Cincinnati, Houston, Temple
Pac-12 (2): Arizona State, Washington
Atlantic 10 (2): Davidson, VCU
America East: Vermont
Atlantic Sun: Lipscomb
Big Sky: Montana
Big South: Radford
Big West: UC Irvine
Colonial: Hofstra
Conference USA: North Texas
Horizon: Northern Kentucky
Ivy: Yale
MAAC: Rider
MAC: Buffalo
MEAC: Norfolk State
Missouri Valley: Loyola Chicago
Mountain West: Nevada
Northeast: Robert Morris
Ohio Valley: Murray State
Patriot: Bucknell
Southern: Wofford
Southland: Sam Houston State
SWAC: Prairie View A&M
Summit: South Dakota State
Sun Belt: Texas State
WAC: Grand Canyon
West Coast: Gonzaga
Follow Andy on Twitter (@andybottoms) for more thoughts on college hoops and to receive an update whenever new brackets are posted.
Filed to: 2018-2019 bracketology